DRAMATIC price rises for feeder cattle since January and early February rain have kept results in Beef Central's first 100-day grainfed trading budget for 2020 in significant loss territory, despite a sharp rise in slaughter cattle offers yesterday.
With many feeder and backgrounder categories rising 20 percent or more in a matter of weeks, it has sharply impacted profitability on our latest breakeven calculation compiled on Friday.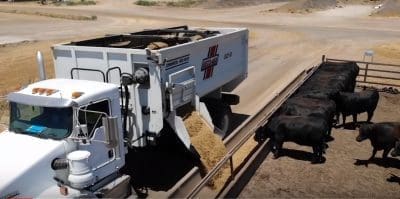 Using our standard set of variables (see full list at base of page), we've arrived at a $131 loss on our typical 450kg feeder steer entering a downs feedlot today, and closing out after a 105 day program on 29 May.
Heavy feeders late last week were making up to 385c/kg in feedlot grids, having made around 310-315c before the rain event started.
For today's budget, we've chosen a representative price of 370c/kg for our typical flatback feeder steer 450kg, although similar cattle were transacting at least 10c/kg more than that in places last week, and Angus x Angus types, around 400c.
Today's record high feeder price represents a 60c/kg rise since our previous trading budget in early December, when feeders were still being quoted at 310c.
Our previous record high for feeder prices in this nine-year series came in late July 2016, when prices hit 365c/kg during a period of significant shortage.
While this week's prices also reflect some logistical difficulty in getting feeder cattle to buyers due to rain, the over-riding factor is vendors with new grass electing to hold on to stock to finish themselves, instead of selling at feeder weights.
A purchase price of 370c/kg values our typical flatback feeder this week at $1660, up $270 since our previous early December budget.
Ration price stays stubbornly high
Adding further headwinds in today's budget, ration prices remain stubbornly high, reflecting low grain production, high feedgrain demand after two years of grainfed production above one million head on feed caused by drought, and international demand for grain.
Historically, the feedlot industry has been able to absorb high feeder cattle prices or high grain prices; but not both at the same time.
For today's budget, we have applied a ration price of $480/tonne, the same as in our previous report.
As reflected in our weekly feedgrain reports, that's being influenced by lower barley prices, driven by a global surplus that's being discounted.
Feedlots with higher-performing wheat-based diets are typically still around $500/tonne on ration, and in some cases, $520/t.  Feedgrain quotes on Friday had wheat around $460/t prompt, whereas barley was around $340/t.
With good late summer crop prospects in some areas, what impact that has on feedgrain prices in coming months remains uncertain.
Anecdotally, some feedlots have some empty pens at present, as high feeder prices and short supply since the rain make it difficult to re-populate pens after close-out. It will now be interesting to see whether yards offering custom-feeding services are prepared to sacrifice some margin through lower ration prices, in an effort to keep occupancy levels high.
A ration price at $480/t this week gives a total feeding cost in this breakeven equation of $752, and total production cost (feeder purchase plus feedlot costs) at a record $2531.
Cost of gain remains the same as last time, at 348c/kg, based on our standard steer gaining at 2kg/day, consumption 15kg/day and a NFE ratio of 7.5:1 (as fed). Worth noting is that recent Downs feedlot performance has been compromised somewhat by wet weather.
The above inputs deliver a record-high breakeven figure of 717c/kg. That easily eclipses December's breakeven of 639c/kg – itself a record high – by 78c/kg in just ten weeks.
Record forward contract prices soften the blow
Forward contract prices on 100-day ox offered by processors have risen sharply this week, in response to the challenging production inputs described above.
As recently as Friday, offers for late May delivery from competitive Queensland processors were still around 650c/kg. Yesterday, processors lifted those rates sharply to a new record high of 680c/kg, taking the edge off what would otherwise have been a calamitous trading budget result.
Looking back to late last year, forward contract prices reached what was then a record high of 620c/kg in our November budget, but fell away closer to Christmas to around 600c, after feeder cattle prices declined due to drought supply pressure.
If forward slaughter price offers had stayed at last week's offer (650c/kg), it would have delivered a horrific trading budget loss of $237 a head. The previous worst result seen in this exercise was a $204 loss in November 2018.
Fortunately, grainfed processors came to their senses this week, realising that yards would have likely emptied out drastically if lotfeeding profitability had stayed ft where it was.
Lifting rates to 680c/kg this week has softened the blow caused by extreme high feeder prices, and persistently high ration prices, reducing the projected loss to $131 a head. For better-performing cattle gaining at 2.2kg/day, instead of our benchmark 2kg, the loss softens further to $55/head.
Our previous trading budget calculated back in early December produced a $67 loss for a standard beast gaining at 2kg/day, based on the forward contract slaughter price for March delivery at 620c/kg, and a 639c/kg breakeven.
With 600c/kg carcase weight cow prices being paid in saleyards last week as processors desperately tried to maintain rates of slaughter in a rapidly changing market, a 700c/kg grainfed bullock does not now look that far away.
That's especially so when the current low currency value is adding considerable momentum to export processors' competitiveness in international markets.
There were two occasions in the past when our trading budget forward contract price has exceeded 600c/kg – back around September 2015 and July 2016. But currency back in July 2016 was worth around US76c, compared with today's 67c.
As a simple comparison, a 600c/kg forward price back then at US76c was worth US$4.56/kg, versus a 650c/kg forward price today at US67c is worth US$4.35/kg. Apply a theoretical 700c/kg forward contract price at today's currency, and the figure comes back at an insignificant 3pc increase over the 2016 rates.
Forward contract cattle bought earlier
For grainfed cattle forward-bought back in late October for slaughter this week, their contracts were typically around 610c/kg, which is considerably cheaper than 100-day steers being bought on the spot market this week at 650-660c/kg. That suggests processors are about $140 a head better off in their kills this week on steers bought forward back in October, compared with those being procured out of this week's spot market.
Beef Central's regular 100-day grainfed breakeven scenario is based on a standard set of representative production variables, ex Darling Downs. It is built on a feeder steer of 450kg liveweight, fed 105 days; 356kg dressed weight at slaughter; ADG of 2kg; consumption 15kg/day and a NFE ratio of 7.5:1 (as fed); $25 freight; typical implant program. Bank interest is included. It is important to note that variations exist across production models (feed conversion, daily gain, mortality, morbidity, carcase specification); from feedlot to feedlot; and between mobs of cattle. Equally, there can be considerable variation at any given time in ration costs charged by different custom-feed service feedlots. Click here to view an earlier article on this topic. For a more specific performance assessment on a given mob of cattle, consult with your preferred custom feeder.