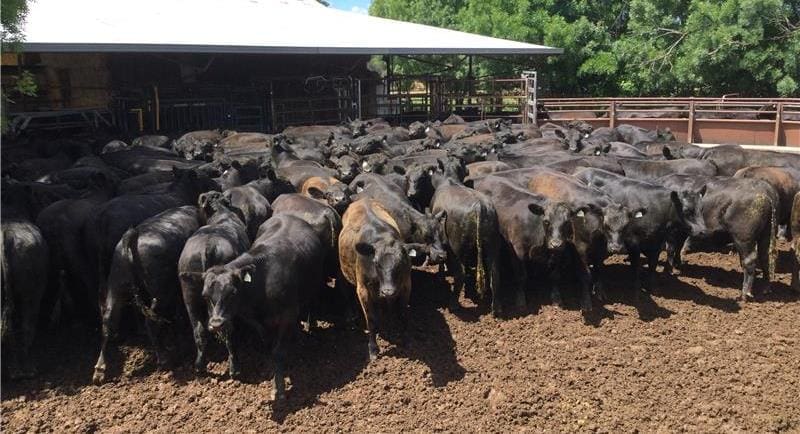 DRAMATIC rises have been seen in the feeder steer and heifer market this week, as the much-anticipated clash between restockers and lotfeeders for young cattle gathers momentum, following recent rain.
Direct consignment offers for feeder cattle from major grainfed beef supply chains operating feedlots have shot to unprecedented levels this week.
Some categories of feeder cattle out of the paddock have already lifted at least 20-25 percent since the start of the year.
In one example, NH Foods Whyalla feedlot near Texas is currently offering 400c/kg for Angus x Angus steers 300-480kg for its mid-fed and shortfed programs. Another Darling Downs lotfeeder is offering 420c/kg for similar heavy Angus feeders this week.
Elsewhere Teys Australia has adjusted its feeder steer paddock offers three times this week, in response to the rapidly changing market conditions.
Since Thursday, Teys has offered 385c/kg liveweight on flatback feeders milk-tooth +380kg, delivered Darling Downs. That jumped from 365c/kg on Tuesday, and 350c at the start of the week – representing a startling 35c/kg rise in four days. Back in early January before the rain, offers on the same cattle were 290c/kg.
Another downs lotfeeder were offering 390c/kg on similar flatback paddock-bought cattle this morning, while another multi-state feeder has kept his company's offers at lower levels around 350c for flatback steers for the timebeing – claiming that there is little point in lifting rates until paddocks are dry enough to shift cattle.
Saleyards rates for young cattle reflect the numbers being offered for direct consignment this week, with mediumweight yearling steers to feed at Dalby yesterday averaging 385c/kg, and heifers 372c.
"Lotfeeders have had the market all their own way for the past year or so, with no grassfed competition due to drought – but all of a sudden producers have paddocks-full of new grass in front of them, and are re-entering the market with a vengeance," one supply chain manager said.
"But what's happening is a massive disconnect between cattle prices and meat prices at present. These feeder prices are not reflective at all of what the meat market is doing," he said.
"It's going to be interesting where this all goes – it's unchartered territory at the moment."
Despite the current eye-catching offers evident on feeder cattle this week, there's clear evidence that many large commercial feedyards are currently dropping numbers on feed, after a sustained 12 month period operating at capacity due to drought.
Some grainfed supply chain managers believe the December quarterly survey results released yesterday, hitting a record-high 1.239 million head, will be the high-point in the current feeding cycle, and may well fall by 20pc or from that, as the year progresses.
While some suggest that current feeder cattle pricing may have a short-term 'incentive factor' built in, to motivate cattle breeders to muster waterlogged paddocks to put together a consignment of feeders, others are convinced that current prices reflect the long-term market trend this year.
"The overwhelming factor is producers simply electing to hold-on to young stock, with paddocks of green feed in front of them for the first time in a couple of years," one supply chain manager said.
Some grainfed markets will face particular challenges, Beef Central was told. Where domestic grain feeders holding supply contracts with Coles and Woolworths have traditionally relied heavily on heifers – at one point not long back 70pc of Coles' northern supply chain was heifer beef – those feeder heifers are now being re-utilised as future breeders, rather than entering the food chain. That will push greater competition back onto the steer portion to supply future supermarket grainfed needs, creating greater congestion for an increasingly limited resource.
Next week: Beef Central runs the numbers on its first 100-day grainfed trading budget for 2020. Stand by for some surprising outcomes as current market impacts are factored in…