AUSTRALIA's latest quarterly feedlot survey shows numbers of cattle on feed rising by 8.5 percent in the June quarter, reaching 1,256,832 head – the second highest figure on record.
The survey compiled by the Australian Lot Feeders Association and Meat & Livestock Australia shows record numbers on feed in Queensland and South Australia, which have pushed the national figure up – despite declines in NSW, Victoria and WA.
Numbers on feed in Queensland and SA rose by 17.6pc and 18.6pc respectively, reaching 758,080 and 50,318 head.
New South Wales (337,524 head), Victoria (58,613 head) and WA (52,297 head) numbers dropped 1.4pc, 8.3pc and 19.4pc across the quarter. WA's decline follows the state's normal seasonal winter cycle.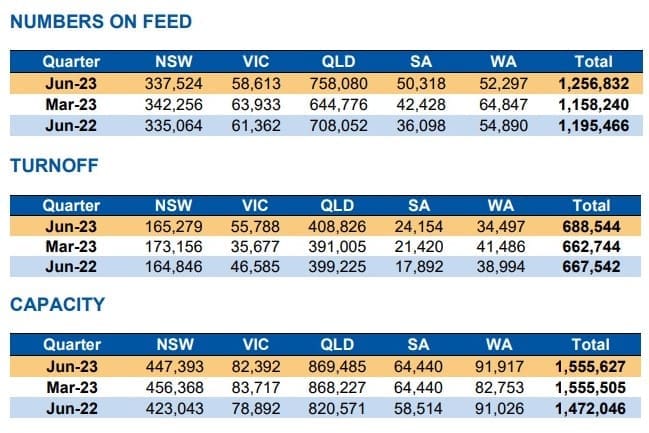 Big lift in pen utilisation
National feedlot capacity remained steady 1.56 million head, while utilisation rates increased from 74pc in the March quarter to 81pc in the June quarter.
ALFA President Barb Madden said despite input cost pressures and an uncertain economic outlook, high utilisation rates demonstrated continued demand for grainfed beef and confidence in the feedlot production system.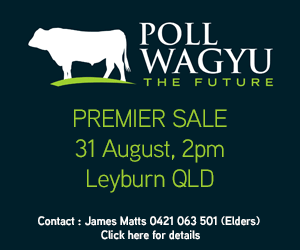 MLA's global supply analyst Tim Jackson said Australian grain prices were at near-record levels (see Beef Central's earlier feedlot breakeven article, published last week), but were internationally competitive.
"Wheat prices for the Darling Downs traded up 2pc at an average of $408/tonne during the quarter, however this represented a 25pc discount to American export HRW (Hard Red Winter Wheat), compared to a historic average of 5pc," Mr Jackson said.
"Even though feed prices have been rising, the relative price advantage will assist Australia's position in international markets," he said
Grainfed beef exports strengthened by 8pc from the March to June quarters, with strong demand from China and South Korea balancing softer exports in Japan.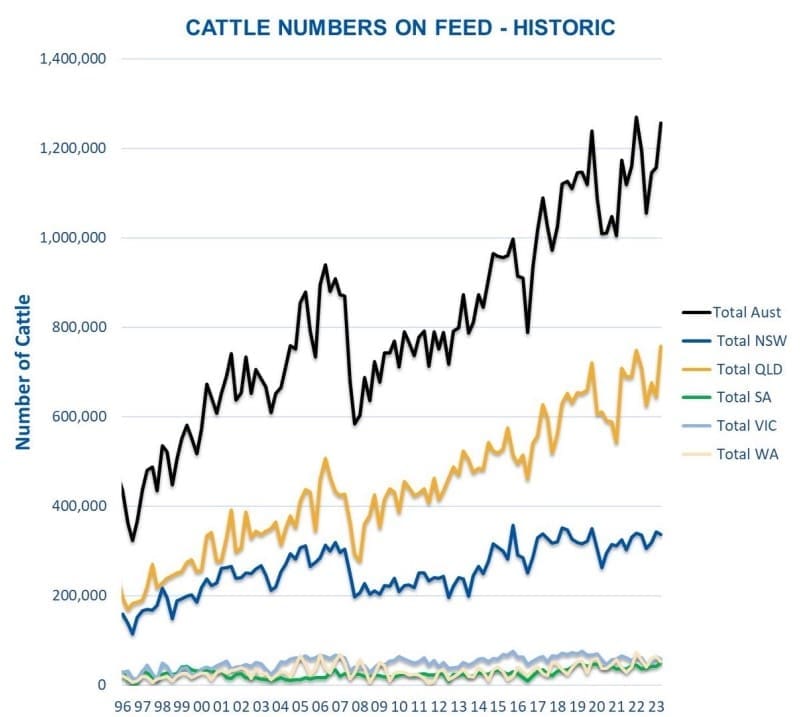 Feeder prices ease
Mr Jackson also said feeder cattle saleyard throughput strengthened in the June quarter, while prices and average weights eased.
The NLRS feeder steer indicator (see Beef Central's home-page dashboard) declined from 408c/kg liveweight at the start of the year to 308c/kg by the end of June – a 25pc reduction.
While easing feeder prices offered some cost relief, other input costs remained well above historic levels, and consumer confidence in key export markets was lower than year-ago levels.
Despite this, the June survey results show the continued resilience of the lotfeeding industry, Mr Jackson said.
"Australian grainfed beef is in demand around the world, as the increasing diversification of export destinations shows," he said, "and strong growth of numbers on feed demonstrate the capacity of the lot feeding industry to meet that demand."
Source: ALFA/MLA