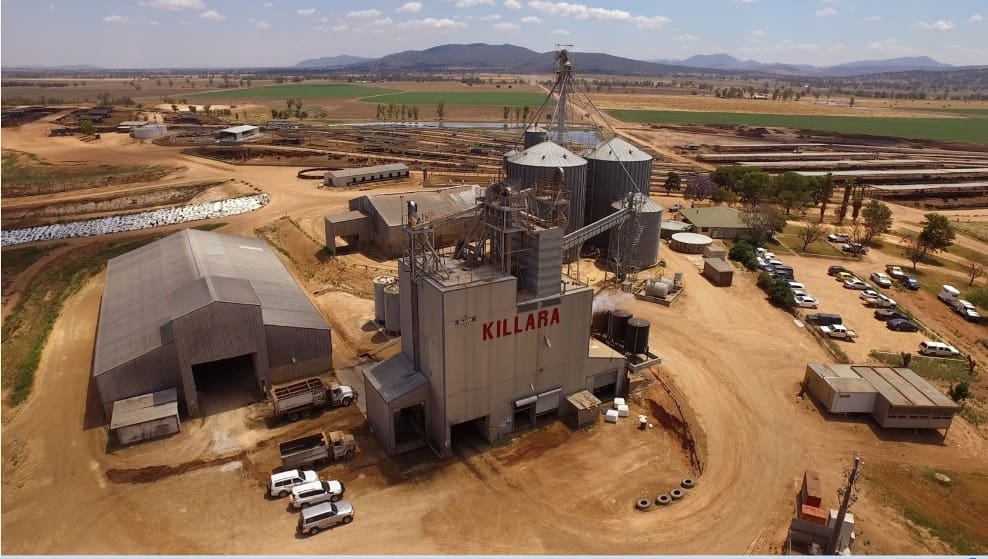 AS THE beef industry aims to decrease its use of antibiotics and address concerns about antimicrobial resistance, a New South Wales feedlot has made itself a leader in optimising the way sickness is managed.
Elders' Killara Feedlot, near Quirindi on the Liverpool Plains, has run several research projects in recent years to diagnose Bovine Respiratory Disease (BRD) more accurately and smooth out its procurement and induction processes for cattle entering the feedlot environment.
The projects at Killara have mainly been run to help the industry adapt to a series of antimicrobial stewardship guidelines which came into effect earlier this year as part of the National Feedlot Accreditation Scheme (NFAS) – run by the Australian Lot Feeders' Association and Meat & Livestock Australia.
Killara general manager Andrew Talbot said the organisation's customers were increasingly expecting a reduction in antibiotic use and the industry needed to react in a way that kept cattle healthy.
"There's a lot of stakeholders in the industry who want to see less antibiotics used and we don't want antibiotic resistance." Mr Talbot said.
"We also need to acknowledge that we need to treat sick cattle. Dead cattle is a huge cost to everyone's operation and it's a bad look for the industry.
"The research clearly shows that if you are committed to these pre-conditioning and backgrounding regimes, health outcomes improve and you can reduce pull-rates by two-thirds and halve mortality rates. But it needs commitment, you need to build infrastructure and invest in it."
Mr Talbot said with Killara mainly focusing on short-fed programs, efficient systems were needed.
"Killara is a feedlot that has a very high turnover of livestock and that has meant we need to take antimicrobial uses very serious," he said.
"We are different to the feedlots that predominately do the long-fed Wagyu programs, where health is a low risk. 40 percent of our 20,000 head capacity are turned over in a 70-day period and are known within the industry as high-risk cattle – that requires unique responses."
Changes in the procurement process
Mr Talbot said the organisation had changed the way it procured cattle into the feedlot, with most of its purchases bought from the paddock from consistent suppliers.
"10-years-ago, we bought 30pc of our cattle from the paddock and the rest were from the saleyards. Today 95pc of our cattle are paddock purchased," he said.
"We've been making sure as many as possible are pre-vaccinated, yard-weaned, socialised, quietened down and prepared for feedlot conditions – it's all about reducing stress.
"All of those factors have seen our pull rates for sickness drop from around 13 to 15pc to 5 or 6pc and a 20pc reduction in mortality rate."
The feedlot also has backgrounding and induction facilities on-site to manage the higher-risk animals entering the yard.
Developing new vaccines
Along with increasing its numbers of cattle bought from the paddock, Killara has increased the number of cattle which are pre-vaccinated. Mr Talbot said the organisation was working to optimise those vaccinations.
"There's been huge work done by vaccine companies in the research and development space, the price of vaccines has come down in recent years and there's been a lot of demand by feedlots to get on board," he said.
"The next step for us is to develop a vaccine specific to Killara, because there's so many different viruses and bacteria that the current vaccines can't handle the entire range of them."
The vaccine work is being done by Qurindi-based vet, from Apiam Animal Health, Dr Tony Batterham. (Click here for previous story on the autogenous vaccines)
"Killara has been keenly involved in building infrastructure to road-test new technologies to detect BRD, and in addition, build isolate banks for autogenous vaccine development to augment our current suite of control measures," Dr Batterham said.
"Autogenous vaccines have great potential for effective BRD control if based on recent surveillance of the operating pathogens at each specific site. Sophisticated methods of identification are used, such as full genome sequencing, and also production in terms of adjuvant selection and combination.
Dr Batterham said the idea was to combine preventative measures, like vaccines, with good practices to limit the use of antibiotics throughout the operation.
"The added advantage of being able to combine the surveillance aspect with good antimicrobial stewardship practice and resistance monitoring is a real positive for feedlot operators as they are getting a dual benefit," he said.
"Ultimately, at an industry level, we hope that through the use of more preventative tools, we can reduce antibiotic usage and resistance."
Using technology to diagnose respiratory disease
Dr Batterham has also been spearheading a trial more accurately diagnose BRD in feedlot pens, using remote monitoring and wearable technology to identify sick animals early. (More on that story here)
"BRD is the main reason feedlots use antibiotics, so if you can identify sick animals accurately, and early, you will deliver more targeted treatment and antimicrobial use that carries more likelihood of success" he said.
Dr Batterham said there was still plenty of work needed, to make the remote monitoring of BRD more practical in a commercial feedlot.
"The trials worked really well under research conditions, but we need to work out how to use this technology in a real production system," he said.
"A lot of the technology has been derived from the dairy industry or smaller cattle in American feedlots, so tailoring it to Australian operations is the next step."
Could industry learn from Killara?
With all feedlots under NFAS needing to have an antimicrobial stewardship plan, Mr Batterham said the industry can gain insights from the Killara projects.
"Killara is unique in the antimicrobial stewardship sphere because it is participating in every possible method that can be used to reduce antibiotics," he said.
"I have no doubt most NFAS operations will be able to comply with the recently installed antimicrobial stewardship plan requirement because there are already well-established and sound practices, overseen by veterinarians, across the industry. On the back of this research work, we are looking at how we can advance the current good practices."
Mr Talbot said the next step of the process hinged improving connectivity, to allow more operations to tap into the technology.
"It's all about the ability to access data from a central point, so we can have watch all of the cattle, all of the time," he said.
"Connectivity needs to improve and the cost the technology needs to improve so we can keep advancing this."