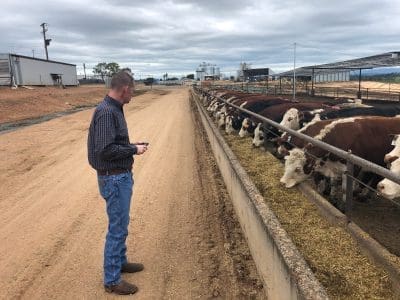 A NEW study using remote monitoring technology to help the lotfeeding industry diagnose and treat one of its worst diseases has delivered promising results.
A team of vets and feedlot staff have been using wearable technology to track the behaviour and movement of cattle, while constantly checking temperatures and performing a series of chuteside tests to diagnose Bovine Respiratory Disease (BRD).
The study could have a major impact on the lotfeeding industry, with Meat & Livestock Australia finding BRD accounted for 80 percent of feedlot deaths in 2019 – as well as significant decreases in weight gains and carcass yields.
BRD cases are typically detected by pen-riders looking for visual symptoms, with some cattle unnecessarily treated with antibiotics and many going undiagnosed.
Elders' Killara Feedlot general manager Andrew Talbot, who hosted the trial, said the best pen-riders in the industry have a 65pc accuracy in diagnosing BRD.
"Those results are not surprising because the pen-riders only have seconds to make a decision," Mr Talbot said.
"Most pens in Killara are about 200 to 300 head and two pen-riders go through them, which means they will look at 6,000 to 8,000 head in three hours."
Mr Talbot said about 70,000 head were turned over by the feedlot each year and the company had been trying to minimise the impact of BRD through preventative measures.
"It's about reducing stress by making sure cattle are yard-weaned, socialised, quietened down and prepared for feedlot conditions," he said.
"10-years-ago we bought 30pc of our cattle from the saleyards, today we're 95pc paddock supplied. More than 65pc of cattle entering the feedlot are pre-vaccinated."
While Mr Talbot said the numbers of cattle at Killara showing BRD symptoms were dropping, accurately diagnosing the cases was still an issue.
Seven methods used in trial
With the aim of accurately diagnosing more cases of BRD and using antibiotics more judiciously, as well as improving animal health and welfare, a team of vets led by Apiam Animal Health's Tony Batterham and funded by Meat & Livestock Australia, put two pens of 200 saleyard-bought steers through a series of tests.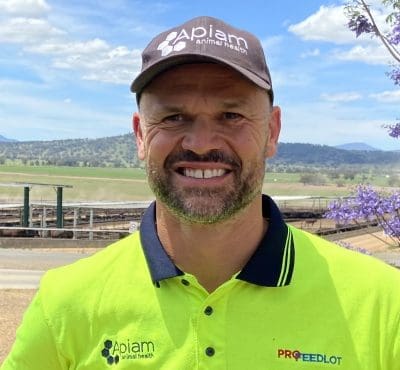 Cattle were fitted with collars to track their movements every 5 to 10 seconds, and bolus thermometers in their rumen to return core temperature readings every five minutes.
Eight antennas were fitted around the pen, connecting the wearable technology to a central database, where the continuous monitoring of BRD was conducted.
Pen-riders were still looking for clinical symptoms on their regular run through the pen but were blinded to the monitoring of the wearable technology.
When pen riders determined cattle qualified for treatment for BRD, they were pulled from the pen and presented for a series of chute-side diagnostics that were also part of the trial.
An ultrasound machine was looking for lesions on the lungs and in the chest cavity, an electronic stethoscope was detecting breath sounds, and blood samples for laboratory tests were taken.
With special animal ethics approval, the team then performed autopsies on the cattle meeting BRD criteria to assess the diagnostic accuracy of each part of the trial.
Ultrasound shows immediate results
Mr Batterham said the ultrasound machine showed immediate viability – the best of the chute-side diagnostic tests.
"If you were going to adapt any of these to a feedlot operation tomorrow, it was the ultrasound," he said.
"It performed really well detecting animals that were sick and confirming that animals were not sick."
"It is immediately deployable and anyone can be competent users after a little bit of training – including non-veterinarians."
While there was immediate use for the ultrasound, Mr Batterham said it had its limitations, with the technology being adapted from smaller cattle in the dairy industry and US feedlots.
"The ultrasound needs a minimum amount of power to penetrate the chest cavity of larger, heavier, Australian feedlot cattle – a cheap machine won't do the job," he said.
"The standard hospital chute, in Australian feedlots, needs to be adapted so you can have access to all the right parts of the animal, and that may be difficult to achieve with the legacy chute designs that didn't have ultrasound surveys in mind at the time of installation"
Time was also an issue, with the typical surveys requiring about five minutes on each side of the animal – 10 minutes all up. But Mr Batterham and the team had shortened it down to three to five minutes in total, which he said was not always ideal.
"The more you shorten a survey, the more you increase the risk of missing lesions and having a wrong diagnosis," he said.
"While it performed well under research conditions, we still need to figure out how to deploy it in a regular production system."
Adapting technology for pen-riders
The wearable technology diagnostics used in the trial demonstrated good accuracy detecting clinical cases of BRD, but also detected a reasonable proportion of cattle with subclinical disease, or showing no symptoms, which is necessarily more hidden from the view of pen riders or any other human making subjective assessment of symptoms.
Subclinical cases of BRD also represent a significant impact to animal health and welfare, and a considerable cost to feedlot operators.
"The wearable technology offers promise to detect the spectrum of BRD cases in the pens as it operates 24/7 monitoring behaviour and temperature variables, and to report these animals daily to pen riders to assist and augment their standard clinical assessments" Mr Batterham said.
However he said there was still work to do here as well to deploy the technology efficiently in feedlot production environments.
Earlier versions of the behavioural tracking system contained a flashing lamp in special ear tags which could be illuminated to identify clinical cases for the pen-riders to find.
But Mr Batterham said the flashing lamps were still difficult to see in direct sunlight and they were heavy enough to annoy the cattle wearing them.
"Wearable technology can only assist as long as it's actually worn," he said.
"When you have a pen of 200 black cattle, it is very difficult to differentiate individual animals and you have to be close to each one to read individual ear tags.
"The light-up ear tags was the first attempt to do this and it was a noble attempt. But I believe the next step is to look at fitting wearable technology on the livestock staff to synchronise with the monitoring technology and identify the target animals. There is also the potential for assisted reality head-sets to be adapted for this functionality." (See previous Beef Central story about assisted reality)
Mr Batterham said working out a way to find all the affected animals in the pen, and leave the non-affected animals alone, was the key to reducing the impact of BRD. He said the research work was an important step in ALFA and MLA's ambition to continually improve antimicrobial stewardship, along with animal health and welfare, in the lotfeeding industry.
"We have really good livestock staff in Australian feedlots, but the best pen-riders will still ride past some sick animals because they are not showing symptoms.
"While there is still some work to do gearing this technology up to be feasible in standard feedlot production systems, we've made a good start and have laid the groundwork to continue validating the remote monitoring systems with chute-side ultrasound, precluding the need to use post-mortem as the gold standard of BRD diagnosis"