RECORD forward pricing on 100-day grainfed cattle for August delivery, plus an easing in feeder cattle prices have contributed to a positive swing in results in Beef Central's latest grainfed trading budget calculated this morning.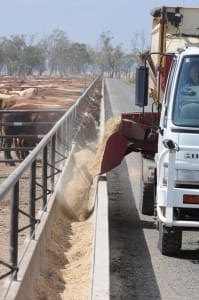 Using our standard set of industry variables (see full list at base of page) we've come up with a positive $3/head trading budget result on our typical flatback steer, closing out August, week-one after 105 days on feed. That's dramatically improved from a -$42 outcome in our previous budget calculated back on March 30.
For the record, our last trading budget profit was seen back on November 26 last year, when it hit a record high +$49. There's been plenty of red ink in the interim, mostly in the -$40 to -$50 range.
We'll plot the recent sequence of trading budget results in our next breakeven report in two or three weeks' time, soon after Beef 2015.
Feeder price unchanged at 255c/kg
For today's trading budget, we've applied a feeder buy price (flatback steer 450kg liveweight) of 255c/kg live – unchanged from three weeks ago.
Having said that, there have been spot sale feeder cattle delivered in the 260-265c/kg range in the last week, due to tightening in supply around the Easter period, and a number of operators who have returned to the market after an absence. Kilcoy's return to work last week (100pc grainfed kill) has also been a factor.
Where do feeder prices go from here?
Subject to the winter, prices look likely to go higher, despite the very dry conditions in some supply areas. While the summer season has been very disappointing in many larger-scale breeding areas of Queensland, the fact is that those areas in many cases now have relatively few cattle left in them, meaning any turnoff will not exert as much influence on the market as it perhaps did last year.
High prices have also seen people shift cattle early.
Worth noting, also is the unusual circumstances seen over the past 12 to 18 months where heavy feeders have consistently made more money (c/kg basis) than lighter feeders – against the traditional pattern.
That trend has in fact changed a little in the past fortnight, especially through NSW, where the rain influence has seen demand again lift for lighter feeders and backgrounders, to rates close or equal to heavier feeder rates. Reference NSW store sales held over the past two days.
That suggests a little more confidence across those areas, with some rain relief, and the better prospect of some winter oats production coming on line.
The fundamental driver for the abnormally high heavy feeder price over the past year, relative to lighter feeders, has been the lack of feed and subsequent backgrounding and growing capacity due to the drought. That's put greater demand pressure on heavier feeders close to feedlot export entry weight.
What that's meant is that per-head margins for dedicated backgrounders – at least those who had a good enough season to deliver – have been abnormally high over the past 18 months, as they buy those lighter steers and heifers at a discount to heavier feeder prices.
In concert with that seasonal trend, the lower limit in the weight range for some feedlot entry specs weights, as well as finished slaughter cattle 'bottom weights', have been reduced, in order to cater for the drought effect on the supply chain.
What that's meant is that there is arguably more 400kg steers going onto feed for 100 day programs today, and less 450kg steers than there used to be, because minimum weights are now a little kinder.
Today's trading budget's feeder price has declined from a peak around 275c seen in the market around mid-February, when the earlier rain influence was still in full swing. But it's still 20c/kg better than back in our mid-January breakeven, when the figure was still 235c.
A feeder value of 255c/kg applied in today's budget values our steer at $1147 at induction – just $23 short of our record set in our report of March 6, since our trading budgets started back in mid-2011.
The low-point in feeder steer price in this series came in the depths of the drought in May last year when it reached 150c/kg briefly ($675). That means the steer purchase price has risen $472 a head since. Even this time a year ago, the feeder steer was still worth around 180c, making him $350 dearer to purchase today.
Ration price lifts to $370/t
It appears that the feedgrain market has firmed since our last budget, leading to a $5/t increase in our formula today to $370/t. Having said that, there's some variance evident in Downs feedlot ration pricing at present, from around $360 to $380. That's due to the firming trend in grain price since we did our previous two breakevens, and the fact that Queensland feedlot remain near capacity.
Finished ration price is still back $15/t on its drought-fuelled high recorded during the second half last year, but full pens mean there is still not a lot of competitive pressure on custom feedlots in terms of how they price their ration to customers.
At this week's designated ration price, it represents a cost-of-gain, using our chosen variables (2kg/day ADG, for 210kg gain over 105 days) of 276c/kg, up 4c from last time.
All that delivers a total production cost (steer purchase plus custom feeding price, freight, interest, contingency, levy and induction costs) of $1831. The only consolation is that it's not as quite bad as our March 6 record production cost of $1853 a head.
The above inputs deliver a breakeven in our latest budget of 519c/kg, a 2c/kg rise on our previous calculation, due to the slightly lower feeder animal component. It means we're back within sight of record territory though: our previous budget's breakeven at 522c/kg six weeks ago (feeders then worth 260c, on the back of February rain), was easily the highest ever seen for Beef Central's regular report.
This time a year ago, the breakeven figure was only 425c/kg, meaning we are still close to a dollar a kilo higher today.
Forward pricing for GF ox jumps to 520c/kg
A sure sign of where processors see cattle supply during the back-half of this year is today's forward price for our finished 100-day grainfed steer, exiting the feedlot August, week-one. The figure has jumped to 520c/kg from 505c quoted in our last report three weeks ago.
That's delivered a fairly dramatic turnaround in our overall trading budget outcome, from minus $42 last time to positive $3 today.
That price rise is driven by one thing: widespread expectation among processors that cattle are going to get very tight from August on. Putting some lolly out there will serve to help secure supply.
It's no secret that large processors have a lot of cattle themselves on feed at present, both within their own feedlot infrastructure, and through custom-feed purveyors. One large processor may have 100,000 grainfeds on their books, we're told.
Today's forward price values our typical 356kg steer carcase at $1835, easily a record for this report.
Burt while it sounds like a big number, it's perhaps worth putting into some US industry context.
Today's breakeven figure in the US grainfed market on steer (granted, fed longer than Australia, and including some leverage through production tools like beta agonist) is US$2313 (A$2984).
Looking at the forward US grainfed market based on futures prices, it gives a Texas Panhandle price for August of US$2171, which in A$ terms is $2818.
It means approximately the same bullock in the US (perhaps 30-40kg heavier in carcase weight) is worth roughly $1000 a head more than it currently is in Australia.
Spot market lifts 15c
Demand from the processing sector, either placing more cattle on feed themselves, or forward contracting more cattle on feed, has continued to remain extremely strong, and does not appear likely to change any time soon.
It's seen the spot market for 100-day cattle this week rise again to 500c/kg, up 15c/kg on our last report three weeks ago.
In contrast, cattle forward-bought, three and a half months ago, for slaughter today, were making 480c/kg. That means processors are 20c/kg, or about $53/head, better off on those January forward-bought cattle, that they are buying the same beast in today's spot market.
Interestingly, the forecast breakeven back then was around 495c, which is very close to today's spot market price.
Beef Central's regular 100-day grainfed breakeven scenario is based on a standard set of representative production variables, ex Darling Downs. It is built on a feeder steer of 450kg liveweight, fed 105 days; 356kg dressed weight at slaughter; ADG of 2kg; consumption 15kg/day and a NFE ratio of 7.5:1 (as fed); $25 freight; typical implant program. Bank interest is included. It is important to note that variations exist across production models (feed conversion, daily gain, mortality, morbidity, carcase specification); from feedlot to feedlot; and between mobs of cattle. Equally, there can be considerable variation at any given time in ration costs charged by different custom-feed service feedlots. Click here to view an earlier article on this topic. For a more specific performance assessment on a given mob of cattle, consult with your preferred custom feeder.