WHILE declining feeder cattle values have provided some relief, the recent kick in feedgrain prices has kept profitability well into the negative in Beef Central's latest 100-day grainfed trading budget calculated yesterday.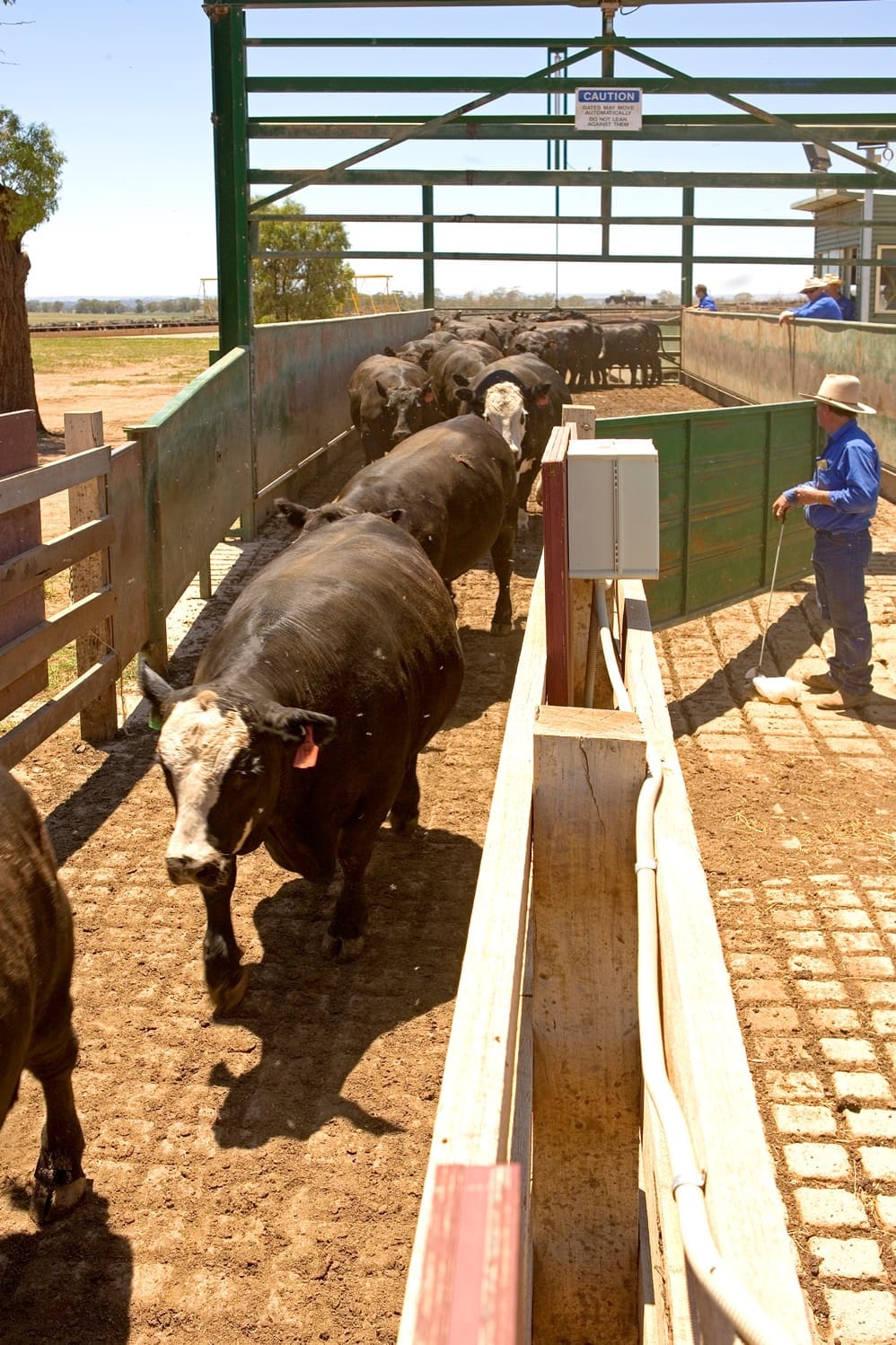 Our latest trading budget has delivered a theoretical loss of $69 per head, based on our typical flatback feeder steer 450kg (see full list of variables at the base of this page) entering a downs custom feedlot today, and closing-out after 105 days on December 11.
The December 11 exit date is significant, because it represents some of the last 2017 grainfed kills before most processors close for their seasonal Christmas/New year break. That dormancy period normally means that heavy feeder demand goes quiet for a few weeks, as feedlot buyers factor-in the non-kill period into their feeding/procurement strategies.
For today's breakeven calculation, feeder price has taken a significant dip since our previous mid-July report – back to 290c/kg, a 30c/kg or $135 a head decline on our last report of six weeks ago.
That's the lowest feeder price in our data-set since April and May last year, when it reached 285c and 290c respectively. Before that, it's necessary to go back to August 2015 to find a similar figure, at the start of the big cattle market surge that took place that year.
Today's feeder price values out feeder steer at $1305, down $135 since our previous breakeven. At its high point in the recent price cycle, the feeder price was approaching $1700.
Ration price jumps $20/t
Ration price shows a $20/tonne rise in today's budget to $360t, and certainly a number of Darling Downs yards offering custom feding services are quoting levels above that.
Howerver in recenty weeks there has been something of a correction in feedgrain price, with new-season grain coming on line. Since our last trading budget report six weeks ago, ration/grain prices rose sharply to around $380/t, but have backed-off somewhat in the past fortnight. An upowards re-estimate of global grain stocks has also contributed to that, trade sources say.
But Australian domestic grain prices continue to appear to be a long way above export parity, driven hard by record high feedlot demand (see recent June quarterly numbers on feed report).
A ration price at $360/t is uncomfortably high for anybody feeding cattle or getting them fed, exceeded only by the lengthy period in 2014-15 when shortage of grain, especially in the  north forced ration prices to near-record highs of $385/t, and consistently above $370.
Putting today's ration price in context, it was down around $300/t at the start of this year.
Today's ration price delivers a total feeding cost of $564, and a total production cost (ration cost, plus feeder cost, and incidentals listed at the base of this page) of $1972. That figure is down about $100 from $2079 just six weeks ago, due mostly to the softer feeder price.
Cost of gain in today's calculation is not too bad, at 269c/kg. But it's worth pointing out that COG should perhaps be seen in context. If we'd reported a COG at 269c/kg two years ago, it would have been regarded as a big number, given the feeder price at the time. But now, with feeders at 290c, it does not look too bad. Looking at COG at the start of this year and 12 months ago, it was around 209c/kg.
In these comments recently in an earlier Beef Central article, ALFA president Tess Herbert pointed out the big differences that can occur in cost of gain in yards in different parts of Australia, based on local grain prices and growing conditions.
Some southern NSW and Victorian feedlots are currently reported to have ration prices around $300/t, and in one case in South Australia, custom fed cattle this week are on a $265/t ration.
A $265/t custom-feed ration price represents a COG of below 200c/kg on current prices – a vast difference from out reported COG in southern Queensland this week of close to 270c/kg.
While our report tends to focus on the grain component of our finisher ration, its worth noting for a moment the rally in price and shortage of supply that's emerging for hay and roughages at present, with the dry conditions in June, July and August. Silage price tends to be linked to grain price, which has also risen this year – with winter cereal silage perhaps 30pc dearer this year than what it was this time a year ago.
Breakeven at 559c
The above trading budget inputs deliver a breakeven figure of 559c/kg for today's budget, down 30c/kg on the 589c/kg figure in our previous report back in mid-July.
That's due to softer feeder price (-30c/kg) outpointing the rise in ration price (+$20/t).
Worth remembering though, is that while we have chosen 2kg/day as our representative rate of gain (see list of chosen variables below), better-performing cattle (say 2.2kg ADG) will produce a result considerably more favourable than that published above.
Against that breakeven figure of 559c, forward contracts being offered this week on 100-day grainfed cattle for mid-December delivery by competitive Queensland grainfed processors are currently at 540c/kg, down 20c/kg from six weeks ago.
That means our trading budget is still well in-the-red at minus $69/head. It's not as bad as last July's figure of minus-$103/head, but feeder prices have obviously softened considerably since then.
High yard occupancy suggests bigger margins for feeders
Record high numbers on feed across Australia at around 1.1 million head in June (see earlier report) has pushed yard occupancy levels to close to capacity in some states. In Queensland, the June quarter occupancy figure was close to 90pc, which with pen scraping and maintenance, is approaching 'house full', in practical terms.
That means custom-feeders' 'hunger' to remain competitive in pricing is reduced, because they do not have to compete so hard for business. This is providing opportunity to widen their margins.
Coming into the back end of the year, especially if there's some rain about, numbers on feed are likely to decline somewhat, analysts say, suggesting yards offering custom-feeding services may have to sharpen the pencil again and trim their margin to ensure they get their fair share of cattle business.
On the meat side, it's hard to see any upside in grainfed slaughter cattle prices in the months ahead. Processors have clearly flagged their intentions over cattle price the past three months. It will only be widespread and substantial rain, which would absolutely destroy supply for some months afterwards, which stands in the way of a softening cattle market.
Processors feeling pain in current kills on contract cattle
Spot price on 100-day grainfed ox this week in southern Queensland is around 510-520c/kg (prices were perhaps as low as 500-510c last week, before a mini-recovery occurred).
On cattle bought on forward contract four months ago for slaughter this week, they were 565c/kg cattle, compared with a market today of 520c.
Keep in mind that many processors were punting at that time on very short cattle availability about now, and as a result were buying cattle in big numbers on forward contract back in May, to try to deliver some 'insurance.'
That strategy has created an enormous belly-ache for the processors involved, because as the above figures show, they can now buy the same steer for 45c/kg less than the one they contracted four months ago. At 45c/kg across our standard carcase weight of 356kg, that represents a whopping $160 a head differential.
Beef Central's regular 100-day grainfed breakeven scenario is based on a standard set of representative production variables, ex Darling Downs. It is built on a feeder steer of 450kg liveweight, fed 105 days; 356kg dressed weight at slaughter; ADG of 2kg; consumption 15kg/day and a NFE ratio of 7.5:1 (as fed); $25 freight; typical implant program. Bank interest is included. It is important to note that variations exist across production models (feed conversion, daily gain, mortality, morbidity, carcase specification); from feedlot to feedlot; and between mobs of cattle. Equally, there can be considerable variation at any given time in ration costs charged by different custom-feed service feedlots. Click here to view an earlier article on this topic. For a more specific performance assessment on a given mob of cattle, consult with your preferred custom feeder.