DESPITE another substantial jump in finished grainfed cattle prices for forward delivery, it hasn't been enough to extinguish losses in our regular 100-day grainfed trading budget calculated yesterday.
For our latest projection, Beef Central has logged a minus -$20 result on our typical 450kg feeder steer going on feed in a Darling Downs feedlot today, and closing-out after 105 days for slaughter on December 9.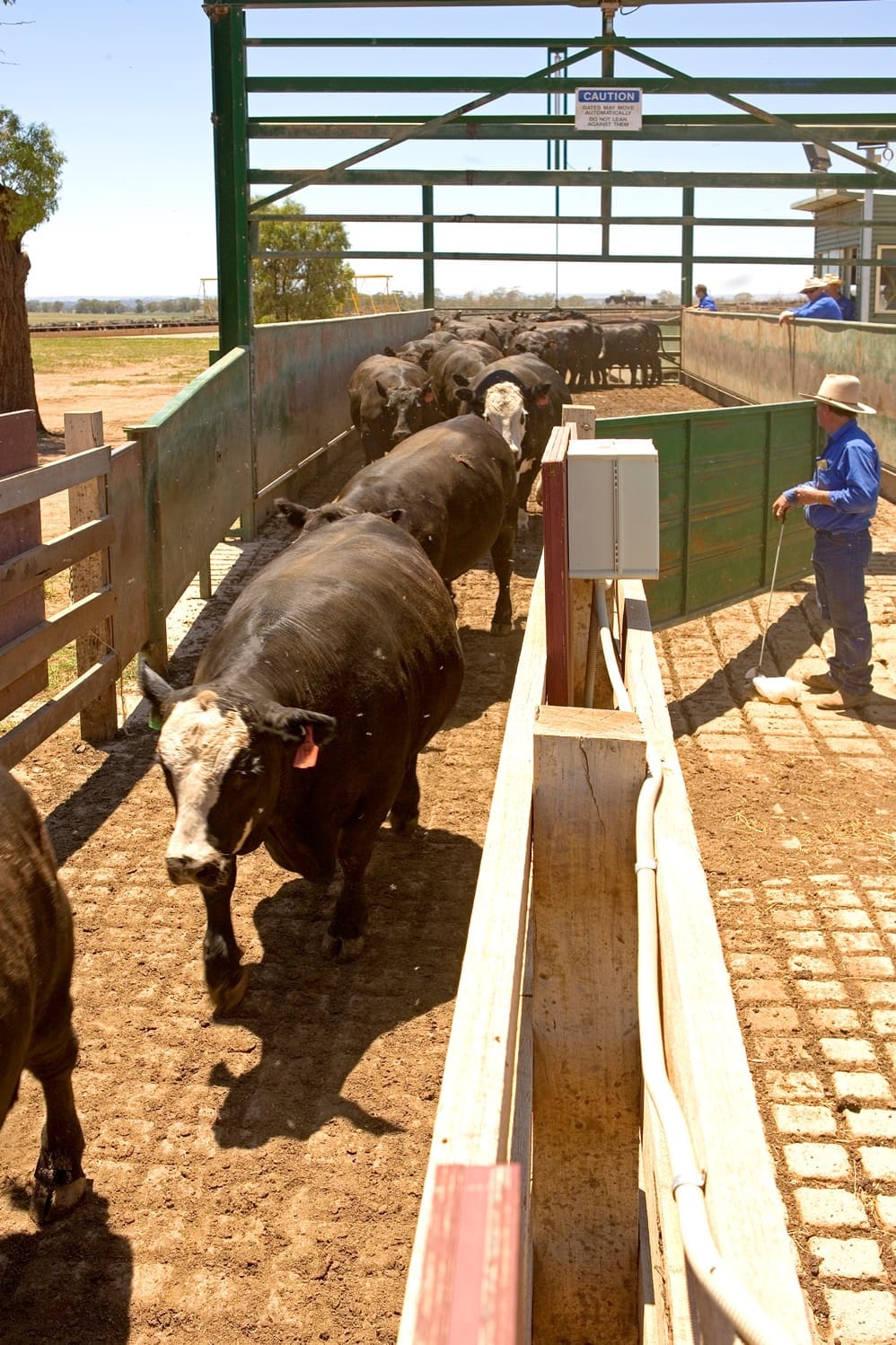 That's based on our standard set of variables, listed at the base of this page.
For today's budget, we've lifted our feeder steer purchase price (flatback steer, 450kg liveweight ex Darling Downs) another 10c/kg, reaching 300c/kg for the first time in history.
That values the steer at $1350, another $45/head jump on our previous budget forecast three weeks ago. This time last year, our feeder was worth just 200c/kg. The nice, round numbers make the sums easy: he adds another $450 to our production cost than he did 12 months back.
At their lowest-ever point in the four years of data captured in Beef Central's breakeven reports (May 2013), feeders were worth just $670, representing a massive rise of $680 since.
The latest lift in feeder price simply reflects further tightening in supply, enhanced by a few more heavy feeder types going through to slaughter as grassfed, attracted by current record grassfed slaughter money. Decent to excellent oats crops through NSW and parts of southern Queensland, now at their peak, are contributing to that.
Depending on where such cattle are being directed, from a slaughter point of view, there are Queensland feeders carrying some indicus content being traded at slightly cheaper prices.
Further south, prices for feeders are possibly still 20c/kg above our feeder price quoted here, reflecting superior general cattle quality, with business being done at up to 320-330c in southern areas on the right cattle. Mixed runs, and cattle not quite up to spec are making slightly lower rates than that.
Somewhat surprisingly, given the current feeder price climate described above and growing difficulty in sourcing cattle, there are not yet any real signs evident of decline in cattle numbers on feed. As reported on Beef Central recently, the quarterly feedlot survey for the period ended June 30 showed near record numbers on feed across Australia (click here to view earlier report), and there is no evidence that that has changed substantially since.
Ration price eases to $375/t
For today's budget, we've eased the ration price by $5/t to $375/t, but that's still just $10 shy of our all-time record ration price set two months ago and equalled back in April last year, at the height of the grain price rise due to drought.
Grain prices have generally softened $35-$40/t in the past couple of months, on the back of more follow-up rain through central and northern NSW and good crop outlook. Depending on delivery times and other factors, some sources have Downs wheat today at $300-$305/t.
The fact that Queensland and northern NSW feedlots remain near capacity is helping protect current ration pricing levels, despite the drop in feedgrain price. That's because there is still little competitive pressure on custom-feedlot operators to lower their margins in order to attract business. That may change a little if pens start to empty out in coming months.
The other factor is that a number of yards would have bought some dearer grain in recent months, that they are still working through the system, and which is reflected in ration pricing.
More rain forecast this week is also likely to impact on grain pricing.
At today's designated ration price used in our breakeven, it represents a total feeding cost of $587 (down $7 on three weeks ago), and cost-of-gain, using our chosen variables (2kg/day ADG, for 210kg gain over 105 days) of 280c/kg, back 4c.
All this adds up to a monumental total production cost of $2049. Just three weeks ago, it broke through the $2000 barrier for the first time, reaching $2010, but since then, it's advanced another dizzying $39. To put it into context, back in May last year, that figure was $1232 – an incredible $817 rise in production cost in the past 15 months since.
Combining the above inputs, it delivers a breakeven in today's budget of a record 581c/kg – up another 11c/kg on a month ago, and 132c/kg higher than this time last year.
Forward pricing for GF ox jumps to 575c/kg
Helping work against those considerable headwinds, we've got today's SEQ kill forward price for our finished 100-day grainfed steer, exiting the feedlot December 9, at 575c/kg, up another 15c/kg on three weeks ago.  It values our 356kg dressed weight carcase at $2047.
That price reflects the fact that good slaughter cattle are likely to be very difficult to find by early December, given the events of the past 18 months. Early Christmas plant closures are being discussed this year as a possibility, under these circumstances.
Lining-up today's breakeven figure at 581c/kg, and today's processor forward purchase price for December of 575c/kg, it means today's trading budget comes back at a loss of $20.60 a head, based on our regular variables. That's a $14 improvement on three weeks ago, but still on the wrong side of the ledger. Feeder prices is still bearing the biggest influence on that, largely over-riding the recent advances in forward and spot pricing on grainfed slaughter cattle.
Spot market sits at 550c/kg
Today's spot market for 100-day cattle for SEQ slaughter is in a range from about 550c to 570c/kg for prettier cattle on public grids, a dramatic rise in the past two months in line with the broader cattle market spike and kill numbers in decline.
In comparison, cattle forward-bought by processors back in May, for close-out this week, were bought on 540c/kg contracts. It means processors buying cattle today in the spot market are probably 10c/kg ($35) to 30c/kg ($110) better off on those forward-bought cattle, than they would be on the same animal bought in today's spot market.
Remarkably, it's worth noting that grass and grainfed cattle prices today for better quality cattle like MSA or better 100-day animals are pretty-well line-ball.
US, Australian graphs show parallels in history of lotfeeding profits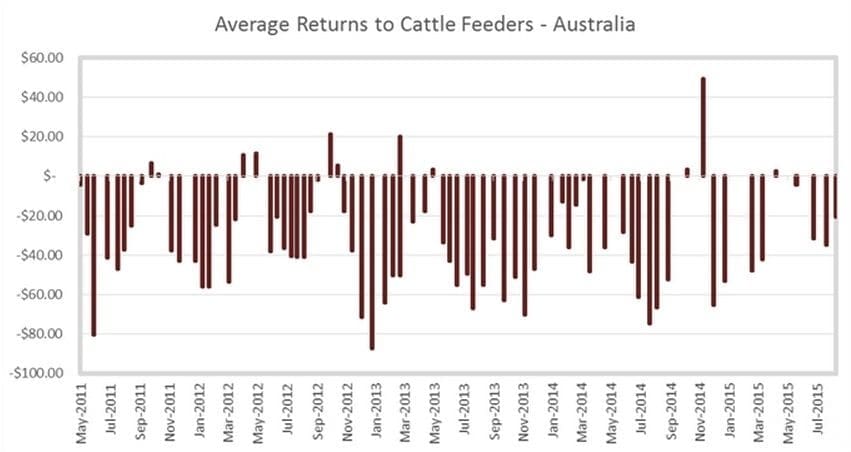 For this report's graph, we've chosen to plot the highs and lows of profitability on our 100-day grainfed trade. Unfortunately, it's mostly lows, with an average over the past four years of reporting this data-set at minus $32.47.
What's worth noting is the distinct similarity in the results between these (Australian market) figures, and similar US feedlot data collected by the US Livestock Information Service, discussed in today's separate article. While the time lines are different, the trend is there to see.
Looking back at our breakeven calculations over the past 12 months, the average trading loss in Australia has been $30 a head, using our standard variables. Within that, results have gone from a few dollars profit to a -$74 loss.
Beef Central's regular 100-day grainfed breakeven scenario is based on a standard set of representative production variables, ex Darling Downs. It is built on a feeder steer of 450kg liveweight, fed 105 days; 356kg dressed weight at slaughter; ADG of 2kg; consumption 15kg/day and a NFE ratio of 7.5:1 (as fed); $25 freight; typical implant program. Bank interest is included. It is important to note that variations exist across production models (feed conversion, daily gain, mortality, morbidity, carcase specification); from feedlot to feedlot; and between mobs of cattle. Equally, there can be considerable variation at any given time in ration costs charged by different custom-feed service feedlots. Click here to view an earlier article on this topic. For a more specific performance assessment on a given mob of cattle, consult with your preferred custom feeder.