THE frequent losses recorded in Beef Central's regular 100-day grainfed trading budgets and breakevens (click here to access this morning's latest report) are not at all unusual, when put into context against circumstances in the US feedlot industry.
In this article prepared by the US Livestock Marketing Information Centre for the Daily Livestock Report, it can be clearly seen that 'red ink' has dominated trading budget outcomes in US feedlot programs over the past 20 years, much as it has in Australia.
While variables including grain price, feeder price and finished cattle price contrast sharply between lotfeeding operations in Australia and the US, the end results are not dissimilar, on a long-term basis.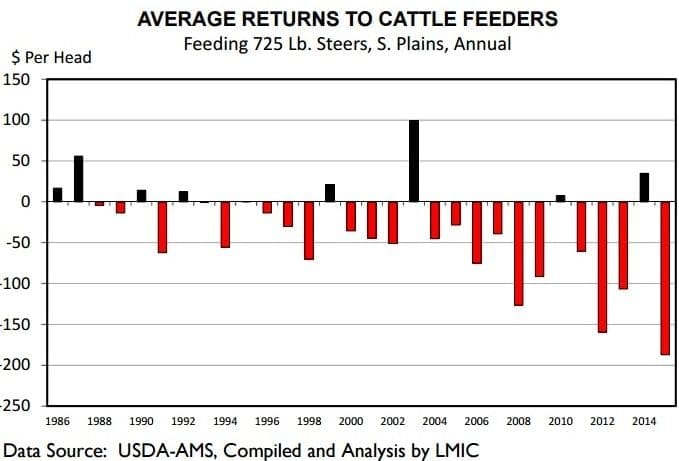 Estimated US cattle feeding returns this year are mired deep in red ink – in fact, 2015 could turn out to be the worst year ever for US lotfeeding profitability, the LMIC suggests.
Even in the best case situation, if the last four months of the year turn out much better than anticipated, 2015 would post the lowest per-head return to US lotfeeders since 2012.
Importantly, 2012 was the worst (most negative) return since LMIC began such estimates in 1974.
For 2015, an annual average loss of US$180 to $195 per steer is projected. Those losses are in stark contrast to 2014, which was the highest profit year since 2003.
Estimates of calendar year feeding losses require several assumptions because commercial operations are constantly buying and selling animals. The LMIC assumes beginning the feeding period with 750-pound (341kg) steers and selling the same number of animals every month on a custom basis. That is, "custom feeding" arithmetic is used, which charges feedstuffs monthly at the cash cost and paying a yardage fee to the feedlot to take care of the animals.
Normal levels of death loss and paying interest cost on a proportion of the cost of the feeder animal are assumed (just as Beef Central does in our Australian grainfed budget).
Importantly, finished (harvest ready) cattle are sold via the cash market, so do not reflect some of the carcase quality based premiums available in US grading or risk-sharing with processors. These calculations do not include using price risk management tools (i.e. futures and options).
The history of cattle feeding return estimates in the US, no matter who calculates them, looks rather negative, LMIC says.
In the last two decades cattle feeding returns have been highly variable with long-term averages near breakeven when total economic costs are considered. Using the assumptions above, LMIC estimates that average cattle sold have lost every month since December 2014.
In recent years, many cattle feeders have initiated production and marketing practices that diverge away from the assumed model. That is, they do better than assumptions indicate. This year, even better than average cattle in a highly managed production/marketing programs have lost over US$100 a head, however, for several consecutive months.
Pressured by shortage of supply, US feedlots have become very flexible in the weights of cattle placed on-feed, like feeding calves instead of always 750-pound steers as assumed, based on market conditions.
Also, they adapt feeding practices based on costs of feedstuffs rather than fixed rations. On the production side, cattle feeders often own the feedlot and enhance returns by using feeding technologies combined with sorting/weighing individual animals into market target groups.
Further, instead of buying feeder-weight animals, increasingly, US cattle feeders buy calves and grow them in relatively inexpensive grazing and backgrounding operations to reduce feeder animal costs and schedule placements to align with their finished cattle marketing plans. Similar trends are emerging in Australia.
US feedlots have sophisticated data and information systems on historical animal performance and can identify above average performing cattle easier than ever.
A key driver dampening placements of cattle into US feedlots during recent months has been cattle feeding red ink. Every Cattle on Feed report released by USDA's National Agricultural Statistics Service this year has shown the heavyweight category of feedlot placements (+800 pounds, 364kg) at or higher than a year ago, often well above.
All the other lighter weight categories combined only had two months with a year-over-year increase. Reports across the US indicate that many cattle entering feedlots have weighed dramatically over 800-pounds (reports consistently indicate 1000-pounds (455kg) and heavier).
Eventually, heavyweight feeder animals simply run out of time to be economically grown on pasture/range or backgrounded.
Whether it be in Australia or the US, cattle feeding return estimates are useful, mostly in terms of year-over-year changes. The dramatic profitability drop in 2015 versus last year has changed the dynamics of the US feedlot sector by dampening placements. But, much of the heavyweight feeder cattle market price pressure due to that situation has been masked by the ability to hold animals in the country, so far.
Year-over-year increases in US feedlot placements weighing 800-pounds and more will likely continue, LMIC suggests. At this point, placement increases in lighter weight categories largely depend on improved cattle feeding returns through some combination of reduced costs (such as lower calf and yearling prices) and/or higher fed cattle prices.
Source: LMIC