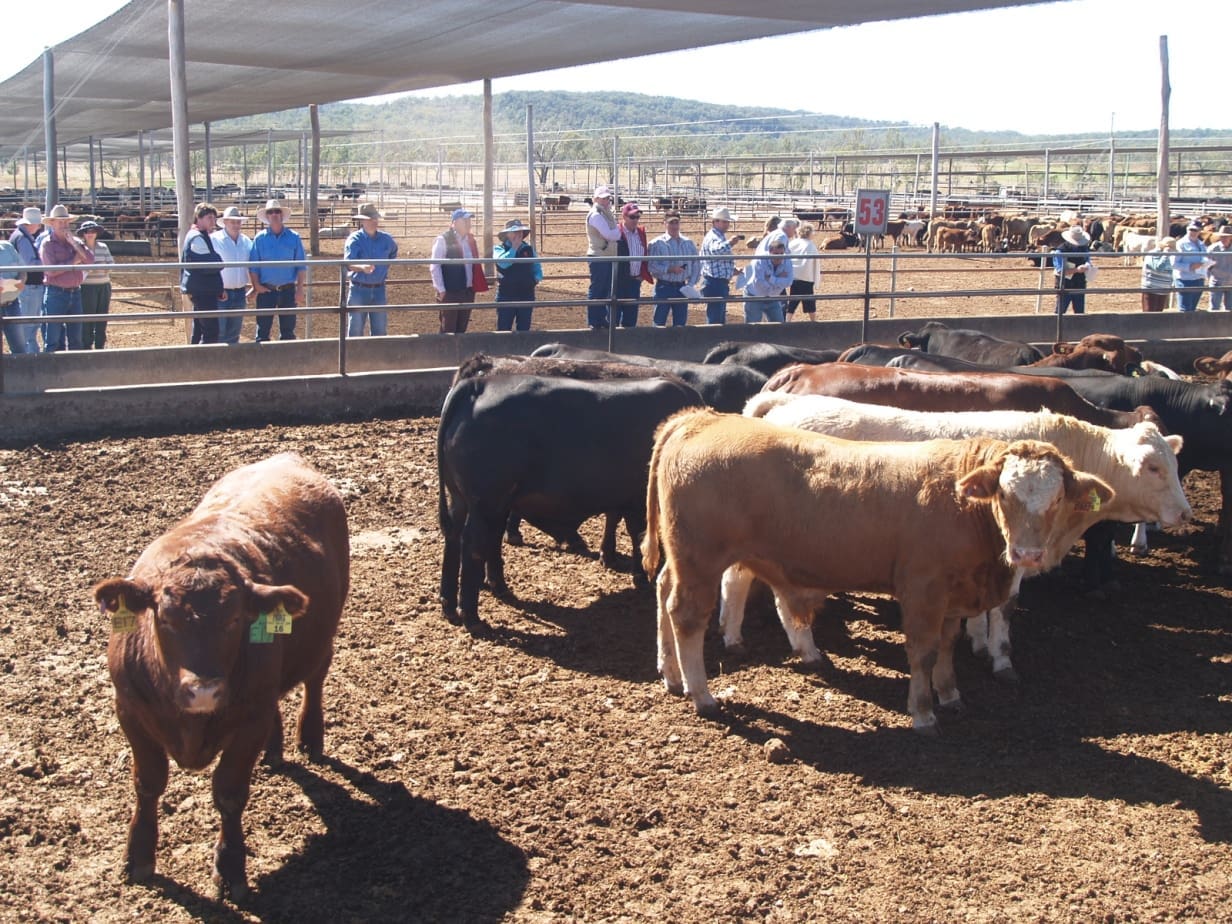 FEEDLOTS in some of the most seriously drought-impacted regions of eastern Australia have started reducing numbers on feed, as surface and underground water supplies reach a trigger-point.
The worst-hit areas appear to be the concentrated lotfeeding region between Moree and Delungra in northern NSW and Warwick/Goondiwindi in southern Queensland, and further north in the Wide Bay-Burnett districts in southern Queensland.
Hancock Agriculture's Gunnee feedlot near Delungra in northern NSW has been forced to reduce numbers on feed to less than half – currently about 4000 heard – as groundwater supplies have dwindled due to prolonged drought impact. In normal years, Gunnee relies mostly on dam water, supplemented by bore supplies, but dams on the property are now dry, meaning the yard is totally reliant on bore supplies.
Australian Lot Feeders Association's technical services officer Jeff House said he was aware of some yards had started to reduce numbers because of water, and other small yards that had shut down altogether due to water infrastructure difficulties. A number of other commercial yards in the worst-hit regions were assessing their ability to feed current numbers, based on water availability.
The majority of operators in the grainfed beef industry were reliant on bore water, but a percentage also sourced some supplies from surface water sources, he said. Both had been impacted by the drought.
Further west from Gunnee at Bindaree's Myola feedlot near Moree, the stock water situation has not yet reached the critical stage, and the yard continues to feed around 20,000 head. However the yard's water allocation has been cut back to 35 percent, meaning irrigated corn used to produce silage will be sacrificed next season in order to provide adequate water for livestock, in the absence of rain relief.
Across the Queensland border at John Dee's Yarranbrook feedlot near Inglewood, the stock water situation has reached a concerning level, but numbers on feed are not yet affected, Beef Central was told. However the situation is being monitored on a week-to-week basis.
Hancock Agriculture's nearby 10,000 head Maydan feedlot near Warwick is serviced by three good bores, and is not currently experiencing supply challenges for stock, Beef Central was told.
The bore supplying one smaller feedyard in southern Queensland had dropped 24 metres, through lack of recharge since the drought started. Bores that would normally provide perfectly adequate supplies for reliable feedlot use are now coming under pressure, one source said.
Silage and hay supplies is another limiting factor impacting feedlot operations, with most yards apparently well-down on their normal roughage reserves, despite attempts to harvest winter silage this year. One yard spoken to this week had estimated current silage supplies would last until May next year, at best, without further crop-growing rain relief.
Are feedlots carting water for stock?
Reports have circulated in recent days about feedyards carting water to supply stock in pens.
One contact said it would be logistically impossible to cart enough water for a large yard, let alone the cost involved.
"A typical feedlot beast will consume 60-80 litres a day, depending on their size, meaning a 10,000 head yard would need to truck nearly a million litres a day to sustain cattle numbers on feed. It would be impossible, and even more so if there was any transport distance involved," he said.
ALFA's Jeff House agreed that it would be prohibitive to cart water to feedlots on any scale, for any length of time, but said a small Queensland yard of a couple of thousand head was currently carting water some distance to stock. Another yard he knew of had carted some water for a short period, but as a stop-gap only.
"It would be completely prohibitive and impractical to do long-term for a bigger yard," he said.
Reductions in lotfeeding capacity due to stockwater limitations have come at the worst possible time for the industry, as supply chains become increasingly reliant on feedlots as a 'finishing paddock' this year.
While the situation was becoming desperate for some feedlots, they were still only 'one good fall away' from changing that, a grainfed industry stakeholder said.