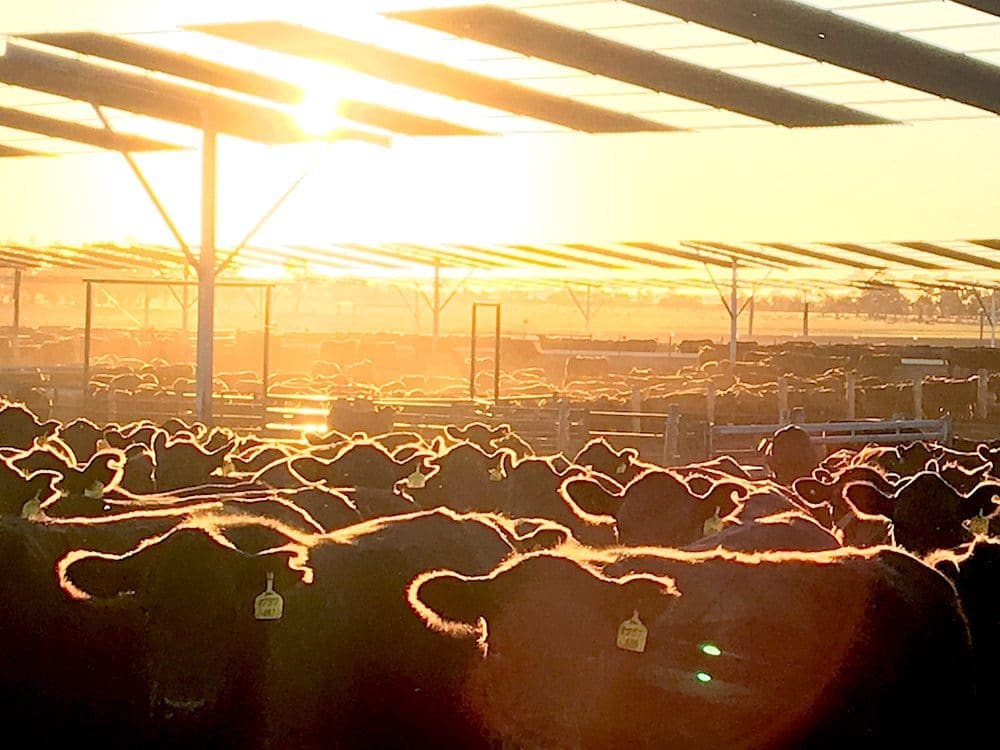 LOTFEEDERS are facing record losses in the face of the current super-charged feeder cattle market, with talk that some Australian grainfed supply chains may have to abandon long-standing 'program' business, due to the serious lack of profitability, and little sign of respite in coming months.
The problem is evident right throughout the grainfed spectrum, from domestic shortfed to longfed Angus, Beef Central has been told.
Capturing the recent January surge in feeder prices, the Eastern Young Cattle Indicator* has surged to new record-highs this week, based on recent saleyards performance of vealer and yearling steers and heifers.
After finishing the 2020 year in December at 814c/kg (dressed weight equivalent), the EYCI has surged 74c/kg or 9 percent so far this year, to hit a new record 888.25c/kg on Friday. It has since eased a few cents this week.
One large NSW feedlot was prepared to share some recent costings and comparisons with Beef Central based on the current trading environment, on condition of anonymity.
The spokesman said Angus heavy feeder steers for 100/150 day programs in the south were now regularly making 460-480c/kg liveweight. Domestic weight British-bred feeders for 70-80 day programs were even higher at 490c/kg.
"Over the past 12 months, we have experienced a 76pc increase in domestic feeder cattle prices in our yard," he said. "This time last year, we were paying 320c/kg for the same British-bred feeder steer for the heavy domestic trade – a rise of 170c/kg since then."
The main reason the domestic feeder market had escalated to the level it has was the strength of competition from backgrounders and breeders restocking after two years of drought across southern Australia, he said.
"Lotfeeders currently are faced with a horrific scene," he said.
The 170c/kg rise seen in feeder price over the past 12 months meant the average 350kg feeder steer today was almost $600 a head more expensive.
While ration prices had certainly declined somewhat over the same period, the reduction went "nowhere near" covering the extreme rise in feeder steer price.
In his yard, the spokesman said ration adjustments had delivered an $80/head saving, year-on-year, on a typical 70-day program, based on the yard's current finished ration price between $350-$360/t.
At the other end of the equation, average sale price for domestic grainfed cattle out of the NSW yard had increased since last year. Sell prices on domestic supermarket contract cattle this week are around 780-790c/kg, with one retailer anticipating his company's numbers to 'tip into the 8's' in coming weeks.
On a typical carcase weight of 268kg, that represents a year-on-year value increase of $482/head. In percentage terms, that's an increase of 29pc, versus the previously mentioned 76pc rise for feeder steer purchase price.
In this example, the net result in terms of trading margin (higher feeder price, minus lower ration price plus higher finished slaughter steer price) year-on-year, is around negative $80/head.
Feeding performance decline
But this simple equation fails to take a crucially important performance issue into account.
Because of the dramatic turnaround in seasonal conditions, the performance of feeder cattle this year is well down, because this time last year feeders that had come out of drought conditions were 'packed with compensatory gain.' (More on this in an upcoming Beef Central article).
Eastern Australian feedlots this year are extracting significantly lower performance than they were this time 12 months ago, due to entry condition of cattle. In this yard's case, average daily gain is back about 0.3kg/day, which when measured over a typical 80-day domestic feeding program, amounts to 24kg liveweight.
At 13kg carcase weight equivalent price, that represents a further performance loss of $100 a head, on top of the $80/head loss on the trading budget (buy, sell, ration), representing a total loss of $180 a head compared with this time last year.
(Worth noting, the figures quoted here are for domestic cattle and feeding in southern Australia, not Beef Central's regular 100-day grainfed breakeven calculation, based on pricing out of a typical Darling Downs feedyard. Stand by for our first 100-day budget for the year in coming days).
The spokesman for the NSW yard providing the data in this article said despite the record losses, yards in his region were 'just grinding on,' with some trying to offset the spiralling feeder purchase costs by trying to backgrounder younger, lighter cattle.
"That's the only way some yards have been able to move forward," he said. "They've tried to moderate their costs by 20-30c/kg by putting 40-50kg liveweight onto them, in the paddock. But in so doing, they are wearing the risk of an incredibly volatile feeder market."
Contracts under pressure, could have long-term impact
Given the 'truly ugly' trading conditions at present, cattle numbers in some yards were definitely emptying out, the contact said.
"The problem is that feeder cattle prices are at such extreme levels, and the margin is just so deeply negative in lotfeeding, meaning feedlots have had to have a lot of 'very difficult' discussions with grainfed processors – as to whether they maintain these supply chains, or simply pull up," he said.
This has serious implications for some branded beef programs, which have cultivated hard-won, long-term trading relationships with large end-users both overseas, and within Australia.
"But these current circumstances aren't going to change any time soon – at least until the large number of restockers exit the market – and that will be driven by seasonal conditions," the lotfeeder contact said.
Feeders over-priced by $200-$300/head
He suggested current domestic and export feeder cattle prices were at least $200-$300 a head 'too high,' based on where lotfeeders and end-users really needed the cattle to be, in terms of market value.
"The only way that feeder cattle are going to come back that much, is if there are not the number of restockers active in the market," he said. "There's not going to be any dramatic shift in finished cattle prices, because they are already at historically high levels, and overseas grainfed beef producers are already selling their beef much cheaper than what Australia is."
As January export shipment statistics released yesterday showed, volumes leaving Australia are now rapidly declining.
"Sure, that is due to lack of availability of cattle generally in Australia, but it is also because of the extreme high price of our cattle, relative to other countries," he said.
Since the dramatic shift in trade out of food service into retail seen last year as a consequence of COVID, more and more grainfed cattle had been placed into domestic supermarket feeding programs in the past eight months, because the price of Australian beef in the export markets had just become too dear.
"Domestic markets have been a safe-haven in recent times because of this, but the numbers outlined in this example show that at current historically high price levels, domestic feeding is now also a major loss-making proposition," the feedlot contact said.
While the current record-high feeder cattle prices were 'great for Australian cattle producers', it also held long-term dangers for Australian beef, he warned.
"If we are forcing supply chains to effectively close down their program business due to this short-term pricing dilemma, it can't be good for the entire industry."
He nominated brand programs operating under mid-fed Angus product as being under 'enormous pressure,' in the current trading environment.
"When you combine the added cost of production being seen, with the risk associated with COVID in global uncertainty – especially in food service where much of this product goes – such programs are under a lot of pressure at the moment. There's definitely less mid-fed Angus being fed today, than there was this time 12 months ago."
Retail prices respond, but face consumer push-back pressure
What's evident at retail level currently is that the major supermarket groups rarely, if ever, offer beef specials any more, due to the high prices and slim margins involved. One national supermarket contact told Beef Central this morning that retail margins on beef had never been as slim as they are now.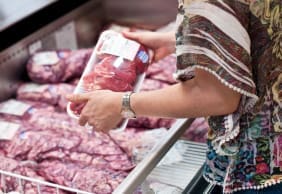 Some retail beef prices have risen a little in recent weeks, with supermarket cube roll currently worth around $40/kg, while independent butchers with good beef offers are often charging closer to $50/kg for MSA cube roll. At the same time protein options like pork and chicken had changed little in the past 12 months, and were far more price competitive than beef on a $/kg basis.
"The disturbing part is that there is no short-term answer to the current beef challenges," one supermarket trade contact said. "Current trading conditions could well last into next spring, and maybe even well beyond that, given the cattle supply outlook."
MLA's latest feeder cattle report for the week ended last Friday quotes domestic weight feeders 280-350kg averaging 468c, and as high as 480c, and heifers averaging 415c, and as high as 460c. Heavy feeders suitable for export 100-day programs were quoted at 410c/kg for crossbreds (and selling as high as 470c); and Angus 447c/kg (high of 480c).
For paddock sales, Queensland processors with feedlots on Tuesday quoted 450c/kg for flatbacks for 100-day programs, and 465c/kg for Angus. Some contacts claimed current levels were all-time record-highs, while another said his company had touched these levels in short periods last year.
* The Eastern Young Cattle Indicator (EYCI) is a seven-day rolling average of young cattle from 25 saleyards across Queensland, NSW and Victoria. It's expressed in c/kg carcase (or dressed) weight. The indicator includes vealer and yearling heifers and steers, grade score C2 or C3, with live weights from 200kg.