The grainfed beef industry's SmartBeef 2021 Conference program has been shifted online, due to ongoing COVID challenges.
The Australian Lot Feeders Association announced the move today, with a new-look SmartBeef Bites webinar series set to run during October.
SmartBeef is the premier technical conference for the Australian grainfed beef sector and had been planned to be held in-person over three days on Queensland's Darling Downs, including a feedlot tour and R&D demonstration day at Teys Australia's Condamine Feedlot.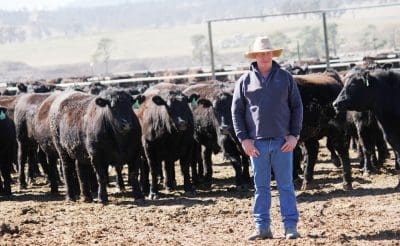 In light of on-going developments with COVID and after thoughtful consideration for the health, safety and well-being of delegates, speakers, sponsors, and suppliers, ALFA made the decision to pivot to an online program, it said in a statement.
The online program will focus on delivering the engaging program of speakers and topics via a series of 'bite-sized' webinar sessions over a four-day period.
Industry Awards traditionally presented at the conference will now take place at a virtual awards ceremony conducted at the conclusion of the SmartBeef Bites program, on October 20.
SmartBeef Bites will reunite the sector after two consecutive cancelled in-person annual conferences for ALFA.
"It is a disheartening decision, however we believe it is the safest and most responsible approach for the welfare of the audience and the red meat supply chain at this time," ALFA president Bryce Camm said.
"We are excited about the opportunity that a virtual event holds as it will increase our ability to broaden the learning prospects and engagement with the industry. Our speakers, sponsors and delegates have expressed their understanding and support, and that has helped reinforce that going virtual was the right decision," Mr Camm said.
"Having the chance to get everyone together, even virtually, is extremely important in a physically distanced sector such as ours, to nurture our strong sense of community," he said.
The announcement of Industry Award winners will be live-streamed with live crosses to winners, ensuring an engaging evening for those tuning-in and holding their own celebratory events on site.
"It's important to ALFA that industry excellence is recognised and we are looking forward to seeing feedlots across the country celebrate individual and business achievements as they tune into the virtual awards ceremony," Mr Camm said.
Joining the webinar programs
The ALFA SmartBeef Bites webinar series is a ticketed event. The program is available online at www.feedlots.com.au/smartbeefbites with registrations now open.
The ALFA Industry Awards Ceremony is a free event. Pre-registration can be made here.