WHILE remaining a little below the same time last year, cattle numbers on feed in December remained above one million head for the twentieth consecutive quarter.
Released this morning, results from the December quarter survey conducted by Meat & Livestock Australia and the Australian Lot Feeders Association showed total head-count in Australian yards at 1.145 million head, a rise of 89,000 head or 8.4pc on the September quarter, but 1.3pc below December 2021.
What's clearly evident is that the feedlot industry no longer sees large swings in occupancy based on seasonal conditions and filling a traditional role in drought mitigation. A much larger proportion of cattle on feed are now committed to brand programs in advance, with relatively few non-committed cattle being fed.
Every state recorded increases in cattle on feed in December, relative to the previous quarter.
Queensland increased by 7.9pc to 675,872 head, New South Wales by 4.4pc to 318,905 head, Victoria by 9.5pc to 49,404, South Australia by 7.7pc to 41,812 and Western Australia by 46.6pc to 59,235.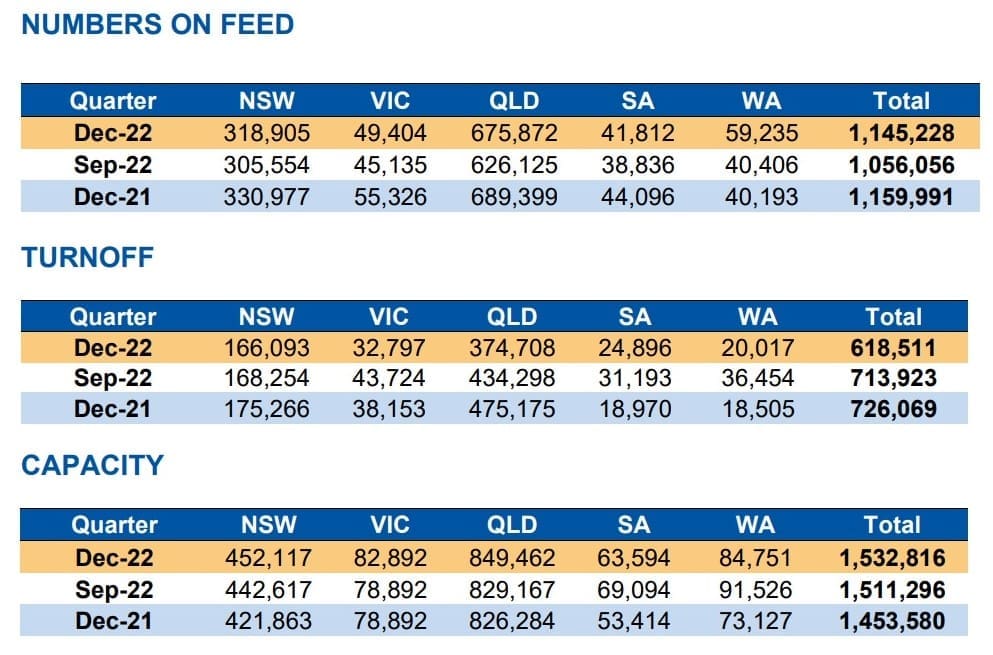 Australian Lot Feeders Association president Barb Madden said the uptick in cattle on feed from the previous quarter occurred alongside an easing trend in feeder cattle and grain input costs.
"However, labour and energy costs remain challenging, and the weakening global economic outlook continues to weigh on lotfeeders' minds," she said.
"Despite this, reaching 20 successive quarters of occupancy above one million head confirm what has now become the new normal level of cattle on feed for the Australian feedlot industry."
Underscoring this was the incremental growth in national capacity which hit 1.532 million head to close out 2022, a new record for the industry, up 79,000 head or 5.4pc on this time last year. States recording significant capacity growth over the past year included Queensland (+23,000), NSW (+31,000), South Australia (+10,000) and Western Australia (+11,000).
Feedlot utilisation rates improved in late 2022, lifting by 5pc to 75pc through the fourth quarter, MLA's senior market information analyst Ripley Atkinson said.
"Feedlot utilisation rates are a good indicator of feedlot buyer demand and this increase coincided with a decline in the national feeder steer indicator during the latter half of 2022 and softening of grain input costs, which favoured feedlot buyers during the period," Mr Atkinson said.
Since November last year, MLA's feeder steer indicator has fallen from 518c/kg liveweight to 385c/kg on Friday, a fall of 133c/kg or 26 percent.
Source: MLA/ALFA