ONE of the largest ethanol producers in the United States has made a large strategic investment in the US cattle feedlot industry, agreeing to purchase Cargill's remaining US feedyards for A$49 million as a means of value-adding its distillers' grain.
Green Plains Inc is the third largest producer of ethanol in the US, generating 6.75 billion litres of ethanol each year from 17 distilleries located across the country. The company buys and processes 12 million tonnes of corn each year to feed its ethanol plants, producing four million tonnes of distillers' grains annually as a by-product.
Originally, most of that was sold to surrounding commercial beef feedlot operators as a high-protein, high-energy ration ingredient. But since 2014, Green Plains has started investing in US feedlot infrastructure itself, in a vertical integration move.
Three years ago, the company purchased the assets of Supreme Cattle Feeders from Agri Beef Co, securing a 70,000 head feedlot in Kansas. It then added a 30,000 head feedlot near Hereford, Texas.
Last week's announcement of the purchase of Cargill Inc's two remaining US feedlots in Kansas and Colorado will add a further 155,000 head in one-time feeding capacity, making Green Plains Cattle the fourth largest lotfeeder in the US. That's according to Steve Kay, publisher of Cattle Buyers Weekly, who produces an authoritative annual profile on US lotfeeders.
At the time of its original purchase of Supreme Cattle Feeders in 2014, Green Plains said the move was designed to "further evolve our ethanol production process by engaging in resourceful applications of the remaining distillers grains (livestock feed) to be used directly as cattle feed."
Another by-product of Green Plains' distilling process, corn oil, is also used by the feedlot and poultry markets.
Strategic initiative
Writing in Cattle Buyers Weekly last week, Steve Kay said Green Plains' acquisition of the two Cargill yards would make it the fourth largest cattle feeding operation in the US, up from the 25th position now.
"Adding the two Cargill feedlots would give Green Plains Cattle a total capacity of more than 255,000 head in four feedlots. This will put it ahead of Cattle Empire, Satanta, Kansas, which has 245,500 head of one-time capacity in five feedlots," he said.
The growth of the Green Plains Cattle division achieved one of Green Plains' strategic initiatives of further diversifying its income streams and investing in adjacent businesses, company president and CEO Todd Becker said.
The feedlot purchases aligned with its overall strategy to meet growing global protein demand in downstream markets that take advantage of its supply chain, production platform and commodity management expertise. A key component of the deal was the long-term cattle supply agreement with Cargill, Mr Becker said.
"Green Plains becomes the only large ethanol producer to complement its bio-fuel business with large-scale cattle feeding," Steve Kay reported last week.
One of the benefits of the transaction was the scale of internal demand for Green Plains' co-products produced at company-owned ethanol plants, he wrote.
Its expanded cattle business would now consume more than 300,000t of dried distillers grains and 40 million pounds of corn oil annually.
The ability to effectively control its feed supply cost provided its cattle business with a strategic operating advantage, Mr Becker told CBW.
This meant more predictable and stable cattle feeding margins while enhancing Green Plains' knowledge of ration dynamics.
Since Green Plains' entry into cattle feeding a few years ago, the meat and protein market fundamentals had remained favourable and the business had been accretive to Green Plains' earnings, he said.
Click the link below to view a short corporate video produced by Green Plains Cattle.
Sale represents win-win for Cargill
"Cargill's exit from the cattle feeding after nearly 45 years is a win-win for it," Mr Kay wrote.
"It exits a business that is capital-intensive and full of risk. Yet it is guaranteed for years to have a steady supply of cattle to its processing plants from Friona and now Green Plains. Second, it frees up working capital that can be used by Cargill to further develop its protein business."
Cargill over the past two years has announced approximately $560m in acquisitions and capital investments to grow its North American protein business. It is committed to being the leading protein provider that nourishes people, animals and the planet in a safe, responsible and sustainable way, while exceeding the expectations of its customers, Mr Keating said.
Cargill exits US cattle feeding
Mr Kay said the sale of the feedlot assets represented the end of an era for Cargill, which had been a major US cattle feeding player since the early 1970s.
He said the purchase price and the capacity of the two yards sold this week represented a value of US$237 per head.
Cargill for many years operated its cattle feeding business as Caprock Industries, which was, during that time, the industry's third or fourth largest feeding operation, Mr Kay wrote.
The company owned as many as seven feedlots at one time, changing its name to Cargill Cattle Feeders in 2005. At its peak from 2007 to 2014, Cargill had a one-time US feeding capacity of more than 350,000 head in five yards.
"Cargill however decided to start redeploying its working capital," Mr Kay said.
"It sold its Lockney, Texas feedlot at the start of 2015, then sold its two other Texas feedlots at Dalhart and Bovina in 2016 to Friona Industries, before negotiating to sell its two remaining yards to Green Plains, announced this week."
Like the sale to Friona, Green Plains would supply cattle to Cargill's beef processing facilities through a new multi-year agreement, Cargill said.
Selling Cargill's two remaining feedyards aligned with its protein growth focus by allowing it to redeploy working capital away from cattle feeding operations to other investments, said John Keating, president of Cargill's protein business operations and supply chain.
Some Beef Central readers may remember John Keating from his period managing Cargill's Australian feedlot and processing operations, prior to the formation of the 50-50 joint venture with Teys Australia.
By partnering with Green Plains in a multi-year supply agreement, the two yards involved in the sale would continue to supply cattle to Cargill's beef processing facilities at Fort Morgan, Colorado, and Dodge City, Kansas. That would ensure consistent high-quality beef products for its customers, Mr Keating told CBW.
Next generation investment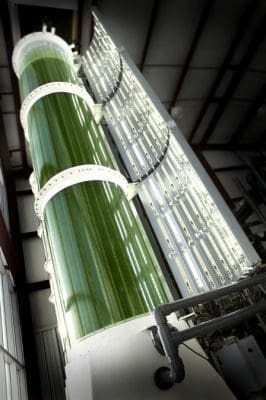 Looking to next generation technology, Green Plains is participant in a joint venture called BioProcess Algae to commercialise algae production technology for biofuels and livestock feed.
In addition to Green Plains, the other partners in the venture are ClarCor Inc and BioProcess H2O. The project, located at Green Plains in Iowa, received a grant from the Iowa Office of Energy Independence totalling US$4.1 million.