A new feasibility study recommends the development of a supply chain to export feeder cattle from northern Western Australia to Thailand for fattening and processing, to supply beef to both the Thai domestic market and for re-export to other ASEAN markets.
The study, released yesterday, was commissioned by WA's Department of Agriculture and Food to explore the benefits and risks of a new integrated live export supply chain between northern WA and Thailand.
The study was conducted by the AEC Group and was funded as part of the four-year, $15 million Northern Beef Futures (NBF) project, which is funded by the WA Government's Royalties for Regions program. The aim of the NBF initiative is to transform Western Australia's northern beef industry through market diversity and improved business models and integrated supply chains.
The report said Thailand represents "significant potential" as an end market and regional beef processing and distribution hub within South East Asia and China for Western Australia's beef.
Thailand has a population of 60 million people and is the second largest economy in the 600 million strong ASEAN region, behind Indonesia.
The study assessed a specific hypothetical supply chain model involving the export of live feeder and/or slaughter cattle from northern WA to Thailand for finishing and processing.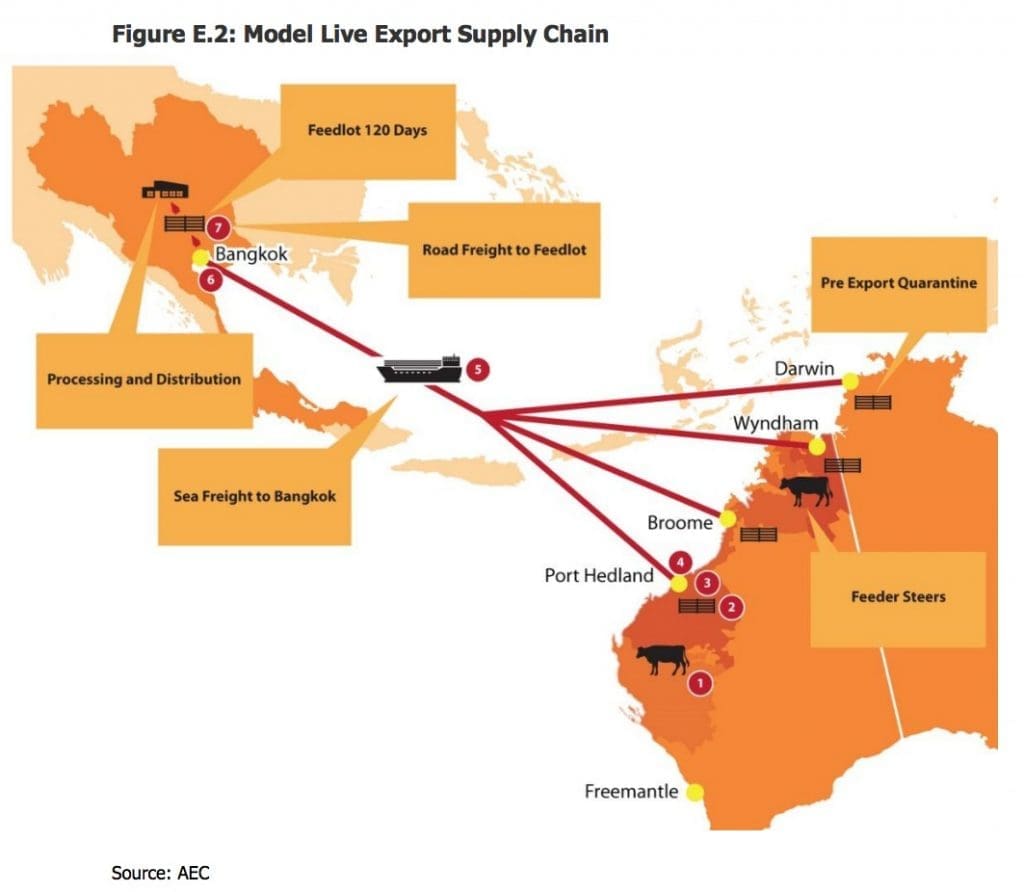 The model offered a number of advantages, the report said, including:
Avoiding processed beef import quotas/tariffs (live cattle have zero tariffs into Thailand, beef currently faces a 40pc tariff);
Consistency with current WA Rangelands feeder cattle production;
Potential utilisation of Thailand's trade agreements into third party export markets (generally a 40% Thai value content required); and
Access to low-cost lot feeding and processing labour within Thailand.
The report concludes: "Thailand represents a significant domestic market for beef. However, high-value re-export markets present the strongest opportunities for establishing a significant and financially viable new supply chain.
"Establishing access to new markets for processed beef will require leading technology and processes, animal welfare and supply chain traceability practice best achieved through an integrated and closed supply chain model."
The report suggests the new supply chain should be developed with co-investment between Australian and Thai stakeholders, including Thai processors, WA graziers, and Thai feedlot operators.
"Western Australian live exports offer access to high-quality and disease-free feeder stock which would enhance the capacity, operational efficiency and market reach of Thailand's beef sector," it said.
The supply chain model assessed in the report involves the construction of a $7 million, 30,000 head feedlot in Thailand, which would import about 6500 cattle per month, and utilise a 120-day feeding period. It would also incorporate the establishment of a $22 million abattoir to handle throughput of 96,000 cattle per annum, based on the scale required to service both Thai domestic and third-country re-export markets.
The supply chain identified would produce approximately 27,000 tonnes (carcass weight) of beef per annum operating at single 7.5 hour shift capacity.
"After 10 years of operations, the project is assessed as financially viable, generating a positive Net Present Value (NPV) of $20.2 million (฿505.2 million) applying a 12% real discount rate," the report states.
"Based on current Thai wet market and supermarket prices (AUD $8-$11/kg retail) the new supply chain may need to attract a price premium in order to be viable in the domestic market.
"Such a premium is possible given the potential quality and consistency of Australian feeder cattle fattened in Thailand and processed in a modern abattoir · Production is assessed to be competitive with Thailand's fresh and chilled beef imports, which averaged approximately AUD $14-$15/kg over 2014
"Production costs also appear viable to service growing Vietnamese and Chinese demand, in particular, should the final product gain access to these lucrative beef markets
"Other potential market opportunities include the Middle East (Saudi Arabia, Israel, Egypt) and expanding inter-ASEAN trade as the regional market continues to develop."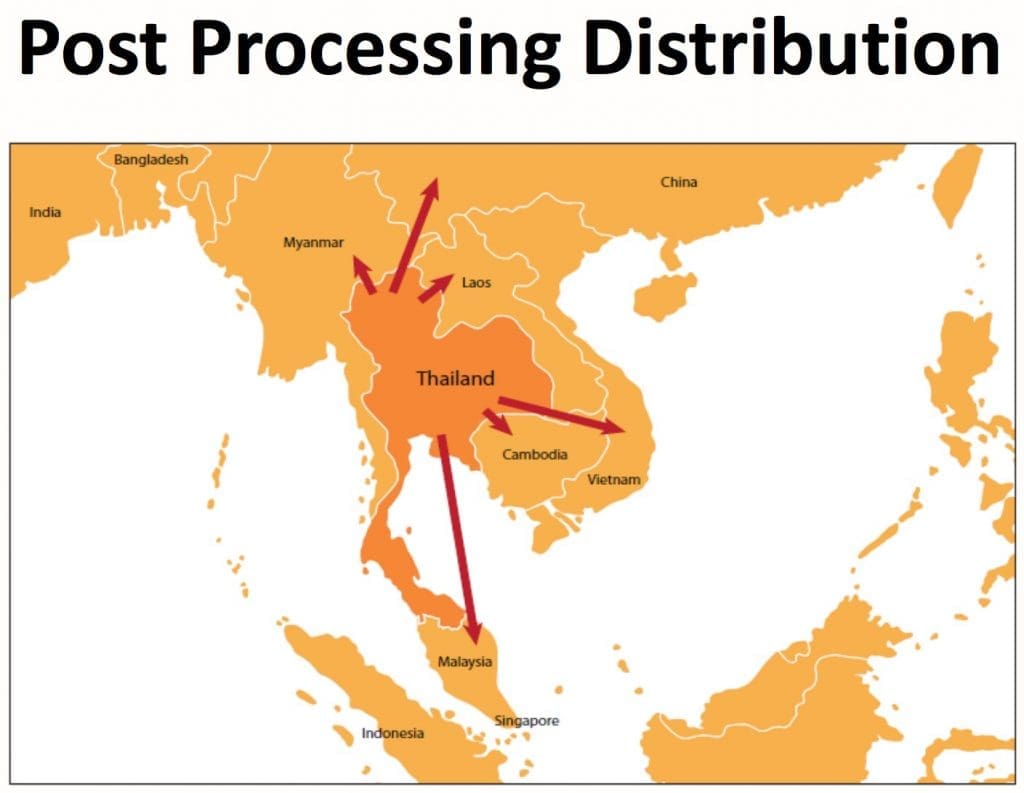 Barriers and challenges to establishing the new supply chain include cattle supply costs and seasonality, re-export market access and competition from domestic sources and low-cost Indian carabeef.
Thailand is currently classified as Foot and Mouth Disease endemic, which restricts re-export access to FMD-Free markets (Indonesia, Japan, USA, Western Europe)
The report notes that Thailand is seeking to have selected provinces declared FMD-free (with vaccination) with the OIE.
Thailand opened as a market for Australian feeder and slaughter cattle after both countries agreed to the required animal health protocol in late 2014.
The first ESCAS approved supply chains in Thailand began receiving Australian cattle in March last year, with around 9000 cattle exported in 2015.
That fell short of initial projections that Thailand would take 30,000 in its first year, with rising Australian cattle prices and the weakening of the Baht against the Australian dollar eroding margins for Thai importers seeking to buy Australian cattle in 2015.
The report says the northern WA supply region has a herd of just over 1 million head Bos Indicus cattle with an annual turnoff 230,000 to 320,000 head.
The region is already strongly geared towards live export to Indonesia, Vietnam, Israel and Malaysia.
"The regional preference for live export is due to the suitability for production of feeder cattle preferred by Asian markets and significant distance to domestic processing, which is concentrated in the south west of WA," the report notes.
The Thai Government recently announced a 7-year investment promotion strategy from 2015 to 2021 to encourage both foreign investment into Thailand as well as Thai outbound investment.Agriculture and Food Minister Ken Baston said WA offered high-quality cattle with potential to complement Thailand's well developed feedlot sector and processing industry.
Agriculture and Food Minister Ken Baston said WA offered high-quality cattle with potential to complement Thailand's well developed feedlot sector and processing industry.
Regional Development Minister Terry Redman said the study provided an initial document to support future feasibility studies by prospective investors in new supply chain business models to diversify market opportunities for northern beef producers.
While the report focused on one particular supply chain model, its authors noted that a broad range of potential operating models are available to proponents of varying scales and risk appetites.
"Thailand possesses significant potential as a destination for developing a new and innovative beef supply chain."
Precedent in Indonesia's "Aus-Indo Beef"
A similar re-export concept was floated in Indonesia in the 1990s by AustAsia, under the brand name "Aus-Indo Beef", using Australian cattle fed and slaughtered under USDA-certified Halal conditions in Indonesia. The plan  drew a torrent of criticism from the Australian beef industry, concerned that Australia's hard-won reputation for health & hygiene and quality standards might be compromised.
Rread the full report – New and innovative beef supply chains in Thailand – click here