80th Edition: July 2020.
Key Points
Live cattle export volumes continue at high levels in spite of Covid 19.
Live pigs are a similar price to cattle in Vietnam.
The combined strengthening of the Aussie $ and rising feeder prices is making future trading environment very difficult for everyone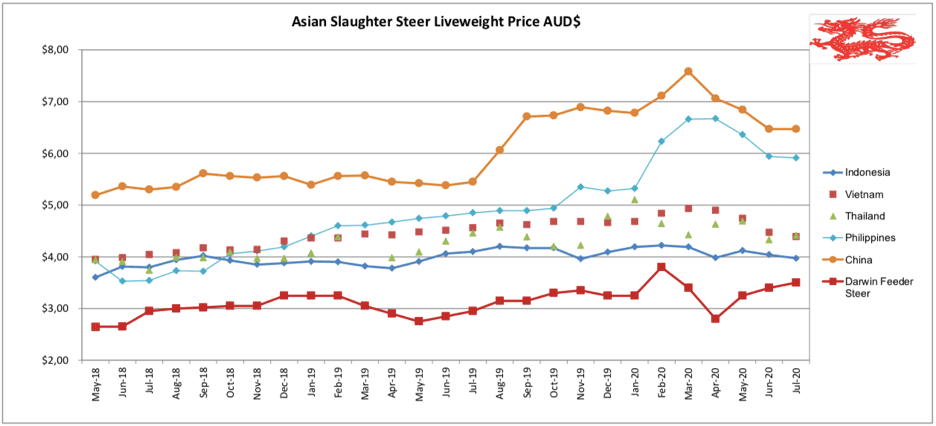 Indonesia : Slaughter Steers AUD $3.97/kg live weight (Rp10,200 = $1AUD)
Slaughter cattle prices saw a small rise at the end of the month probably associated with the festival of Qurban on the 30th/31st of July. Some importers were able to push their rates up from Rp40,000 to Rp41,000 so I have set the indicator rate for July at Rp40,500 per kg live weight.
While Indian buffalo meat is back in the retail market its availability remains limited so this may also have contributed to the slightly higher demand for live cattle.
Qurban demand was subdued as would be expected given the economic impact of the virus restricting people's ability to make charitable donations for the slaughter and distribution of meat from cattle, sheep and goats. Many mosques asked donors to slaughter their stock in a local abattoir then deliver the packaged meat to the mosque in order to reduce the numbers of people concentrating in the grounds. Prices for Qurban cattle were in the order of Rp65,000 per kg live weight for local Bos indicus and crossbred cattle with Rp63,000 for Bali cattle. Slaughter numbers have been estimated to be about 40% down on previous years.
The June import number hit a high of around 67,000 head which is quite a spike after a long run of monthly figures in the 30,000 to 45,000 range. Once again, this rise is probably related to advance orders placed when the feeder prices were extremely low in April this year.
The graph below from MLA shows that the general trend in exports remains roughly in line with the previous 5 years.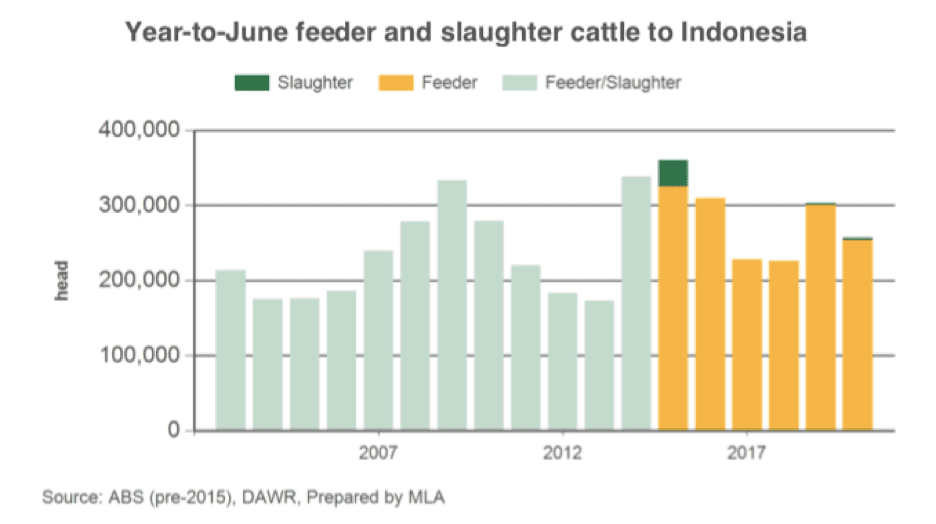 Darwin feeder steer prices continued to move higher during July to end the month at around $3.50 per kg live weight.  Cattle are always harder to find at this time of the year in both the NT and Queensland but numbers still keep coming as the shipments in July remain strong.
Rates for slaughter ox in Townsville have eased a little to around $3.35 at the end of July following a reduction in prices offered by the Queensland processors.
Vietnam: Slaughter Steers AUD $4.39 / kg (VND16,400 to $1AUD)
Prices for slaughter cattle were once again steady during July at Dong 72,000 per kg live weight. June import data shows that 32,300 head were imported, another strong month, well above recent averages of closer to 20,000 head. July shipments are expected to be of a similar magnitude.
The graph from MLA below shows that imports have been heading strongly higher since 2017.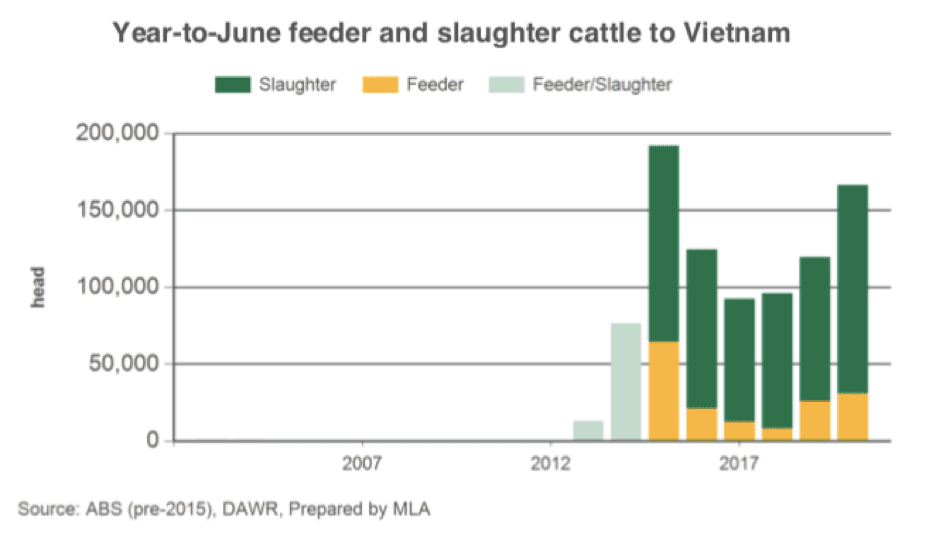 The African Swine Fever (ASF) outbreak continues to hammer pork supplies with reports of live pig prices (Dong 88-93,000 per kg live weight – I assume breeders) making them similar to or higher than live cattle for the first time on record. See the OIE summary map below showing ongoing and new outbreaks in the middle weeks of July. A large proportion of these ongoing outbreaks are located in Vietnam and its immediate neighbours. These huge pig prices will no doubt be a part of the justification for the surge in imports of live cattle. Given the very long time it takes to halt the march of ASF and then rebuild the industry, it will probably be 2-3 years at least before local pig prices return to pre-ASF levels. Some live pigs are being imported from Thailand which has done a great job to keep the disease out of their country. See photo below.
Vietnam demonstrated extremely effective action when it controlled the initial outbreak of Covid 19 but now there is a second wave which has impacted Da Nang City, a major regional centre and tourist icon. Let's hope they do a better job dealing with it than Victoria.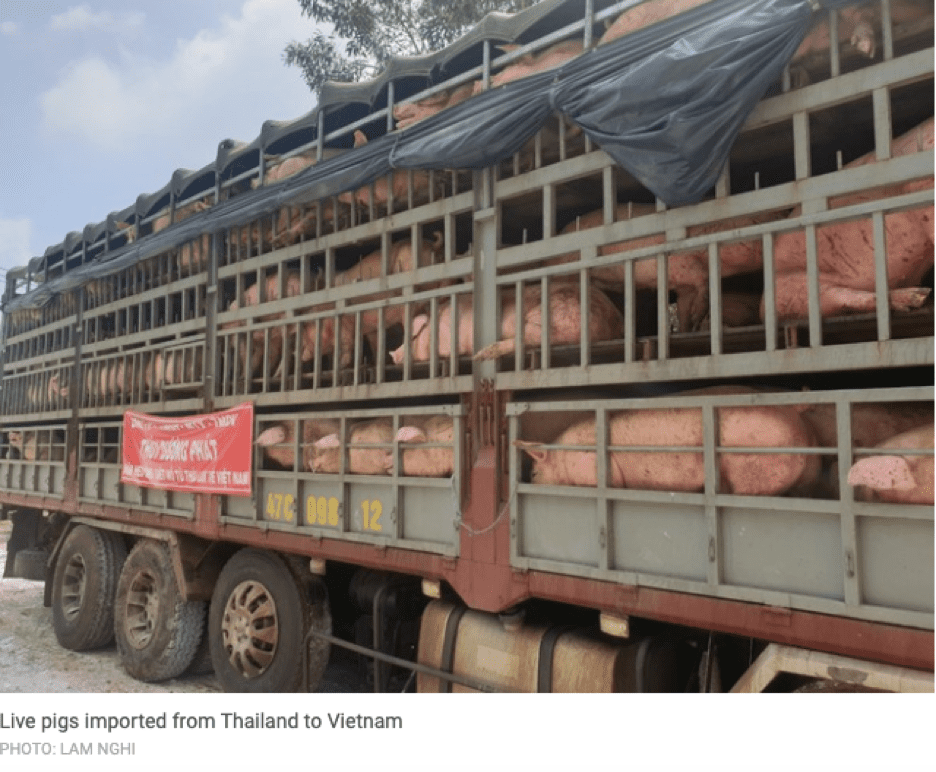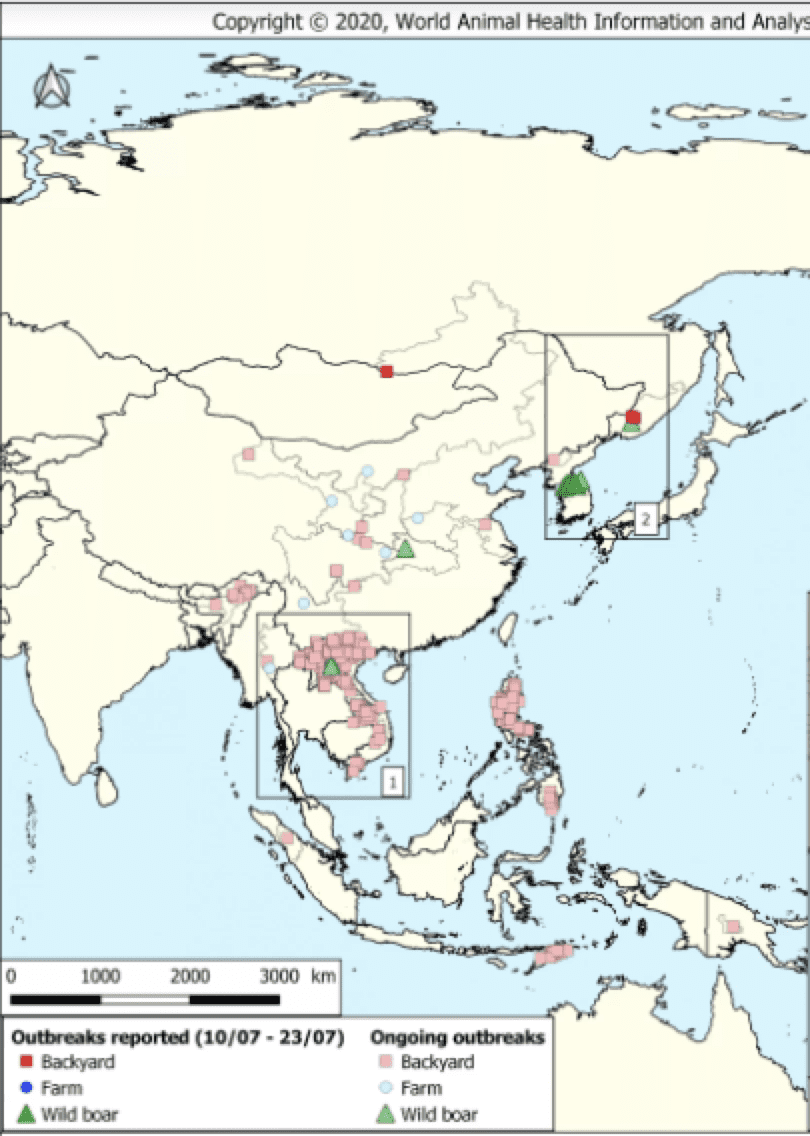 China:  Slaughter Cattle AUD $6.47 / kg  (RMB 4.95 = AUD$)
Slaughter cattle prices were slightly higher during July although the AUD rate above is the same as last month due to the strengthening of the Aussie currency.
Some wet markets are once again open in Beijing as one of my fresh beef quotes this month is from a market that was closed in June.
In 2017 there appeared to be a strong likelihood that the trade in slaughter cattle from Australia would take off with the potential for a massive new market for live cattle exports from Australia.
The graph below shows very clearly that this potential has not been realised although the export trade in dairy cattle has continued to increase.
Nobody has been able to provide a satisfactory explanation as to why the Chinese authorities have not modified the import health protocol in order to allow the live slaughter and feeder cattle trade to develop.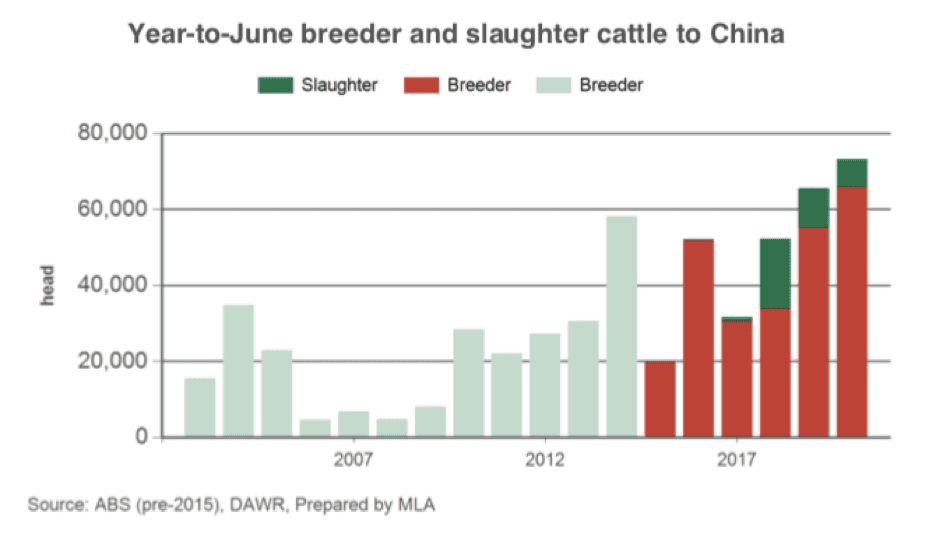 Philippines:  Slaughter Cattle AUD $5.91 / kg (Peso 34.7 to AUD$1)
No change in prices again this month. One shipment of 2900 head was delivered from Australia to the Philippines in June. Retail beef, along with other food prices remains remarkably steady during this disruptive pandemic period. Surprisingly, this also includes pork prices despite the significant damage being done by the ASF outbreak in both Luzon and Mindanao. See the OIE map above.
 Thailand  :  Slaughter Steers AUD $4.41 / kg (Baht 22 to $1AUD)
Slaughter cattle prices increased this month in both Baht and AUD terms with the local price at Baht 97 per kg live while the feeder cattle prices have also increased once again from 115 to 120 Baht per kg live or AUD$5.45 per kg live.
 At Sea, still.
I am currently sailing on the MV Gelbray Express owned by the Vroon Group, a Dutch company. The captain told me that Vroon has around 150 vessels of all types ranging from 14 livestock carriers to tankers, rig tenders, car carriers, bulk carriers etc. During the pandemic, business for all classes of vessels is very slow except for the livestock carriers which are fully employed.
After my recent voyage from Darwin to Vietnam, the vessel called in to Manila for a long overdue crew change. Some of the crew had been onboard for as long as 12 months. The captain had been on for 11 while the bosun was very happy to be going home after 9 months onboard. Despite their long overdue crew change, the performance of their duties continued at a very high professional standard.
July 2020 prices
These figures are converted to AUD$ from their respective currencies which are changing every day so the actual prices here are corrupted slightly by constant foreign exchange fluctuations. The AUD$ figures presented below should be regarded as reliable trends rather than exact individual prices. Where possible the meat cut used for pricing in the wet and supermarket is Knuckle / Round.
Location
Date
Wet Market

AUD$/kg

Super market

$/kg

Broiler chicken

$/kg

Live Steer

Slaughter Wt

AUD$/kg

Indonesia
Feb 2020
14.05
18.38
3.78
4.22
Rp9,300
March 20
13.98
19.14 B$8.60
3.76
4.19
Rp9,800
April 20
13.27
12.35 B$8.16
3.57
3.99
Rp9,700
May 20
13.40
18.45
4.12
4.12
Rp9,900
June 20
13.13
15.95
4.55
4.04
Rp10,200
July 20
12.75
13.68 B$8.09
3.92
3.97
Philippines
Feb 2020
14.84
14.84
4.45
6.23
P31.5
March 20
–
–
–
–
P31.5
April 20
15.87
15.87
4.44
6.67
P33.0
May 20
15.15
15.15
4.55
6.36
P34.5
June 20
15.07
15.07
3.48
5.94
P34.7
July 20
14.99
14.99
3.46
5.91
Thailand
Feb 2020
11.11
NA
3.38
4.64
THB20.0
March 20
11.00
NA
3.50
4.42
THB20.5
April 20
10.73
NA
3.41
4.63
THB20.9
May 20
10.52
NA
3.35
4.69
THB21.5
June 20
10.23
NA
3.26
4.33
THB22.0
July 20
10.00
NA
3.18
4.41
Vietnam
Feb 2020
20.13
20.39
5.13
4.84
D14,500
March 20
21.36
21.66
7.03
4.93
D14,700
April 20
21.09
21.36
5.37
4.90
D15,200
May 20
20.39
21.71
4.28
4.74
D16,100
June 20
NA
17.39
4.10
4.47
D16,400
July 20
18.90
16.83
4.27
4.39
China Beijing
Feb 2020
18.53
16.81
3.88
7.11
Y4.35
March 20
–
17.93
4.14
7.58
Y4.45
April 20
NA
17.53
4.18
6.97
Y4.65
May 20
16.34
18.06
3.87
7.10
Y4.87
June 20
NA
16.34
3.70
6.55
Y4.95
July 20
16.16
17.41
3.64
6.44
Shanghai
Feb 2020
20.69
24.14
3.88
7.11
Pork per kg
March 20
21.60
24.83
4.14
7.49
Beijing Y48.6
April 20
20.22
24.27
3.78
7.14
ShanghaiY48.2
May 20
18.49
23.23
3.61
6.58
June 20
18.07
22.18
3.49
6.41
July 20
17.90
21.82
3.43
6.55
Darwin Feeder Steer
June 19

$2.90

July 19

$3.00

August 19

$3.15

Sept 19

$3.15

October 19

$3.30

Nov 19

$3.35

Dec 19

$3.25

January 2020

$3.25

Feb 2020 $3.80
March 2020

$3.40

April 20

$2.80

May 20

$3.25

June 2020

$3.40

July 2020

$3.50