80 th Edition: July 2020.
80th Edition: July 2020
Main Points
The volume of live cattle exports remains high despite the Covid 19 problem.

In Vietnam, the price of live pigs equals that of cattle

The combination of the strength of the Australian $ exchange rate and rising feeder cattle prices complicates the future of commerce for everyone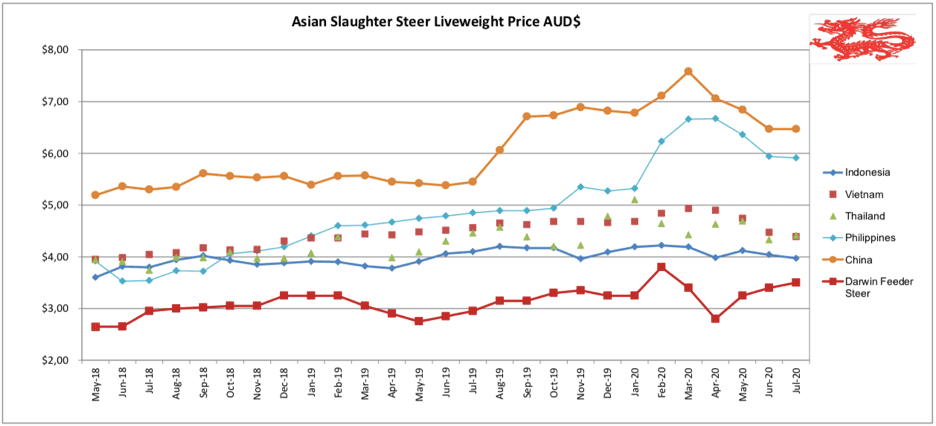 Indonesia: Steer Beef , AUD $ 3.97 / kg live weight (Rp.10,200 = AUD $ 1)
Slaughter cattle prices edged up at the end of the month, possibly due to the Qurbani celebrations on July 30/31. A number of importers were able to increase the price from IDR 40,000 to IDR 41,000, so I used an indicator rate of IDR 40,500 per kg live weight for July. Although Indian buffalo has returned to the retail market, its availability is still limited so this may be the reason for the slight increase in demand for live cattle.
As expected, the demand for Qurban animals is affected economically due to a virus outbreak, which limits the ability of people to provide sacrificial animals and the distribution of meat from cows, sheep and goats. Many mosques ask donors of qurban animals to slaughter their animals at local slaughterhouses, then send meat packages to mosques to reduce the gathering of people in the mosque grounds. The price of Qurban cows is IDR 65,000 per kg live weight for a Bos indicus cross breed with local cattle, while Bali cattle costs IDR 63,000 per kg live weight. The number of sacrificial animals slaughtered is estimated to have decreased by about 40% compared to previous years.
Imports in June reached a high of around 67,000, which means there was a surge after a long period of monthly import figures in the range of 30 thousand to 45 thousand. Again, this increase may be related to pre-placed orders when feeder cattle prices were still very low in April this year.
The graph from MLA below shows that the general trend of exports is still more or less the same as in the previous 5 years.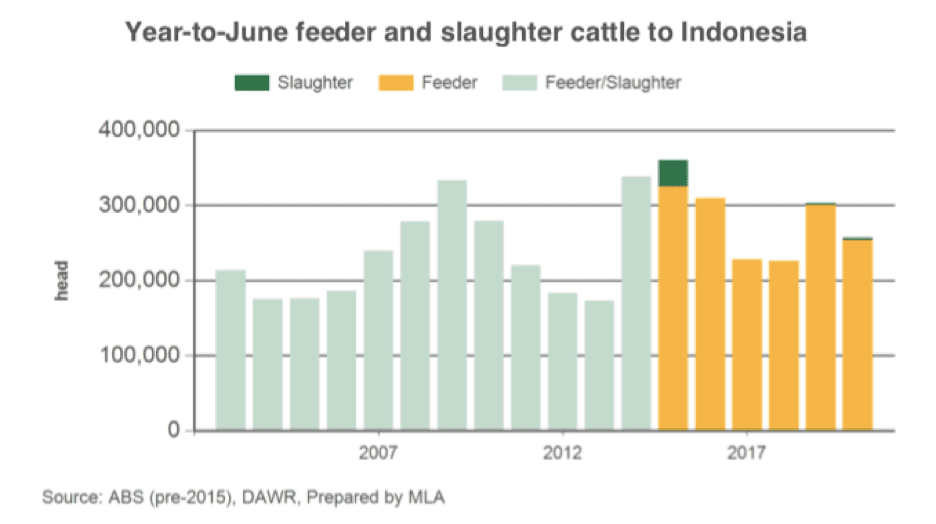 Harga sapi steer bakalan Darwin terus menanjak selama Juli hingga akhir bulan menjadi sekitar $3,50 per kg bobot hidup. Sapi masih sulit ditemukan saat ini di NT dan Queensland, tetapi jumlahnya terus naik karena pengiriman pada bulan Juli masih kuat. Harga sapi potong di Townsville sedikit menurun menjadi sekitar $3,35 pada akhir Juli, setelah penurunan harga yang ditawarkan oleh prosesor di Queensland.
Vietnam: Sapi Potong Steer, AUD $4,39/kg (VND16.400 = AUD $1)
Harga sapi potong sekali lagi stabil selama bulan Juli yakni Dong 72.000 per kg bobot hidup. Data impor bulan Juni menunjukkan ada 32.300 ekor sapi yang diimpor, dan ini termasuk tingkat ekspor yang tinggi, jauh di atas rata-rata terkini yang mendekati 20.000 ekor. Pengiriman pada bulan Juli diharapkan akan sama.
Grafik dari MLA di bawah ini menunjukkan bahwa tingkat impor terus menanjak sejak tahun 2017.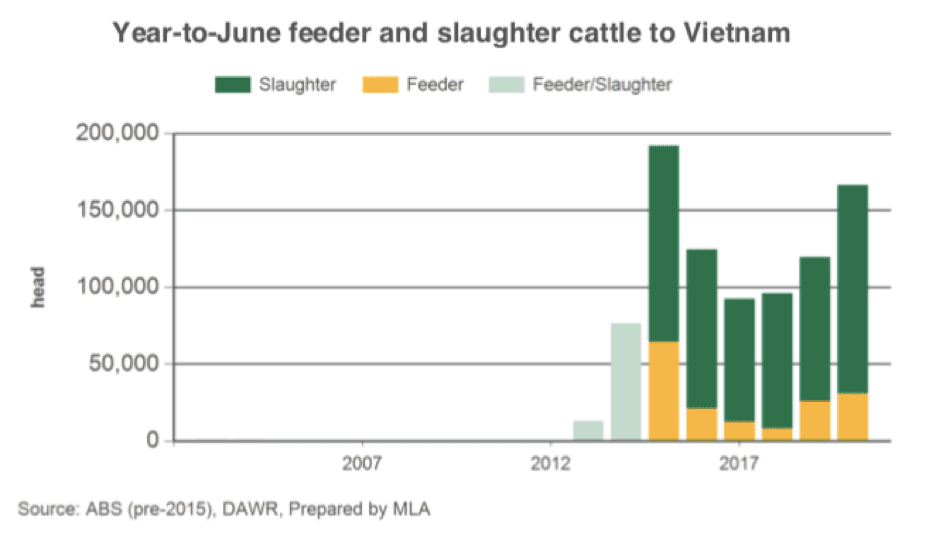 Wabah Flu Babi Afrika (ASF) terus menghantam pasokan daging babi, dengan harga babi hidup dilaporkan (Dong 88-93.000 per kg bobot hidup – asumsi saya)  sama atau lebih tinggi daripada harga sapi hidup untuk pertama kalinya dalam sejarah. Lihat peta ringkasan OIE di bawah ini yang menunjukkan wabah yang tengah berlangsung dan yang baru terjadi pada minggu-minggu di pertengahan bulan Juli. Sebagian besar wabah yang sedang berlangsung tersebut terjadi di Vietnam dan negara tetangga terdekatnya. Tingginya harga babi ini, tak pelak lagi, akan menjadi bagian dari pembenaran terhadap lonjakan impor sapi hidup. Mengingat bahwa upaya untuk menghentikan laju ASF dan kemudian membangun kembali industri ini membutuhkan waktu yang sangat lama, maka mungkin butuh sekitar 2-3 tahun sebelum harga babi lokal dapat kembali ke tingkat sebelum adanya wabah ASF. Sejumlah babi hidup kini diimpor dari Thailand yang telah mengerahkan upaya besar untuk mencegah penyakit masuk ke negara itu. Lihat foto di bawah ini.
Vietnam menerapkan langkah yang sangat efektif dalam mengendalikan wabah awal Covid-19, namun sekarang terjadi gelombang kedua yang berdampak terhadap Kota Da Nang, pusat regional utama dan ikon wisata negara itu. Kita berharap semoga mereka bisa lebih baik mengatasi masalah ini dibanding dengan di Victoria.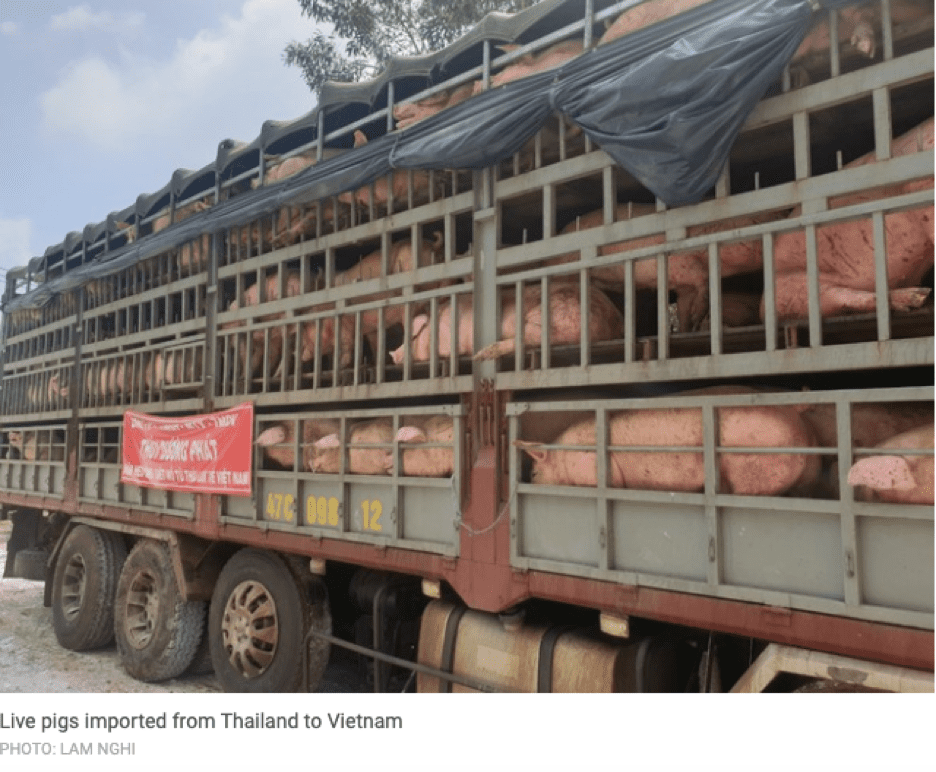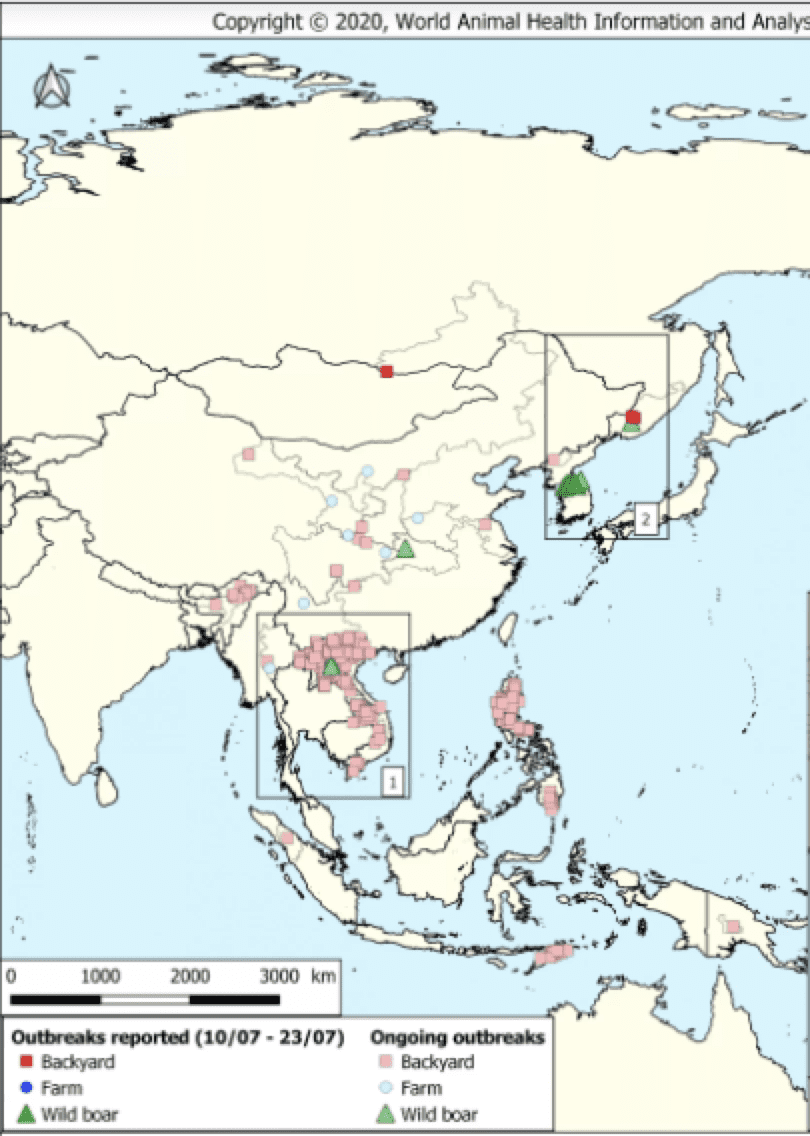 Tiongkok: Sapi Potong, AUD $6,47/kg (RMB 4,95 = AUD $1)
Harga sapi potong naik tipis di Juli meskipun harga dalam AUD di atas masih sama dengan bulan lalu karena penguatan dollar Australia.
Sejumlah pasar basah kembali dibuka di Beijing karena salah satu kutipan harga daging sapi segar yang saya sampaikan untuk bulan ini, berasal dari pasar yang sebelumnya ditutup di bulan Juni lalu.
Di tahun 2017, tampaknya ada kemungkinan kuat bahwa perdagangan sapi potong dari Australia akan melaju dengan potensi pasar baru yang besar bagi ekspor sapi hidup dari Australia. Grafik di bawah ini menunjukkan dengan sangat jelas bahwa potensi ini belum terwujud meskipun perdagangan ekspor sapi perah terus meningkat. Tidak ada penjelasan yang memuaskan mengapa pihak berwenang Tiongkok belum memodifikasi protokol kesehatan impor yang memungkinkan perkembangan perdagangan sapi hidup dan sapi bakalan.

Filipina: Sapi Potong, AUD $5,91/kg (Peso 34,7 = AUD $1)
Belum ada perubahan harga di bulan ini. Ada satu kali pengiriman sebanyak 2.900 ekor dari Australia ke Filipina di bulan Juni. Harga daging sapi eceran, seperti halnya harga pangan lainnya, masih sangat stabil selama periode pandemi yang meresahkan ini. Anehnya, harga daging babi terlepas dari masalah besar akibat wabah ASF di Luzon dan Mindanao. Lihat peta OIE di atas.
Thailand: Sapi Potong Steer, AUD $4,41/kg (Baht 22 = AUD $1)
Harga sapi bulan ini naik, dalam Baht maupun AUD dengan harga lokal Baht 97 per kg bobot hidup sementara harga sapi bakalan juga naik lagi dari Baht 115 menjadi Baht 120 per kg bobot hidup atau AUD $ 5,45 per kg bobot hidup.
Masih di Laut 
Setelah pelayaran saya baru-baru ini dari Darwin ke Vietnam, kapal yang saya tumpangi dipanggil ke Manila untuk pergantian awak yang telah lama tertunda. Beberapa kru sudah berada di atas kapal selama 12 bulan. Kapten kapal sudah berada di kapal selama 11 bulan sementara petugas bosun sangat gembira karena bisa kembali ke rumah setelah 9 bulan di atas kapal. Terlepas dari lamanya penundaan penggantian kru kapal, mereka tetap menunjukkan kinerja dan standar profesional yang sangat tinggi.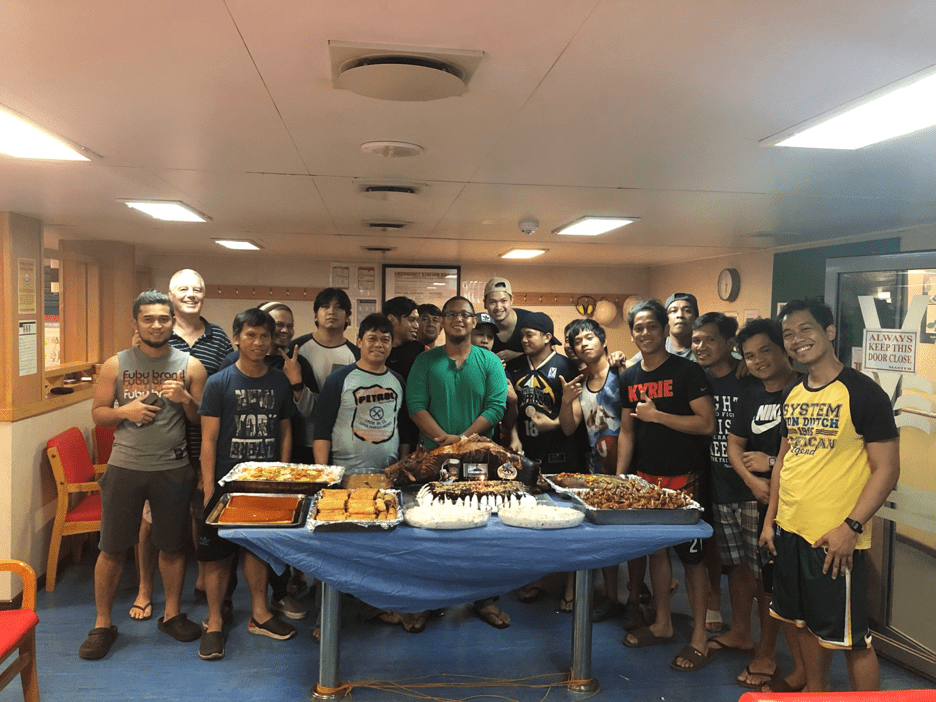 Awak yang sangat bahagia ini (mereka yang tidak sedang bertugas) merayakan ulang tahun Kapten (Marlon Murillo, tengah berbaju hijau) sekaligus kembali ke rumah menemui sahabat dan keluarga keesokan harinya di Manila.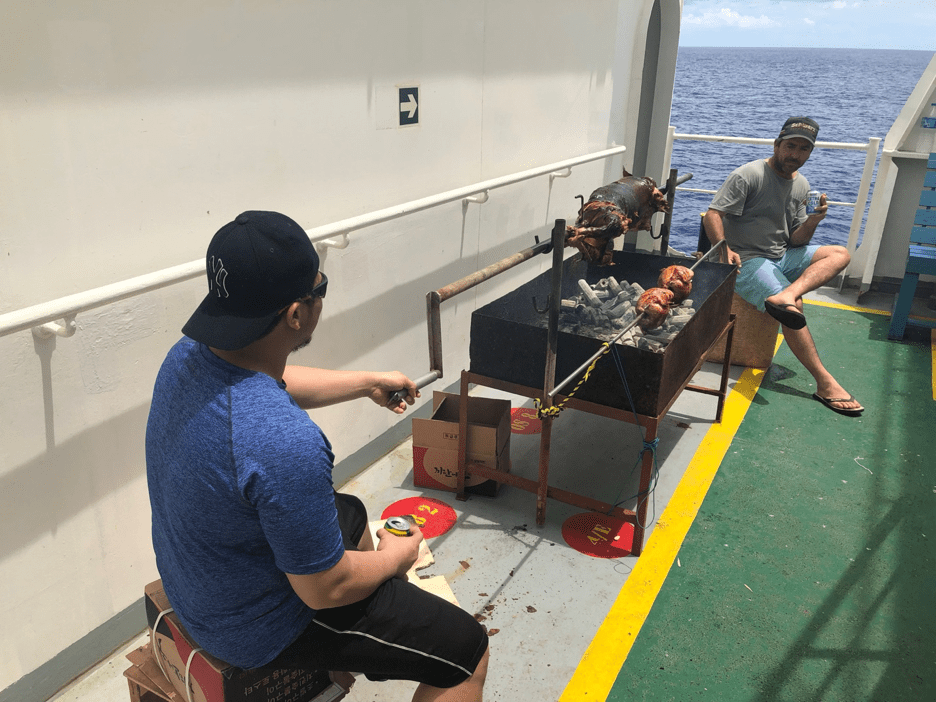 bi guling muda, hidangan penting dalam setiap perayaan Filipina.
Harga Juli 2020
Angka-angka pada tabel ini dikonversi ke AUD$ dari kurs masing-masing negara yang berubah setiap harinya, sehingga harga aktualnya sedikit berbeda oleh fluktuasi nilai tukar mata uang asing yang terus berubah. Harga dalam AUD$ yang disajikan di bawah ini hendaknya dilihat sebagai sebuah tren, bukannya harga persis masing-masingnya. Bila memungkinkan, daging potong yang digunakan untuk penentuan harga di pasar tradisional dan di supermarket adalah bagian knuckle/round  atau yang biasa disebut daging kelapa.
Location
Date
Wet Market

AUD$/kg

Super market

$/kg

Broiler chicken

$/kg

Live Steer

Slaughter Wt

AUD$/kg

Indonesia
Feb 2020
14.05
18.38
3.78
4.22
Rp9,300
March 20
13.98
19.14 B$8.60
3.76
4.19
Rp9,800
April 20
13.27
12.35 B$8.16
3.57
3.99
Rp9,700
May 20
13.40
18.45
4.12
4.12
Rp9,900
June 20
13.13
15.95
4.55
4.04
Rp10,200
July 20
12.75
13.68 B$8.09
3.92
3.97
Philippines
Feb 2020
14.84
14.84
4.45

6.23

P31.5

March 20

–

–

–

–

P31.5

April 20

15.87

15.87

4.44

6.67

P33.0

May 20

15.15

15.15

4.55

6.36

P34.5

June 20

15.07

15.07

3.48

5.94

Q34.7

July 20

14.99

14.99

3.46

5.91

Thailand

Feb 2020

11.11

NA

3.38

4.64

THB20.0

March 20

11.00

NA

3.50

4.42

THB20.5

April 20

10.73

NA

3.41

4.63

THB20.9

May 20

10.52

NA

3.35

4.69

THB21.5

June 20

10.23

NA

3.26

4.33

THB22.0

July 20

10.00

NA

3.18

4.41

Vietnamese

Feb 2020

20.13

20.39

5.13

4.84

D14,500

March 20

21.36

21.66

7.03

4.93

D14,700

April 20

21.09

21.36

5.37

4.90

D15,200

May 20

20.39

21.71

4.28

4.74

D16,100

June 20

NA

17.39

4.10

4.47

D16,400

July 20

18.90

16.83

4.27

4.39

China

Beijing

Feb 2020

18.53

16.81

3.88

7.11

Y4.35

March 20

–

17.93

4.14

7.58

Y4.45

April 20

NA

17.53

4.18

6.97

Y4.65

May 20

16.34

18.06

3.87

7.10

Y4.87

June 20

NA

16.34

3.70

6.55

Y4.95

July 20

16.16

17.41

3.64

6.44

Shanghai

Feb 2020

20.69

24.14

3.88

7.11

Pork per kg

March 20

21.60

24.83

4.14

7.49

Beijing Y48.6

April 20

20.22

24.27

3.78

7.14

ShanghaiY48.2

May 20

18.49

23.23

3.61

6.58

June 20

18.07

22.18

3.49

6.41

July 20

17.90

21.82

3.43

6.55

Darwin Feeder Steer

June 19

$ 2.90

July 19

$ 3.00

August 19

$ 3.15

Sept 19

$ 3.15

October 19

$ 3.30

Nov 19

$ 3.35

Dec 19

$ 3.25

January 2020

$ 3.25

Feb 2020 $ 3.80

March 2020

$ 3.40

April 20

$ 2.80

May 20

$ 3.25

June 2020

$ 3.40

July 2020

$ 3.50