Australian cattle exports maintained a strong pace in September, with 99,675 cattle exported for the month.
While down on the 107,832 exported in August, the September figure represented the second highest monthly volume recorded for 21 months, since December 2016 when 123,052 cattle were shipped.
With the increased export activity of recent months cattle supply is now reported be getting tighter in the north, which has nudged prices higher in the past fortnight from 300c/kg to around 310c/kg ex Darwin Port.
Exporters have told Beef Central this week that while some small lots of cattle may still be trading at 300-305c/kg, the price has risen to 310c for decent lots of cattle.
Despite some encouraging signs of improvement in the Indonesian market in recent months, trade sources have told Beef Central this week that the the recent price rise has been supply driven, not demand driven, with prices in Indonesia remaining relatively flat at this point.
Cattle are being moved onto flood plains for export from Darwin in November and December.
Exports from Townsville eased back in September after a surge of activity in August, but volumes from the port for October are expected to be high again, with the eighth and ninth livestock vessels for the month scheduled to be loaded in Townsville this week.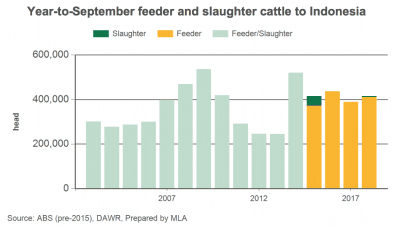 In calendar year to date terms, Australia has exported 420,835 cattle to Indonesia so far in 2018, 5 percent above the corresponding period of 2017.
September exports also saw Australia deliver its first shipments of slaughter weight cattle to Indonesia for three years , with two vessels shipping 4,163 slaughter cattle to Indonesia from Broome in September.
Exports to Vietnam are also higher, totalling 139,395 for the year to date, 9 percent above last year.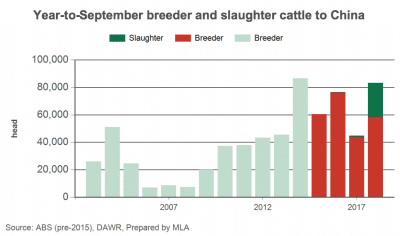 Cattle exports to China are running 86 percent higher, driven by increased exports of both slaughter cattle (24,835) and breeding cattle (58,362).
Exports to Israel have also risen in 2018, totalling 36,812 to date, jumping by 77 percent on the same period last year.
The long standing south east Asian markets of Malaysia and the Philippines have been among the growth markets in 2018, increasing by 36 percent to 17,737 head and 409 percent to 9078 head respectively from January to September 2018.