With the northern cattle shipping trade operating in "survival mode", squeezed between high Australian cattle prices and faltering demand in major markets, industry representatives are fearful that more costs may be about to be added to their businesses at a time they can least afford it.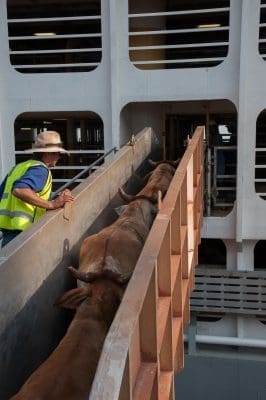 Indications emerged at recent Senate Estimates hearings that the Federal Government is again planning to return mandatory Government-appointed independent observers (IOs) to livestock export vessels soon, almost two years after they were sidelined by COVID.
Questioning by Greens Senator Mehreen Faruqi at Senate Estimates prompted assurances by senior Department of Agriculture staff that plans to reintroduce IOs were "well-advanced", but still not locked into a specific date.
When Senator Faruqi challenged Departmental executives as to why IOs had not yet been returned to livestock export shipments, she received the following straight forward reply from DAWE senior executive David Hazlehurst: "Omicron".
Mr Hazlehurst revealed the Federal Government was planning to reintroduce IOs late last year, until those plans were derailed by the emergence of the new variant.
The Department had to balance the role independent observers could provide with the need to protect their health and safety, DAWE secretary Andrew Metcalfe explained.
With international border restrictions now easing, Mr Hazlehurst said plans to re-engage IOs were "well-advanced", but there was not yet a clear timeline on when they will return to livex ships.
That failed to satisfy Senator Faruqi, who responded: "I'm interested in animal welfare at this point in time, not necessarily making profit out of animal cruelty".
To which Department of Agriculture secretary Andrew Metcalfe replied: "I'm interested in animal welfare and human welfare".
Financial Pressure
Exporters have voiced concern a decision to reintroduce IOs now would impose unnecessary additional costs on exporters and importers at a time when record Australian cattle prices mean they are operating at significant losses.
The financial pressure being felt on downstream customers in Indonesia has resulted in Indonesian meat traders mounting a week long strike in protest of high cattle and beef prices (see Ross Ainsworth's separate story today).
The presence of independent observers on livestock export voyages was introduced as a mandatory requirement by the Coalition Government in November 2018 after images surfaced showing dead and dying heat-stressed Australian-sheep aboard the Awassi Express en-route to the Middle East.
Livestock exporters are required by the Government to absorb the full cost of having an independent observer on board, an expense which can amount to tens of thousands of dollars in additional costs for each journey.
The role of the IO is over-and-above mandatory animal welfare reporting requirements exporters must comply with for voyages under the Australian Standards for the Export of Livestock (ASEL).
Northern Territory Livestock Exporters Association chief executive officer Tom Dawkins said it was impossible to imagine imposing further costs when exporters/importers were struggling to absorb these extreme prices.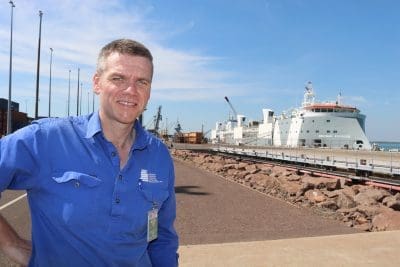 "Exporters and importers are in survival mode and facing an uncertain outlook, so imposing further regulatory costs in the coming months is a very dangerous and fraught proposition.
Mr Dawkins said discussion at Senate Estimates regarding regulatory costs on the livestock export industry, including questions from NT Senator Sam McMahon about the Department's plans for further cost recovery measures, attracted heightened interest given the precarious state of the live cattle trade.
The Department's moves to full cost recovery of live export regulation have been heavily criticised by exporters and producers in the past. Mr Dawkins said the extent of the market duress meant the case against the arbitrary roll-out of additional regulatory charges was more compelling than ever.
"There's a significant body of work by both Government and industry analysing regulatory costs in the live trade, so everyone recognises short-haul cattle exports from northern Australia to South East Asia operate in very low-to-negative margins with customers who are extremely price sensitive.
"As such, we can be under no illusions of the risks posed by further charges on the trade."
The northern live trade was at the intersection of a devastating, disruptive global pandemic and crippling extreme cattle prices, he said.
Further regulatory costs in the short-term would be commercially prohibitive and at odds with Australia's long-term strategic objectives and its relationship with importing countries such as Indonesia.
Mr Dawkins said Australia's short-haul cattle shipments to South East Asia had performed at an "incredibly high standard" throughout the pandemic.
"The work of exporters and shipboard personnel to overcome international and interstate travel hurdles is a source of tremendous pride.
"It demonstrates that welfare outcomes and reporting back to the regulator on voyage outcomes in a transparent and accountable manner has not at all been undermined by the absence of independent observers during the pandemic.
"Exporters and producers will continue to advocate the clear imperatives of supporting the northern cattle industry in maintaining Australia's role in regional food security and the provision of safe, affordable protein to our SE Asian neighbours like Indonesia.
"I remain hopeful the right decisions will be made in how the industry is sustainably and fairly regulated."