NORTHERN live export cattle prices are re-testing record levels with good lines of flood plain steers for November-December delivery now commanding around $3.85/kg ex-Darwin.
More generally prices have been trading in the $3.60-$3.65 range for good steers going onto ships today, with reports of up to $3.80 around for orders to top-up ships in short time periods.
However the consensus appears to be that the very tight supply and continued competition for the same cattle from Australian restockers and lot feeders mean price levels may still be on the way up, with prices more of $3.85 now around for November-December delivery.
There have also been rumours from sources close to the trade that at least one large line of pastoral company flood plain steers has been contracted at prices as high as $4/kilogram liveweight in recent days for shipping in November/December, mirroring record price levels paid earlier in the year.
Record prices will be welcomed by producers but will also test the capacity and willingness of Indonesian importers to pay such high prices, at a time when the market for fresh beef from Australian-fed cattle is now subject to competition from cheaper Indian Buffalo Meat, albeit at restricted supply levels currently due to the spread of the COVID-19 in India.
Indonesian Government rules currently include a fixed and narrow range of prices that importers are permitted to charge for their product, which can limit their ability to increase their own selling prices to cover for the higher cost of purchasing cattle from Australia. But there are also mixed reports about the extent to which this rule is being imposed. One Indonesian feedlot operator told Beef Central this week they while the price rules are still there, they are not seeing any enforcement at present.
Vietnam consignment fills large new Townsville facility for first time
Prices for heavier steers to Vietnam from Townsville are still trading in the $3.55-$3.60/kg range.
Elders' Tom Kennedy said it has been "a massive year in the north".
Townsville has seen a run of big ships loading in the past month, including some additional vessels in September which were previously booked for runs from New Zealand to China, but diverted to the NQ port after the Gulf Livestock tragedy resulted in the suspension of all livestock activity from NZ.
Four ships are booked to load in Townsville for runs in coming days including the Al Kuwait (formerly the Ocean Shearer), and two G-class vessels before the Shearer returns from Vietnam to load again.
Some 35,000 cattle are expected to leave Townsville in that period, with the Al Kuwait loading 13,500 cattle, and another 20,000 to follow.
The large numbers being handled have seen the large new Reid River yards west of Townsville, which came into operation just over one year ago and put through 195,000 cattle in that time, fill to capacity for the first time.
More than 13,500 slaughter-weight bulls and steers have been assembled in the facility by exporter North Australian Cattle Company (NACC), all meeting the 520kg liveweight specification for Vietnam.
While not a "saleyard" in the traditional sense, the consignment is believed to represent one of the largest single yardings of heavy cattle ever seen in Queensland.
'It will be one of the biggest yardings of cattle in Queensland if you look at the kilograms yarded'
"It will be one of the biggest yardings of cattle in Queensland if you look at the kilograms yarded," Mr Kennedy said.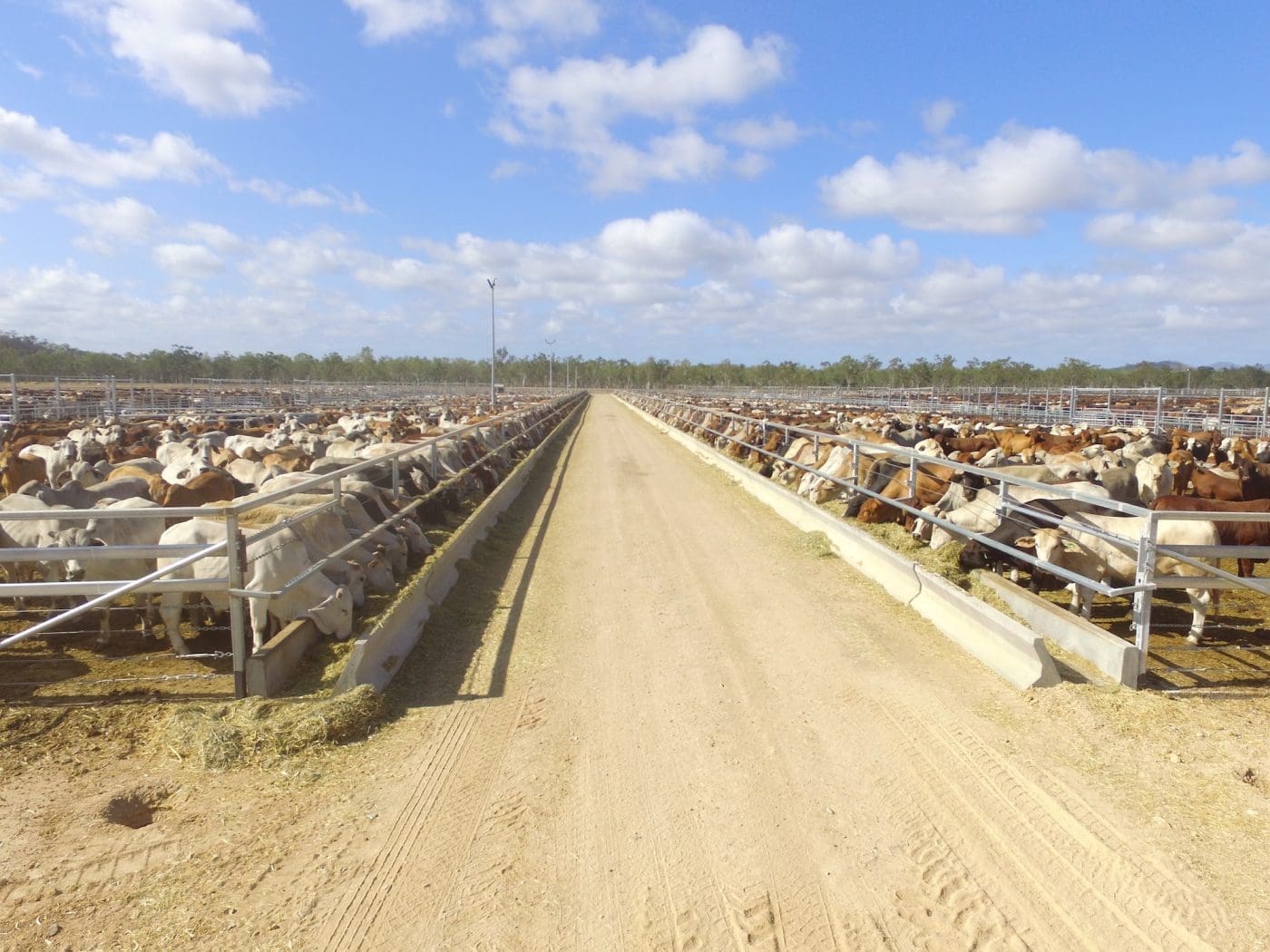 "Paul and Kristy Heil and their team have done a terrific job, there hasn't been a problem, it has just run smoothly, they had to tag all these cattle and finished the tagging on Saturday, they have done an amazing job."
Mr Kennedy said there had been a reasonable amount of pressure in securing the cattle for the order in a tight supply environment, with no big runs of cattle still available.
"It has just been a massive year in the north," he said.
"It is a credit to all people involved in the industry, how it has happened so smoothly from the transport operator to the yard contractors."
Built by Wellard in 2016, the Al Kuwait is the world's largest purpose-built livestock vessel.
It was bought from Wellard by the Kuwait Livestock Transport and Trading (KLTT), Australia's largest buyer of live sheep, late last year.
Under normal circumstances, it would be expected to be carrying sheep, especially now that the three and a half month moratorium preventing sailing into the Middle East Summer has ended (in late September).
But in a sign of how tight sheep supply is, the vessel has been chartered out to carry cattle from northern Australia for the time being.
Competition from Eastern States restockers for sheep is said to have resulted in more than one million WA sheep crossing the Nullabor this year.
Another KLTT vessel, the Al Messilah, is scheduled to carry sheep from WA to Kuwait on October 23, but it a COVID-19 outbreak detected on the vessel after it arrived in Fremantle last Thursday is expected to delay the commencement of that journey until all crew are removed and a deep cleaning of the vessel is completed.