The live export season is firing up in northern Queensland with Townsville potentially set to ship as many cattle in the next month as it has shipped in some entire years in the past.
As many as 60,000 head of cattle are set to be shipped from the Port of Townsville in the next three weeks as exporters fill new year orders for Indonesia and Vietnam, depending on weather.
Townsville is traditionally a key port of focus for live export activity at this time of year as wet season rains tie up cattle paddocks and roads further north and limit access to local cattle for Darwin and ports in northern Western Australia.
Record high prices for live export orders – currently said to be around $3.40/kg for feeder steers delivered to Charters Towers and up to $3.90/kg delivered to Darwin – are turning many producers into willing sellers.
Three ships loaded in Townsville for Indonesia and Vietnam late last week and a further five ships are set to load at the port in the next 10 days.
The Department of Agriculture told Beef Central this morning that it cannot disclose actual numbers of applications for exports because the information is commercial in confidence and subject to change.
However it added that it has received a number of applications for export from Townsville and is expecting large export numbers in the coming weeks.
The monthly record for cattle shipments from Townsville is 47,221 head, set in April last year when exporters received permits for 250,000 cattle for the second quarter of 2015 and then raced to ship cattle to Indonesia in time to be fed for Ramadan in July.
One factor that could yet disrupt the big numbers expected out of Townsville in coming weeks is also one that many producers in the region would warmly welcome – rain.
Storms dumped in excess of 100 millimetres across parts of Central Queensland over the weekend, an area that has been supplying large volumes of cattle for export out of both Townsville and Darwin in recent weeks.
Many northern producers are watching this promising 14 day outlook in the hope for much-needed rain across northern Queensland and Northern Territory: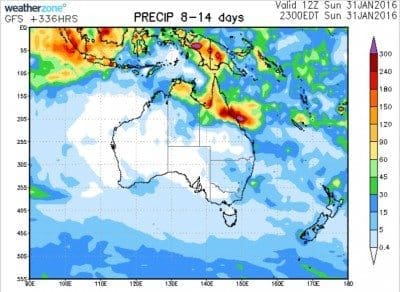 In Darwin export activity is still progressing steadily, Northern Territory Livestock Exporters' Association chief executive officer Stuart Kemp told Beef Central.
Darwin was still a port of preference for exporters to Indonesia, he said, because the sailing time from Darwin was shorter, meaning lower shipping costs and the ability to land cattle at the port at a better price.
It is important to note that the $3.90/kg price now being quoted for cattle landed in Darwin includes the cost of road transporting cattle from their point of origin to the port.
"I think the higher prices we are hearing would be cattle that are bought in central and southern Queensland and that price includes the freight component," he explained.
"Those high 300c prices are landed in Darwin, and would include a 60-80c freight component for some of those cattle."
Mr Kemp said there were still not many cattle available in the top of Western Australia or in the Northern Territory but that should change in about six weeks as the dry season sets in.
Steve Ellison from Great Giant Livestock said the company loaded a boat in Townsville on Saturday which included cattle sourced from Springsure in Central Queensland.
He was also aware of cattle being trucked from a feedlot at Springsure to supply a live export order out of Darwin.
Townsville livestock agent Tim McHugh from Hogan and McHugh said he has sourced feeder steers from as far as Drillham to form part of a live export order to be shipped from Townsville in coming weeks.
Mr McHugh said the presence of live export ships in Townsville has changed from being a traditional once-a-year, seasonal occurrence to a more regular year-round trend since 2013.
Before that, exporters would typically operate ships out of Townsville from October through to Easter, and then be gone again to focus on Darwin.
However, several factors including the introduction of larger ships by Wellard Rural Exports a decade or so ago, the more recent return of high volume orders from Indonesia in late 2013 and the rapid recent growth of demand from Vietnam had "changed everything", Mr McHugh said, making Townsville much more "of a monthly situation" today.
"Since Indonesia re-opened, it has just been a very regular business out of the Port of Townsville," he said.
The dominant presence of live export orders in the current market for northern cattle and the reduced herd numbers is also focusing attention on the question of when and even if JBS will re-open its Townsville abattoir in 2016. There has been no official word on a planned re-opening date from the company yet.
With prices currently being quoted as high as 390c/kg in Darwin, is a price of 400c/kg now on the cards?
This is how one exporter responded to that question today: "It is, but it will only be for six decks that someone is short of, or someone who wants to make a name for themselves."