A familiar-sounding acronym has started appearing regularly in beef market reports from Indonesia.
When most people hear "IBM", they think computers.
But when mentioned in the context of an Indonesian beef market analysis, IBM has a different meaning altogether.
In this case it refers to "Indian Buffalo Meat", which has had a market-altering impact since being introduced by Indonesia as a cheaper alternative to imported Australian beef nine months ago.
In that short period Indian buffalo meat has grown to claim about 20 percent of the total beef market in the Greater Jakarta area per month, according to market research conducted by Meat & Livestock Australia with funding from the combined MLA-LiveCorp Live Export Program (LEP).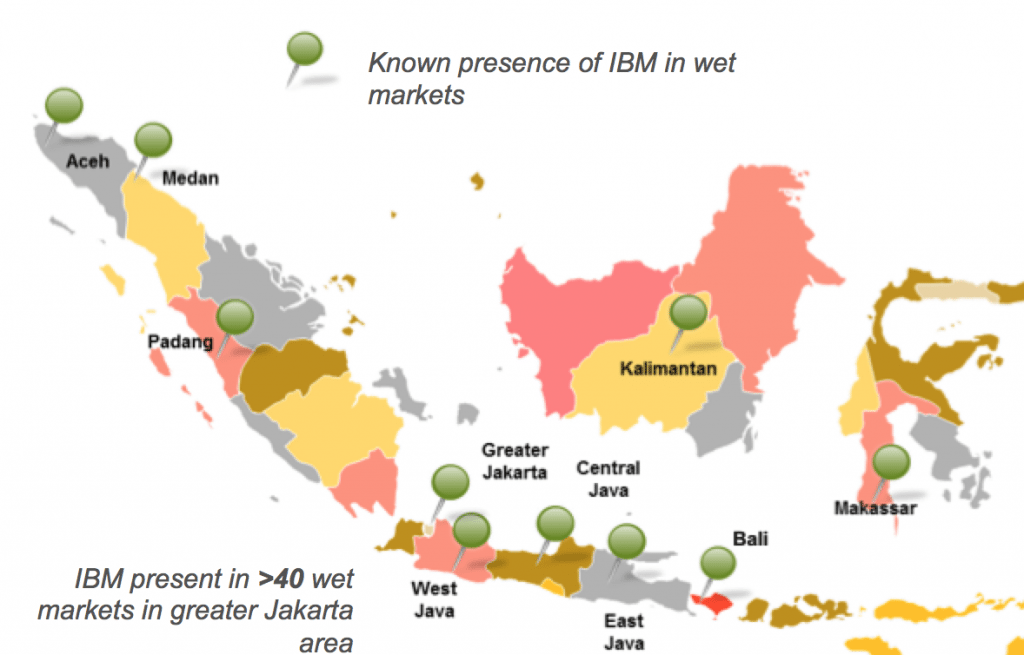 The survey of hundreds of wet markets and bakso ball manufacturers, completed in February, showed that IBM is now present in at least 40 Jakarta wet markets (plus several other areas around the archipelago).
It also indicated that local cattle traders are facing a 50 percent decline in cattle sales.
However, while the impact has been significant, the survey also suggests that the uptake of Indian buffalo meat by Indonesian consumers may not have been as rapid as it could have been.
"It has been a steady uptake by consumers, and they are still very much testing (IBM)," MLA's South East Asian region manager Andrew Simpson told last Friday's NTCA conference.
Explaining why Indonesia decided to legalise IBM imports last year, Mr Simpson pointed out that that Indonesia's annual demand for beef is 600,000 tonnes.
That is filled partially by about 400,000t of beef produced by local Indonesian farmers.
The gap of 200,000t has been filled in recent years mainly by imports of Australian live cattle and boxed beef.
However, that was until the rundown in Australia's herd pushed our cattle and beef prices to much higher levels.
That opened the door to cheaper frozen buffalo meat from India getting a "free-ride" into the market, as Indonesia looked for a cheaper alternative to keep its markets well supplied with lower cost product, to support its aim of preventing wet market beef prices from rising even higher.
(Although there is some evidence that Indian Buffalo Meat is not selling as cheaply as the Indonesian Government expects it so, as market middlemen price it just under local product and pocket the margin for themselves – more on this in a follow up article on Beef Central later this week).
Indonesian Government body Bulog has been given permits to import 110,000t of Indian buffalo meat this financial year.
So far it has imported around 60,000t.
But of that volume, only around 25,000t has been released onto the market, leaving 35,000t in frozen stores, on hand if and when required.
This gives Indonesia an important supply buffer in the lead up to this year's Ramadan, the period when consumer demand for beef in Indonesia peaks, a luxury it has not had in recent years.
"The big difference between Indonesia leading into Ramadan this year and last year is that Indonesia has a card up its sleeve – 35,000t of stock which it will feed into the market if it needs to back into the market," Mr Simpson said.
"This is to stop that price fluctuation during that peak period."
To better understand the impact Indian buffalo meat has had in the market, combined funds from MLA and Livecorp's joint Live Export Program (LEP) were used to survey more than 200 wet markets and small-medium enterprise (SME) bakso ball manufacturers throughout Indonesia in January.
It shows that the 25,000t of Indian buffalo meat released so far has been making in-roads in three particular channels:
the wet markets. IBM now accounts for about 10pc of the 10,000t of total beef sold through that channel per month in the Greater Jakarta area.
small to medium enterprise bakso ball manufacturers – now taking about 50pc of the 6500t sold through this channel; and,
About 15pc of the 2500t per month used in the large manufacturing channel (to mass manufacture products such as sausages, pies, lasagnas).
The impact of Indian buffalo Meat on the hotel, restaurant, catering, and high-end retail trade has been virtually zero.

Mr Simpson said the survey reinforced the message that as long as meat for sale is affordably priced, fresh and safe to consume, consumers will go for it.
Beef ticks those boxes – with the possible exception of affordability.
Buffalo is lower priced and more affordable – however, the survey suggests customers are still not sure about whether it is safe and fresh.
The survey also indicated that Indonesian customers do not think it is important whether meat is produced locally or imported.
About 90pc of customers surveyed said they could tell if the meat for sale was beef or buffalo meat.
However, Mr Simpson said that comparing meat hanging on a hook in a wet market, it was often very difficult to differentiate visually between Australian beef and Indian buffalo. It was even harder to tell if a cooked bakso ball contained beef or buffalo meat.
"I would treat that (90pc figures) as a little bit dubious, because ultimately it will be the seller saying it is beef or buffalo and the consumer not knowing, because I cant tell the difference and I have been in the game a long time."
He said some stands in wet markets are only just starting to differentiate between the beef and buffalo meat.
"They are not saying buffalo beef, but they are doing it with price."
Need to differentiate Australian product
For 30 years Australian beef has been selling in Jakarta markets alongside locally produced beef, and there has been no need to differentiate.
Now, however, with the emergence of a third competitor, IBM, the need to differentiate Australian product is growing.
"How we differentiate in those markets will be key to our viability going forward," Mr Simpson said.
"Transformational transition from traditional to more modern is happening.
"I can show you butcher shops in Jakarta now that are starting to do the price range.
"I believe the more sophisticated these chains become, the more they will turn back to Australian beef as a supply base.
"And I think we have got some things in this country that are so good that we are not yet promoting, like our traceability or our on-farm systems, that need to be done more in this live export space.
"This is something we haven't needed to do to date because we haven't had this competition."