Are rising meat prices in Jakarta helping to offset the rising cost of cattle from Australia?
Prices for feeder steers landed in Darwin have risen from around 270c/kg early last year to as high as 390c/kg now.
If the supply of available cattle tightens further, which may happen soon if forecast northern rain comes to fruition, prices of 400c/kg or higher may yet be on the cards.
The increasing trend gives rise to the question of how much higher prices can go before the market begins to show resistance to those price levels.
Meat & Livestock Australia, in its recent market projection report for 2016, said the Indonesian market's ability to absorb the higher cost of cattle from Australia was being helped by simultaneous rises in the price of beef in Jakarta.
"There are reports that importing countries were showing resistance at those price levels," MLA stated.
"However, the simultaneous rise in wet market prices in Indonesia in particular is working to offset some of the pressure. In fact, many of the indicative monthly Jakarta Wet Market prices ended 2015 at record, or near record, highs."
Rising prices impacting on demand
However, cattle importers in Jakarta say MLA's statement overlooks a larger part of the price-resistance story.
Higher beef prices in Jakarta are an inevitable response to the higher cost of cattle from Australia, they say, as businesses along the supply chain try to pass on their increased costs of goods – in this case Australian cattle – on to their customers further along the chain.
Importers say price resistance should be measured by the drastic drop in demand that is caused by the rising price of beef.
When the recent 10pc Value-Added-Tax was suddenly imposed on cattle sales last month, Indonesian newspapers were full of stories documenting the affect of the sudden price increase on consumer demand for beef.
The clipping below from the Suara Pembaruan newspaper quotes a seller who says he was able to sell about 80 kilograms of beef in the wet market when prices were at about IDR 100,000 per kilogram. However, after prices had risen to IDR 120,000/kg, he says he has only been able to sell 40-50kg.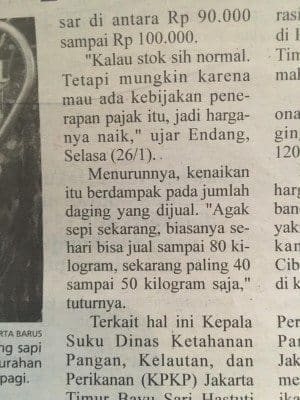 In another wet market, a rise of IDR 5000-7000/kg in the price of beef to IDR 105,000/kg was causing consumers to switch from beef to eggs, chicken or vegetables, this Kompas article reported.
"I expect the government to immediately help lower the price of beef, and immediately find a way out, so that traders do not experience bankrupt (sic)," another buyer, who had reduced turnover from 10kg of beef a day to 6kg of beef a day since prices rose above IDR 120,000kg, told this news agency.
The rising prices are affecting demand for beef, importers have told Beef Central this week.
"Most have seen 50 percent drop in demand or household reducing consumption or some changing menu for their food stalls because prices are becoming more unaffordable for them," one importer, who asked not to be identified, said.
"Part of the stories do have lingering effect of the VAT, but the common story is that rising beef price are affecting us in a big way in terms of demand."
Price pressure driving interest in beef from FMD-affected countries
The pressure on the Indonesian Government to reduce the price of beef is a key driver for its renewed push to widen its supply options for beef, carabeef and live cattle by allowing imports from declared-free zones within countries that are affected by Foot and Mouth Disease.
Australia's export cattle industry is now watching closely to see how the new regulation being developed by the Indonesian Minister for Agriculture takes shape and how long it will take to put that process into place.
The Australian cattle industry has argued that Indonesia could effectively lower the price of beef in Indonesian wet markets by allocating annual permits to give Australian exporters greater certainty and longer lead times to source cattle. This would remove unnecessary costs and demand spikes that occur the start of each permit allocation period.
However Indonesia appears to favour the approach of opening its market to more sources, particularly cheaper Indian buffalo meat (carabeef), as a means of increasing beef supply and lowering prices.
Whether Indonesian's parliamentarians can quickly authorise imports from an FMD-affected country is coming down to a battle between constitution and law.
Two reports from seemingly credible Government sources seen by Beef Central this week tell different stories.
One says the Indonesian Supreme Court is still in the process of reviewing the proposal to switch from country-based to zone-based imports.
In contrast, another report says the Central Government is now seen to have superseded the Supreme Court by announcing the new economic package last week, which contains the decision to draft a new regulation allowing zone-based imports.
Will Indian carabeef solve Indonesia's beef supply issues? Unlikely.
Buffalo meat is not widely used in the popular Indonesian beef-based street food Bakso balls because it is considered a tough and dark-coloured meat, and also because it isn't sold fresh as wet market buyers prefer, but in boxed, frozen form.
80 percent of fresh beef bought in the wet market goes into making Bakso Balls which are sold by vendors to customers in the street.
There is a standing regulation in Indonesia that boxed beef can not be sold in the wet market. That suggests that carabeef would benefit only the meat manufacturing industry for sausages etc, which makes up less than 1pc of Indonesia's total beef requirements.
If live buffalo were to be imported from India (it would seem unlikely that Indian religious views would permit the export of live beef cattle), they would also have to be delivered to a yet-to-be built quarantine island first before being shipped to Jakarta's main port of Tanjung Priok.
Depending on the initial purchase price of the stock, this requirement would add significant cost to the process which could well reduce or eliminate its price-competitiveness. Brazil does have one zone that is free of FMD, and could possibly become a future supply source for live cattle to Indonesia, but one that also involves a much longer sailing time and freight cost than Australia.
One cattle importer told Beef Central this week that he genuinely believed Indonesia's best option for supply was Australia.
"We are close neighbours, you have the right type of cattle and also the numbers to supply what will be the largest and fastest growing economy in the world, Indonesia."