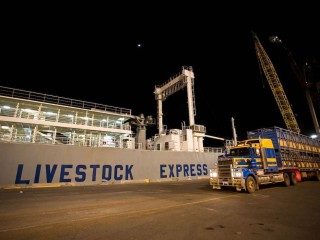 Australia's live export industry estimates it will cost at least $25 million to meet new Federal Government assurance standards in foreign markets.
Exporters will be required to take full responsibility for all animals in all export markets through to the point of slaughter under new Federal rules announced last week,.
The reforms, based on recommendations from former Australian diplomat Bill Farmer AO's independent review of the trade, are designed to protect the welfare of Australian cattle after they are delivered to export customers.
The industry has been given until February 29 to implement full traceability and to secure Australian-Government approval for supply chains and livestock handling systems in the markets of Kuwait, Bahrain, Qatar and Turkey. Along with Indonesia, these markets represent 75pc of Australia's live export trade.
Exporters will then have until 31 August 2012 to achieve the same standards in Israel, Japan, Jordan, Malaysia, Oman, Philippines, Saudi Arabia, Singapore, and United Arab Emirates, which will bring supply chain assurance to 99pc of Australia's markets. The same standards will then have to be met in Brunei, Mauritius, Russia, Vietnam, and all other markets by a final deadline of 31 December 2012.
New markets which are developed from this point forward will need to comply with the new requirements as soon as trade commences.
.
Achieving the new standards is likely to require an individual solution for each market, trade sources told Beef Central on Friday.
Some markets have simple supply chains with one importer, one feedlot and one abattoir, where traceability is relatively easy to install and most of the work will surround training and resources to instill a Quality Assurance mentality.
Other markets are more complicated with multiple feedlot and abattoir facilities which in turn require a more complex response.
Likely costs will include infrastructure upgrades, such as installing Mark IV boxes at point of slaughter where required, implementing full electronic traceability and back-up computer and database management systems, training of supply chain staff, investing in additional resources to manage and maintain assurance programs on an ongoing basis, and higher AQIS costs and regulation imposts.
While not mandatory, exporters are also introducing stunning equipment where possible which carries further costs.
The Australian Live Exporters Council told Beef Central last Friday that it will cost an estimated $25 million to roll out the required upgrades across the 29 markets Australian currently supplies.
The Federal Government has allocated $10 million from the Official Development Assistance to help mporting nations with the supply chain upgrades that will be required to continue receiving Australian livestock.
It has also made $5 million available to assist exporters to meet the additional costs they now to face to maintain market access. These funds will be distributed on a 3:1 investment ratio.
Despite the extra costs, the industry has welcomed the Government's commitment to the industry and the additional certainty that the new policy provides for the trade.
New stability for trade
Agriculture minister Joe Ludwig said last Friday that the reforms will provide greater stability, because if new examples of mis-treatment emerge in future, the government will be able to address those issues specifically without having to shut down entire markets.
Wellard Rural Exports managing director Steve Meerwald said the new requirements were achievable in the timetables outlined, while providing both improved animal welfare standards and confidence in those standards.
"Wellard supports the four principles outlined in the Government's new live export framework relating to minimum standards, animal control, traceability and audit of performance," Mr Meerwald said.
"The live export industry has already voluntarily accelerated its efforts and programs in these areas so it can adhere to the standards and timelines set by Government."
Mr Meerwald added that until the changes were made, it would difficult to calculate the likely cost of required supply chain upgrades.
Devil in the detail
The Federal Opposition has supported the changes announced by Minister Ludwig last Friday, but says the devil will lie in the detail.
"The timetables set are ambitious and will require high levels of cooperation between the industry, the Australian Government and our international customers," Federal nationals leader Warren Truss said.
"At face value, the changes being mooted appear in line with the industry's own reform initiatives, taking a rational, methodical approach to improving animal welfare in destination markets.
"That's a marked improvement on Labor's knee-jerk response, imposing a total ban on live cattle exports to Indonesia without even speaking to our trading partner and devoid of understanding the catastrophic implications for businesses, families and entire communities across northern Australia.
A significant portion of the estimated $25 million cost will be borne by Australian producers, Mr Truss said.
"A bit of foresight – not to mention understanding of the live export sector – by government could have seen this investment injected upfront, well before the blanket Indonesian ban required a $100 million taxpayer-funded assistance package to compensate cattle producers for government ineptitude.
"That could have saved taxpayers around $75 million and delivered the same end result, without plunging families, businesses and communities across our north into financial chaos and deep emotional distress.
"Of the 109 countries that export live animals Australia is the only one investing in animal welfare in destination markets. By remaining a major player in the live trade, Australia is in a solid position to meet bourgeoning world food demand, but also to be a driving influence in the uptake of sound animal welfare practises."
The $1 billion live export industry is very important to the national economy, as well as families, businesses and entire communities across regional Australia. In all, some 13,000 direct Australian jobs depend on the sector.