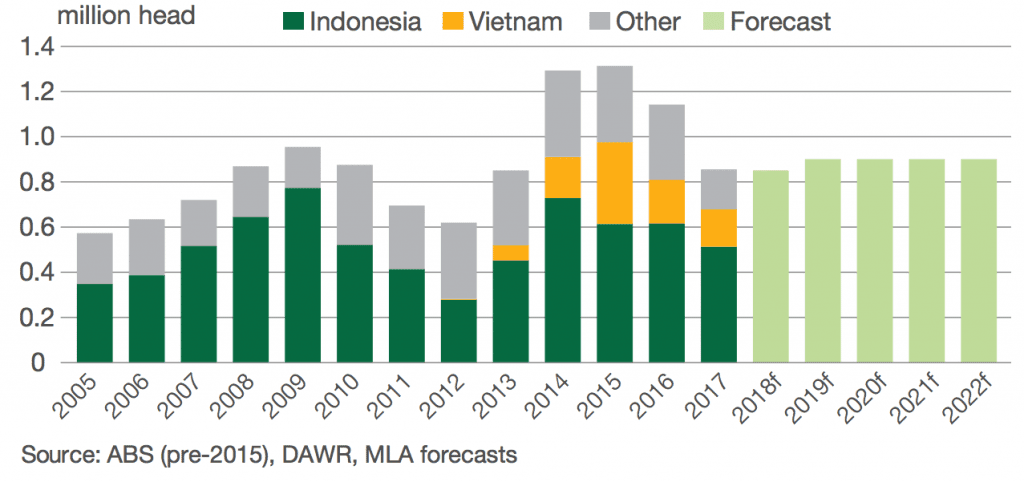 AUSTRALIA'S live cattle export trade should prepare for another year of tight supply, high cattle prices and ongoing uncertainty around import policies, Meat & Livestock Australia's 2018 cattle projections report suggests.
Australian live cattle exports in 2017 dropped by 22 percent year-on-year to just under 855,000 head.
"Over the next few years some increases in live export are expected from the 2017 levels as the herd recovers, but it is unlikely to get back to recent highs," this morning's MLA report says.
Indonesia remains Australia's largest destination for exported cattle, taking 60pc of Australian shipments, followed by Vietnam at 19pc.
Shipments of feeder and slaughter cattle to Indonesia in 2017 dropped by 16pc year-on-year to 499,000 head.
Behind the downturn were high Australian cattle prices and the Indonesian government's agricultural policy goal to achieve self-sufficiency for major commodities including beef, along with price stabilisation methods that enabled the import of Indian Buffalo Meat.
MLA says prospects for cattle exports to Indonesia in 2018 remain uncertain, and depend in part on the implementation of Indonesia's 5:1 (five feeder cattle imports to one breeder) policy requirements, which, could result in an increase in breeding cattle exports, depending on whether the policy is enforced and, if so, how many importers have the capital and infrastructure to comply with it.
Cattle exports to Vietnam reached just above 165,000 head in 2017, down 15pc from year-ago levels.
"Australian cattle sales are relatively subdued due to the availability of local (regional) cattle combined with the tight supply and higher prices of Australian cattle," the MLA outlook said.
"Demand for beef increases in the lead up to Vietnamese New Year festival in February, which should help support demand for Australian cattle."