FASHION is fickle, but in the beef cattle industry, black-coated breeds that aren't Angus have been around for decades, and their recent growing popularity shows no signs of waning.
Numerous theories attempt to explain why 'black is beautiful'.
Japan's preference for premium grainfed beef from black cattle is well entrenched; the success of the US Certified Angus Beef brand program; and the popularity of Angus worldwide are all factors, according to industry observers.
Whatever the reasons, the black influence (Angus or otherwise) is a dominant stream in Australia's southern industry, and to some extent, a growing trend in the north also.
Beyond the obvious straight Angus cattle bred by many commercial cattlemen, there are Brangus, Black Simmentals, SimAngus, Black Limousins, Limflex and black varieties in just about every breed on the planet.
Head to Queensland where Palgrove and Niindooinbah have developed Ultrablack (tropically adapted Angus) herds, while Burenda Blacks have appeared as a derivative within the Burenda Angus herd. And they are all drawing interested bull buyers.
Go to some large stock shows in the US, and it's not uncommon to see 70 percent of the cattle on parade being black coated non (or only part) Angus.
CAB brand has big influence
Perhaps the single largest influence on the growth in popularity of black cattle other than Angus in the US has been the Certified Angus Beef brand program.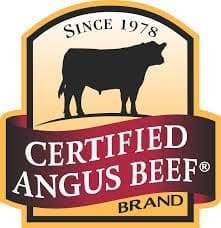 The world's largest and most successful beef brand, global sales in CAB's latest year ended September 30 surpassed 460,000 tonnes, up 13.3pc on the previous year. The record sales were fuelled largely by US retail sales, but exports also grew 15pc (see Beef Central's US columnist, Steve Kay's recent article marveling at the success of the CAB program).
So large and influential is the CAB brand program and the cattle premiums attached to it, that it literally bends cattle breeding decisions across the US, and fanned the flames of 'black' derivatives of breeds other than Angus.
That's because CAB in the US can be produced from 'Angus influenced cattle with a predominantly black coat with no neck hump exceeding two inches (5cm)'.
That's a broad criteria with no defined breed content or Angus percentage – just 'Angus influenced.'
CAB compliance is dominated by carcase quality with medium or fine, modest to higher marbling. The carcase must be consistently sized (476kg HSCW or less, rib eye area 65-100sq cm and less than 25mm of fat thickness. Other aspects are superior muscling (to eliminate dairy influence) and no dark cutters.
This means many non-Angus black breeds, or more specifically their crosses, can produce CAB, provided their carcases met the exacting standards.
Origins of Black Limos and Simmies in Australia
Black Simmentals and Black Limousins followed parallel grading-up processes when the Euro-genetics came to Australia half a century ago.
Imported semen was used over foundation animals of another breed, with the upgraded progeny joined again to purebreds until 15/16 of the animal was Limousin or Simmental content. These 15/16 bulls were then regarded as fully registered purebreds.
Australia's largest registered Black Simmental seedstock herd is Lancaster at Meningie, SA, managed by Henry Cartledge, who started the stud with imports of black and solid red (no white faces) Simmentals.
"We then decided that our main bull market was in the south and the solid reds were more suited to the north, so we dispersed our solid reds a few years ago and now only run blacks," he said.
Mr Cartledge is not concerned about the size of the gene pool in Black Simmentals. If he need to adjust some traits, it's relatively easy to go to the giant Angus gene pool and grade up to the required 15/16 Simmental content over four generations.
"Marbling, calving ease, softness and polls are the advantages doing it that way," he said.
Lancaster will hold its 12th annual sale on Friday February 24 with a catalogue of 64 black Simmental and SimAngus bulls and 40 registered black Simmental females.
Surprisingly, the Simmental herd book is still dominated by the 'traditional' coloured cattle. In September last year a scan of the herd book came up with 89pc being traditional colours, 6pc solid reds, just over 2pc blacks, and less than 1pc SimAngus.
Both the Lim-Flex (Black Limousin x Angus composite) and SimAngus have similar content requirements; no more than 75pc and no less that 25pc of each parent breed.
Black coat colour has infiltrated Limousins more than Simmentals, with around 23pc of the cattle in the Limousin herd book now registered as Blacks.
What's motivating buyers of black bulls in Australia?
Alex McDonald, former CEO of the Australian Limousin Society and now with Southern Beef Technology Services, said homozygous Black Limousin and Simmental were becoming very popular, as they threw 100pc black calves and carried the strong Angus polling genes. Heterozgous Blacks leave about 50pc black calves.
In his assessment, black euro breed bulls were being used in Angus herds to introduce other traits, while crossbred herds used black euro bulls for black colour, growth and muscling.
Body temperature compromise
While black coats may be in fashion in many areas, corporate beef producer S Kidman & Co has deliberately avoided black-coated cattle in its composite development program for northern areas, because of concerns over higher body temperature caused by absorbed heat in dark-coated cattle.
Instead, Kidman has incorporated the silver-coated Murray Grey into its composite, which still have a strong Angus genetic influence.
Kidman has used Murray Greys in a composite program for 12 years to introduce fertility, calving ease and carcase quality in the company's Brahman herd at Anna Creek Station in central Australia (recently sold to Williams Cattle Co). The first cross is Murray Grey over Tuli (cream-coated African tropically adapted Bos Taurus), then mated to Charbray, to retain a light coat colour, and reduce body temperature in harsher conditions.
Murray Greys have done so well in the dry country for Kidman, that some of the composite bulls are being trialled in the company's Kimberley and channel country properties in south west Queensland.
Next week we're continuing to follow the 'Black is beautiful' theme, heading north to look at Brangus, the relatively new Ultrablacks and the real new Burenda Blacks.