TESTING for the polled variant in beef cattle has an interesting history.
In the early days of DNA research for single genes, it was expected that the mutation which caused polledness in naturally horned cattle would be relatively easy to find, but this did not prove to be the case.
Polledness in a population can be increased by simply selecting the polled animals, but because the polled allele is dominant over the horned allele, most polled animals in a horned/polled population will be heterozygous polled – meaning they carry one copy of the polled allele and one copy of the horned allele.
The real advantage of a test for the polled mutation is to identify animals that carry two copies of the polled gene, which is called a homozygous polled animal. As the polled gene is dominant over the horned gene, a homozygous polled animal will produce 100 percent of polled progeny when mated to horned animals (see table).
Australian researchers involved in the Beef Genetic Technologies Cooperative Research Centre (CRC3) discovered a genetic marker closely related to the polled mutation. This led to the commercialisation of the CRC horn/poll test targeted at Bos Indicus cattle by the University of Queensland Animal Genetics Laboratory in about 2010. The test was also useful for Bos Taurus breeds.
The CRC 'micro-satellite' test – being a test for a pattern of markers, rather than the actual mutation – was not 100 percent accurate, but was still widely used by a number of breeds to identify homozygous polled animals.
Despite a concerted effort by scientists around the world including Australia, it is only in very recent years that a group of European scientists published the research which identified two different mutations causing polledness – one originating in beef cattle and the other in the Friesian dairy breed.
The 'Celtic' and 'Friesian' variations of the mutation both cause polledness in beef breeds of cattle. The test for both the 'Celtic' and 'Friesian' polled gene markers is now available from the Neogen Australasia laboratory on the Gatton campus of the University of Queensland.
When results are provided for polled animals as heterozygous polled (one copy of the polled gene) or homozygous polled (two copies of the polled gene) they are considered to be 100 percent accurate, although some animals get a 'No Result' outcome. This issue is most common in Indicus cattle and is more likely to occur in animals which are genetically horned.
The most cost-effective way of providing the horn/poll test by Neogen is as part of a 'bundle' of tests which can be customised for each breed and includes a either a GGP50K or a GGP TropBeef genomic profile.
General manager of Neogen Australia, Russell Lyons, said that breed associations and their members were adopting the 'bundled' tests quite quickly, with most horn/poll tests now being done as part of a 'bundle'.
"The new test is far superior to the previous micro-satellite test because it is a much more sophisticated test," he said.
Neogen currently has a young research scientist, Imtiaz Randhawa, working in an MLA-funded research project to try to eliminate the 'No Result' test results, and also to try to identify a test for the scur gene which is a quite separate gene to the polled gene.
The scur gene is only exhibited in polled animals, and appears to be completely suppressed in homozygous polled animals. Females need to carry two copies of the scur gene to exhibit scurs but in males, only one copy of the scur gene is required for the animal to exhibit scurs.
Herefords rapid progress
Originally separate breed societies, the Hereford and Poll Hereford breed societies amalgamated in 2007 despite some staunch resistance from a group of horned Hereford breeders. Most traditional horned Hereford breeders have now introduced the polled gene to their herds in response to commercial breeder preference for naturally polled cattle.
Herefords Australia general manager Andrew Donoghue provided some statistics on the proportion of Hereford registrations which are polled over the last five years. For 2017 born animals, 77.8 percent were polled or scurred/polled, compared with 69.7pc of animals recorded in 2013, indicating a steady increase in the proportion of polled animals in the Hereford breed.
Mr Donoghue said the uptake of horn/poll testing had increased significantly since the new Neogen SNP test was offered as part of a genotype bundle during 2017.
"Hereford breeders tested 1333 horn/poll tests in 2016,  increasing to 1939 tests in 2017 using either the CRC micro-satellite test or as part of the Genotype bundle. To date in 2018 they have tested 3070 animals for horn/poll mostly using the Genotype bundle," he said.
Of the 1893 polled animals tested in 2018, 67pc were homozygous polled compared to 834 (63pc) of animals identified as homozygous polled in 2016. The increase may be because some breeders do not test an animal they suspect is heterozygous due to the presence of scurs or a horned parent.
"Since moving to the Neogen SNP based test, the number of 'No Results' has been reduced to an acceptable level," Mr Donoghue said. "In 2016 we were getting 9.5pc of 'No results', but this has fallen to 1.4pc for tests done so far in 2018."
Wagyu making progress, from a low base
The Wagyu breed is probably the least advanced in the introduction of polled animals, but has started to make rapid progress led by the formation of the Polled Wagyu Group in 2017 and a number of other Wagyu breeders who have developed polled selection programs.
The Polled Wagyu Group was formed in 2017 involving three prominent Wagyu breeders- the Hammond family from Robbins Island Wagyu, Tasmania, the DeBruin family from Mayura Wagyu in South Australia and the Hamblin family from Strathdale Wagyu in Queensland. See earlier Beef Central report.
Australian Wagyu Association chief executive officer Matt McDonagh said the development of polled Purebred Wagyu was an exciting development.
"We need to maintain the currency of the Wagyu breed in response to demand from commercial breeders and polledness is part of that for animal welfare reasons in addition to improving meat quality and carcase traits," Dr McDonagh said.
"The poll gene does not exist in the Fullblood Wagyu population but the 'Celtic' polled gene has been introduced from polled breeds in the grading-up programs to high content Purebred Wagyu.
"We are now starting to see homozygous polled animals in the Purebred Wagyu population which will allow more rapid introduction of polledness," Dr McDonagh said.
European breeds
The three main European breeds which were predominantly horned when introduced into Australia have also made great strides toward polledness.
Leading the way is the Limousin breed. In 1980 soon after the breed arrived in Australia, 99.9 percent of registrations were horned. The poll variant barely existed, but by 2009 the mix was 50- 50 horned and polled and in 2017,  84.6pc of the calves registered were polled or scurred/polled.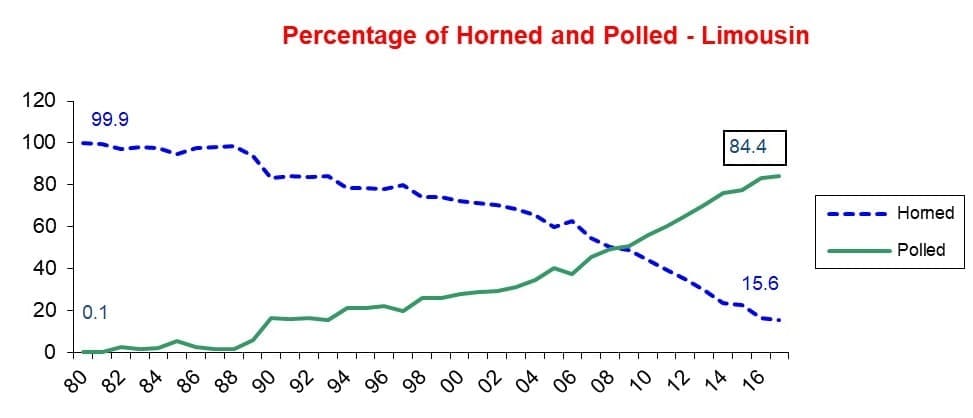 In 1995 just under 18 percent of Simmentals were polled. By 2010 it was a 50-50 mix of horned and polled and by 2017, 68.5pc of new additions to the herd book were polled.
The Charolais breed made slower progress towards polledness in earlier years. In 1995 just five percent of the breed's registrations were polled and that had risen to only 11pc over the next 15 years. But in the period since 2010 registrations of polled Charolais have surged with the proportion of polled calves now over 50pc.
Genetics Central goes into summer recess
With only a dozen or so bull sales left for the year, this week's genetics review is the last for 2018, and now goes into its regular summer recess. Weekly genetics and stud coverage will resume at the end of January, in good time for autumn 2018 bull and female sales coverage.
Genetics Central editor Alex McDonald is now working on his major end-of-selling season report on average prices paid and numbers of bulls sold for all major beef breeds across Australia during the 2018 bull selling year. The summary also includes comparisons with earlier years. The report will appear in early December, following similar reviews compiled by Beef Central since 2011, providing a handy sequence against which breed progress can be gauged.
Leading up to Christmas, work will also start compiling the full list of 2019 Upcoming Bull Sales, appearing as a tabulated list in Beef Central's genetics section. We remind studmasters to submit their 2019 sale dates (via this form), if they are not already provided by respective breed societies. Send details to alex@beefcentral.com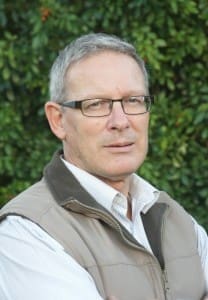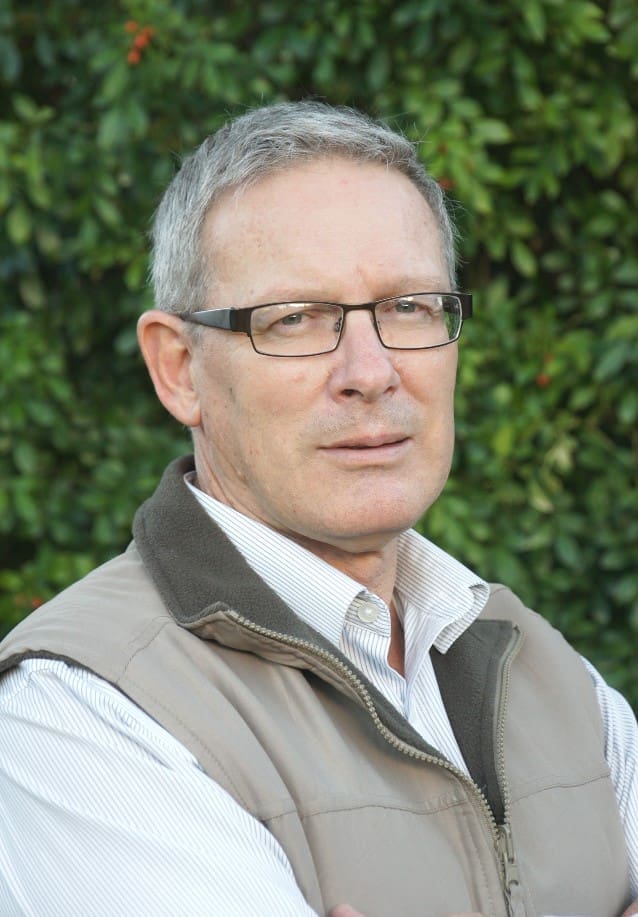 Stud managers wishing to promote their Autumn 2019 bull sales on Beef Central's genetics pages, daily email alert or home page early next year should contact business development manager Rod Hibberd (pictured) at rod@beefcentral.com or phone on 0437 870 127. Ad spaces are limited, so make contact early to avoid disappointment.