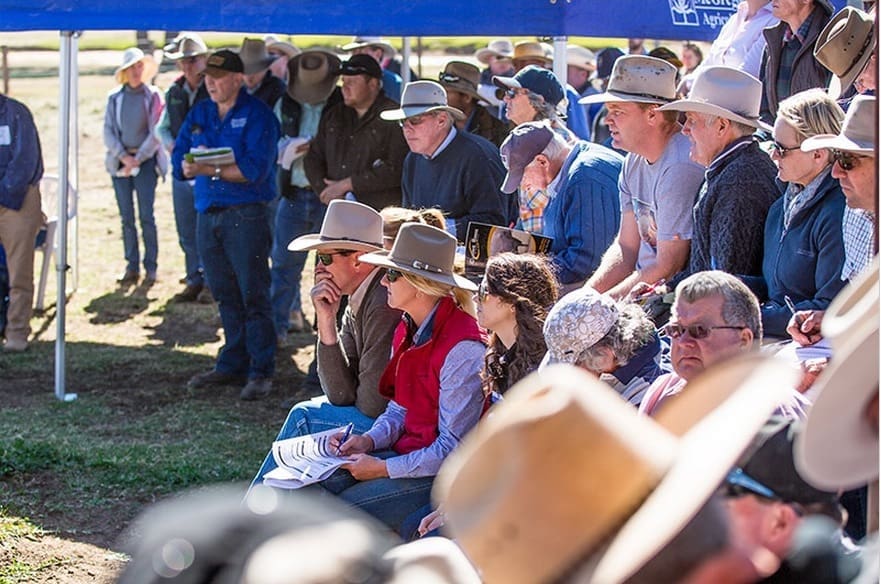 In response to last week's genetics review column, a number of producers have asked how much they should pay for bulls this year – and more importantly, how to set a budget.
"The old rules allow buyers to play just to averages and don't allow for genetic improvement," genetics editor Al Rayner says. "But using $ Index values can establish a budget for producers to invest in genetic merit for their programs. It's a good way to use indexes beyond selection alone, and is part of a structured approach that is import even when averages are lower as it still means producers invest in genetics appropriately," he says….
DETERMINING the budget for genetic improvement within a herd often challenges many producers.  As an advisor to a number of commercial and seedstock breeders, I'm frequently asked for advice on realistic budgets for bulls.
The process of setting budgets often appears to be overlooked by many producers. There are some who do follow a rule-of-thumb based on the potential sale value of progeny. In most cases producers using rules-of-thumb work on the four to five times the value of a weaner steer.
While this may provide a guide as to what could be a budget price to set, I believe it undervalues the genetics that could be captured to improve a herd's overall productivity. I also think it plays only to the average of production and eventually limits a herd's overall potential for productivity, and will make it harder to achieve the breeding objectives for a program.
The development of $ Index values has superseded the usefulness of these rules of thumb, and can be a more accurate way of setting a budget for new bulls. However, the number of producers who actively use Indexes in this way is still reasonably low.
A key reason for this may be due to the low level of understanding of how an Index can be used.
The Index values provided in sale catalogues have been calculated for programs that are most relevant to particular breeds. These range from breeding herds that focus on retaining heifers and producing steers for a particular market, through to operations that target heavyweight steers for export slaughter markets.
The development of Indexes occurs through BreedObject, software developed by the Animal Genetics & Breeding Unit in NSW. The software calculates the emphasis to be placed on individual traits according to the particular production system.
The Index itself is expressed as a dollar value to reflect both the immediate profit generated by the progeny of the bull, and a longer-term contribution to the herd through the retention of the bull's daughters.  The value is expressed as 'Net profit per cow mated.'
To a large extent many producers are comfortable using Indexes as a first point in identifying suitable sires for their programs. This is the key role of the Index, and helps provide a more balanced approach to bull selection.
Setting budgets using indexes next step
Taking the use of an Index further and setting a budget for purchase is the next step in a more structured bull selection process.
In using Indexes to set a budget, I encourage my clients to nominate what they would reasonably think the average bull is likely to cost. Beef Central provides the annual bull sale averages by breed.
As a starting point, an average can be calculated by looking at the most recent six sales for that breed. This average is then considered on par with the average for your chosen breeds Index.  It's important to choose the Index most suited to your system as you do this.
The actual value of the bulls you would consider is then calculated from this average. The calculation takes into account the difference between the individual bulls' index and the average index. This difference is then halved to reflect that the bull contributes half of the difference in performance.
Once this figure is determined, it's multiplied by the number of cows that will joined to the bull in his working life. To determine the indicative value, this sum is added to the average sale price. A recent example can be seen in the box below.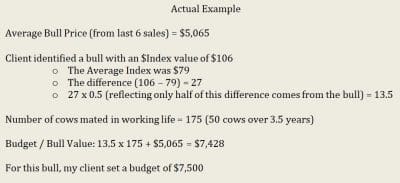 It is important to recognise that this is an indicative value and is derived as a break-even price to reflect the genetic value of this bull over the breed average. In other words, spending in excess of the budget is costly, as the genetic improvement from this bull will not be realised in production within the program.
As Indexes do vary within catalogues, it's important to stick with the one Index that most closely reflects your production system. In order to set a complete budget, it is worth doing these calculations for every bull that you have identified in a catalogue as suitable for your program.
Running budgets in this way is a valuable undertaking even though sale averages are lower in 2019 than in previous years. This process ensures you value the genetic contribution a bull can make in the most thorough way. Essentially, this process provides producers with a way to value the break-even point to invest in better genetics, and so provide a more stable benchmark for budgeting over time.
Alastair Rayner is the Principal of RaynerAg, an agricultural advisory service based in NSW.  He regularly attends bull sales to support client purchases and undertakes pre-sale selections and classifications.  He can be contacted here or through his website www.raynerag.com.au
What do readers think? Send Alastair a comment or a question using the facility below….