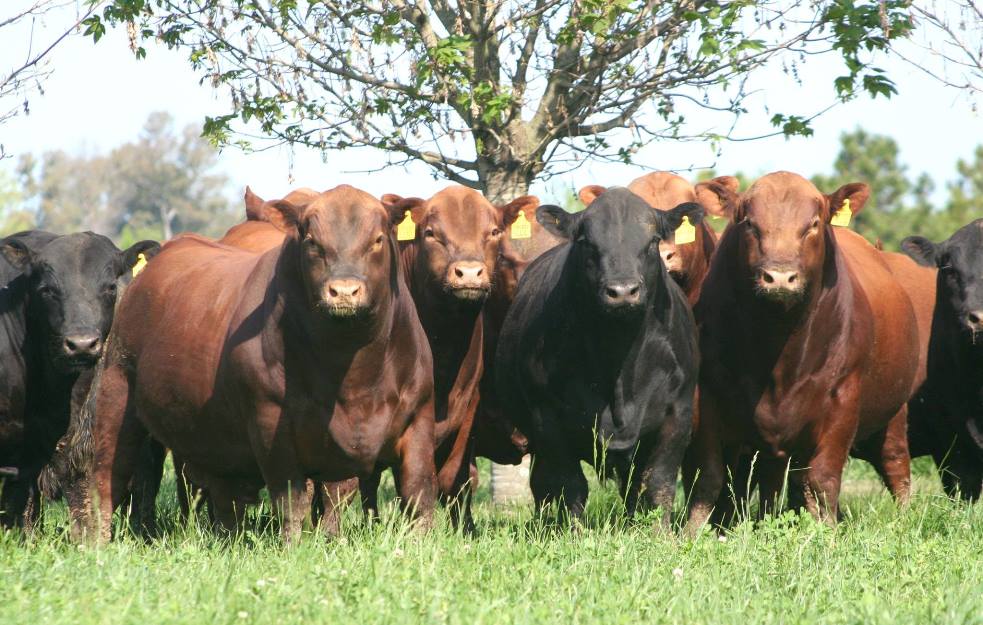 AS THE 2019 spring bull selling season commences across Northern NSW and into Queensland, the consensus among seedstock breeders is that this will be a challenging year for sales.
The ongoing impact of drought continues to drive herd reductions as producers grapple with water shortages and scarce feed supplies. As reported earlier in the year, cows and water are the factors dictating producer's decisions to purchase bulls.
From early sales held during May and June, it appears that bulls with accurate data will be in strong demand, particularly those suitable to enter seedstock operations as stud sires.
However general clearances have been lower, and this trend is a worry for many seedstock producers preparing for their own sales in coming weeks and months. There is a strong feeling, particularly among smaller and newer seedstock operations reliant on local client bases, that the season could be much tougher for their programs when compared to the larger and more established operators.
The recent Northern Beef Week pre-sale promotional circuit saw mixed levels of attendance, with many studs reporting lower than expected visitor numbers. In the NSW New England and North West, the season remains very tough for cattle production and cow liquidation sales are still very high. Larger producers are looking to their long standing clients and expecting to see more bulls head into parts of Queensland that have experienced a better season than further south.
"I'm a bit bullish about this year. Clients can find a good bull with the great genetics, at a price they may not have been able to afford previously"
Gloucester Angus breeder Ted Laurie of Knowla Livestock sees this year as both a challenge and an opportunity for himself and his clients.
"Without a doubt it's going to be tough, with less cows about," he said.
"We've decided to keep our offering numbers about where they were last year, and really focus on ensuring that we have a quality group of bulls."
"I'm a bit bullish about this year. This is a year where clients can find a good bull with the great genetics, at a price they may not have been able to afford previously."
"And when things turn around, they'll see those bulls did perform and hopefully will chase them again."
Well-known Angus breeder Greg Chappell considers 2019 to be the toughest season he and wife Sally have experienced on the New England Tablelands. "The season is going to really dictate sales. People will be looking harder and this year they can look for the bull they want for their program.  But we are really happy with the bulls we have and think that our clients know the quality has been maintained despite the drought," Mr Chappell said.
While focus on numbers is a key talking-point around the seedstock industry this year, most breeders recognise that maintaining strong connections with clients is also key to underpinning their sales.
"Without loyal clients it's very difficult to achieve satisfactory clearances," said Ian Vivers of Eaglehawk Angus near Guyra.
"We really focus on maintaining strong relationships and seeking feedback on how our bulls go in client programs. In years like this, it's the relationships with clients that will help underpin sales."
High accuracy EBVs sought by buyers
Several recent sales, including the Inglebrae Angus sale in Tenterfield (see Genetics Central's summary of recent bull sales results, click here), saw strong demand for bulls with high accuracy EBVs. The focus of the successful purchasers was to use those bulls for specific purposes. The clear message for producers is that bulls with the right genetics are in demand.
Ian Vivers said 'smart cattlemen' were using this year to upgrade their bulls.
Key considerations
Given that demand for bulls is likely to be lower this year, the question of how should producers use this season to their advantage should be a key one.
In recent weeks I've had numerous inquiries from producers seeking advice on the key things to consider. First and foremost, it's vital to have a clear set of breeding objectives. These should be based on your markets and environment. Ahead of the sale don't assume that bulls with the genetics you want, will be easy to obtain – even in a year like this.
These are possibly the bulls other producers want as well, so have a list of suitable bulls to assess at a sale.
I find for many people, searching for bulls across multiple EBVs can be overwhelming.  The selection Indexes are a very good way to make searching for the bulls you want a little easier. Indexes are published for typical production and market systems.
I generally suggest looking at the bulls above the breed average for the Index that best suits your program.  If you need to address a particular trait, then you might rank those bulls according to that trait.
It is important to make the time to arrive at the sale with time to assess your bulls for their physical appearance, focusing only on the bulls you've previously identified.
While these are simple suggestions, I've found producers who use this process tend to find bulls that meet their objectives with a lot less stress. The other key message for producers is to chat to their bull breeders ahead of the sale. In the conversations I've had with breeders over recent weeks, its very evident that breeders want to help their clients achieve the right outcomes for their program. So early conversations ahead of a sale would be highly recommended.
Alastair Rayner is the Principal of RaynerAg, an agricultural advisory service based in NSW.  He regularly attends bull sales to support client purchases and undertakes pre-sale selections and classifications.  He can be contacted here or through his website www.raynerag.com.au