BULL auction sales ran hot throughout February, with 80 sale fixtures in five states grossing a hefty $26.3 million. The tally of 3639 bulls changed hands at an average price of $7230, on par with last year's record-breaking annual average of $7237.
But there's a long way to go with some northern cattle areas still waiting for a wet season, parts of New South Wales also very dry, and southerners looking for a well-timed autumn break after a dry summer – which followed a better than normal spring which filled the dams, haysheds and silage pits.
The relentless pressure of bull sales day after day continues this month, with more than 3000 bulls to be offered at 60 sales, mainly in eastern and north-east Victoria and the Riverina.
The only complete nationwide all-breeds lists of Upcoming Bull Sales and Recently Completed Sales results can be found on beefcentral.com
Of the 3639 bulls sold at auction in February, 3040 came from just four breeds – not surprisingly Angus and Herefords, but perhaps surprisingly, also including Simmentals and Brahmans.
For two decades, an oversupply of Angus bulls has been tipped as the growing numbers of Angus studs bred and sold more and more bulls each year.
But it hasn't happened. In February, 1650 Angus bulls sold for an average $7775, well up on the breed's stellar performance last year when 8080 bulls averaged $6970 across the year.
Herefords continue to sell substantial numbers with 633 bulls transacted during the month for an average $7077, slightly up on the breed's 2016 average of $6917.
A resurgent Simmental breed, driven by a pocket of motivated South Australia vendors, in February sold 380 bulls for an average of $7326. The breed's total sales in 2016 were 896 bulls at a $6829 average.
And never discount Brahmans. Out-of-season (most Brahman sales in Queensland are staged in the September-November period) but not out of mind, the Big Country multi-vendor Brahman sale at Charters Towers in North Queensland resulted in 271 bulls sold out of 280 offered to average $8902.
Season impact on some Qld sales
The other handful of out-of-season sales in Queensland have not fared so well, with lower averages and poorer clearances. The very patchy season in central and southern Queensland had an obvious effect in some of these fixtures.
However there was still good confidence in the industry according to Landmark Queensland's Colby Ede.
"We are banking on rain over the next three or four weeks to get some oats in, in those areas that can grow a forage crop," he said.
While the main Queensland bull selling season is months away, vendors and agents are busy planning sales and catalogues.
"Because of the confidence in the industry, we are seeing more interest from vendors to increase numbers and for new vendors to enter the market – but that is very much dependent on the season," Mr Ede said.
Traditionally Western Australia and South Australia kick off the year's bull selling and momentum often rises after the focus moves to the eastern states. That tradition is being challenged with those states now matching their previously more fashionable eastern state colleagues with demand and prices.
The highest sale average in February was $10,093 for 75 Angus bulls sold by the Coonamble stud in Western Australia. Of the 10 bull sales that averaged in excess of $9000 in February, four were in South Australia, three in Western Australia, two in Victoria and one in New South Wales.
The top price in February was $160,000 paid at the South Australian Woonalee Simmental sale by leading Queensland Brahman, Simmental and Simbrah breeder Brett Nobbs of Nobbs Cattle Co, Duaringa.
Ross Milne from Elders Victoria, who has been involved the mammoth four-day Coolana dispersal plus the record-breaking Woonalee Simmental and Nampara Angus sales said overall averages were up on equivalent sales last year, following a good season.
"There's water in dams, the autumn break is yet to come and confidence is at an all time high in this region," he said.
"The South Australian and Western District sales and all but over and we are now moving to Gippsland, the north-east and Riverina."
Indications are that vendors are reading the market well and 'not going over the top with numbers' according to Mr Milne.
Published here is a summary of the studs that averaged more than $9000 in February auctions: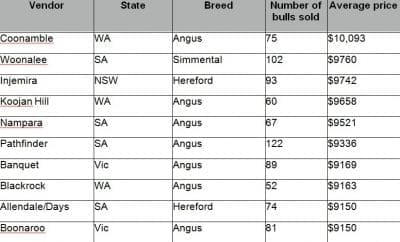 Coolana departs the Angus seedstock scene after 40 years
Billed as Australia's largest Angus dispersal, the Coolana Angus dispersal at Chatsworth, Vic, was a test of the cattle, vendors, agents and the Angus breed with a four-day marathon of 1446 lots.
Despite severe heat, all systems worked and the Gubbins family will now run 1000 commercial breeders on their Victorian and South Australian properties. Coolana still has its 2015 and 2016 drop bulls to pass through the sale ring at three sales in September 2017, March 2018 and September 2018.
The sale was neatly segregated into three sections: a black Simmental dispersal, a bull sale and the two-day dispersal of registered Angus females.
The 221 lots of Black Simmentals sold to $10,000 and averaged $2967. Wombramurra  stud from Trundle, NSW, paid the top price and took 43 females home.
The Angus bull sale averaged $$7588 for 130 bulls offered and sold, to a top of $17,000. Last year Coolana sold 130 bulls at auction in Victoria and South Australia for an average $5750.
The big test came when the 1046 female lots were offered resulting in 820 being sold at an average $3276 and a top of $22,000 for an embryo donor. Through sheer numbers, demand waned during the offering of the big line of 2016 drop heifers with 193 sold out of the 319 offered. Demand was strongest for the proven breeders.
The top female price was paid by Mandayen stud, Keith, SA. Overall, 23 buyers purchased 10 lots or more.
Stoney Point Angus, SA, was the biggest volume buyer taking 53 lots out of the ring. Weeren Angus, Byaduk, Vic, bought 47 lots.
Coolana principal Mark Gubbins said the Coolana team tried very hard not to get false or unrealistic expectations.
"It would have been very easy to flood our own market. The exercise was a huge undertaking by the whole team over many months and in the end it is a huge relief," he said.
"We kept expectations very basic and in line with commercial reality and we've done a lot better than that."
"It is a very encouraging result and we thank everyone who has supported us over the past four days and the past 40 years. While it is the end of an era and the closing of a chapter in Coolana's history, it is the opening of another one for Max in what will be a commercially run operation," Mr Gubbins said.