Editor's note: A particularly strong reader response to this January article Enlarged 'bottle teats' found to be major source of calf loss in northern Australia, has prompted this examination of the problem, from a genetics and selection perspective.
BOTTLE teats teats – the result of one or more teats becoming enlarged during lactation – are not a new issue for beef producers in northern and southern Australia.
There are several factors that can contribute to bottle teats. The major cause is due to a breakdown in the elasticity of the individual teat.
As a cow approaches calving and begins to develop colostrum, each quarter will start to fill.  The pressure of this early milk causes the teat to stretch, and if it has been weakened or has the potential to stretch it will increase, making the teat larger and more difficult for a calf to suckle from once it is born.
Once a bottle teat has formed, it will not correct itself and will remain that way during lactation.
After lactation has ceased, the teat takes on a more normal appearance, which often escapes notice when producers are looking at cows. However, having once formed as a bottle teat, in subsequent lactations this issue will again reappear.
Once a bottle teat has occurred it will always be a bottle teat.
While older cows tend to be physically more predisposed to developing bottle teats, due to the loss of elasticity of the udder and udder tissue, heifers are not immune in their second lactations.  It has been found that the average incidence of bottle teats across herds can average three percent. However this can be broken down by age classes, with 0pc on first calving to 7pc in cows calving at eight years of age.
The Calf Watch project conducted in the Northern Territory (reported earlier this year in Beef Central) reinforced the impact bottle teats can have on calf numbers within herds. The Calf Watch program identified losses of 5-6pc of all pregnancies as a result of bottle teats.
Earlier work published in the Calf Alive Symposium on research conducted by Drs Geoff Fordyce, Michael McGowan, Kieran McCosker, and the late Brian Burns, examined the causes of reproductive wastage in extensively managed beef cattle programs.
As a contributing factor to calf loss, or reproductive wastage, bottle teats increased the risk of calf loss by 20pc.
The inability of a calf to suckle and receive sufficient milk shouldn't be underestimated. The Calf Alive report highlighted the impact temperatures can have on calves which do not suckle.  In average temperatures, non-suckle calves lose about 7pc of their weight per day. This is the equivalent of around 2.5 litres of milk a day.
At temperatures of around 40 degrees C, calves can lose up to 15pc of their weight in a day, needing to consume around five litres of milk a day.
For cows with no issues associated with teat shape, their ability to achieve this level of production is already a significant challenge, particularly if they are low in body condition, or undergoing periods of nutritional stress.  In the case of a cow with a bottle teat, low body condition or in nutritional stress, the risk to calf survival is considerable.
Increasing occurrence
The recent seasonal break in many areas, coinciding with calving has seen many producers note an increase in the occurrence of bottle teats within their herds. This has been noted in some of the reader feedback on earlier Beef Central articles.
It is possible that improved nutrition allows cows to express their ability to lactate more fully.  This additional increase in milk places pressure on teats and tissues within the udder, causing the stretching and development of a bottle teat. As noted above, once formed the bottle teat will occur across subsequent lactations.
Problem common across breeds
Through the ongoing focus of projects such as Calf Watch and Calf Alive, bottle teats are often at the forefront of many northern producers' thoughts during calving. However southern herds are not immune from the same issue.
While some producers offer anecdotal observations of some breeds being more susceptible to bottle teats than others, there is no evidence for this. Research conducted across projects including the CRC for Beef Cattle, and herds monitored in the Cash-Cow project shows no difference in breeds when analysis teat or udder scores.
Heritability
However, within breeds there can be some considerable differences. As a trait, teat shape has a high degree of heritability, from 30-40pc. This suggests that herds where the trait has been actively identified and selected against tend to see much less incidences of bottle teats.
While focusing on teat shape is a key consideration, it is important not to overlook udder size as an additional contributing factor in both predisposing animals to bottle teats and to calf mortality in general. Very large udders can also contribute to calf mortality, with some research suggesting mortalities associated with very large udders to increase by up to 5pc.
Ideally udders should produce sufficient milk from the smallest amount of mammary tissue. As udders increase in size, their overall durability decreases, increasing the risk of tissue breakdown, and increasing the risk of mastitis.  Mastitis can also contribute to the development of bottle teats.
One of the greatest challenges for producers, particularly in extensive areas, is to visually assess udders during lactation. Once a cow ceases milk production, the udder and teats return to normal size and shape.
"Researchers were surprised by the results, and suggest the losses from bottle teats across extensive herds may be higher than research suggests"
In the case of Calf Alive, the researchers were surprised by their results, and suggest the losses from bottle teats across extensive herds may be higher than research suggests to date.
GBVs in progress
The moderate to high degree of heritability for teat shape does offer the opportunity to select for cows less likely to develop the problem. Dr Geoff Fordyce told Beef Central that the industry's northern genomics research continued to take teat and udder scores – "and we hope to have an across-breeds GBV in the future."
This opens up the potential for producers who are unable to assess cattle during lactation to consider GBVs as part of their selection data to address the problem. While these GBVs are yet to be developed, selection based on failure to rear a calf is one positive option commercial producers should consider more closely. Failure to rear a calf may a more important criteria than simply being in calf.
For seedstock producers, selection of cows on the basis of Teat Scores (1 – 5) has been proven as being repeatable and effective in identifying those animals with less desirable teat sizes and at greater risk of developing bottle teats.
It is important to note that there are breed guides for Temperate Breeds such as Angus, which score Teat Size on a scale of 1 (small, button size) to 5 (Ideal) to 9 (Large/Bottle)
In using this system it is important to be sure what scale is being used and stick with it.  Including this assessment as part of a seedstock program can significantly contribute to better outcomes for producers using those genetics in combination with their own in yard selection decisions.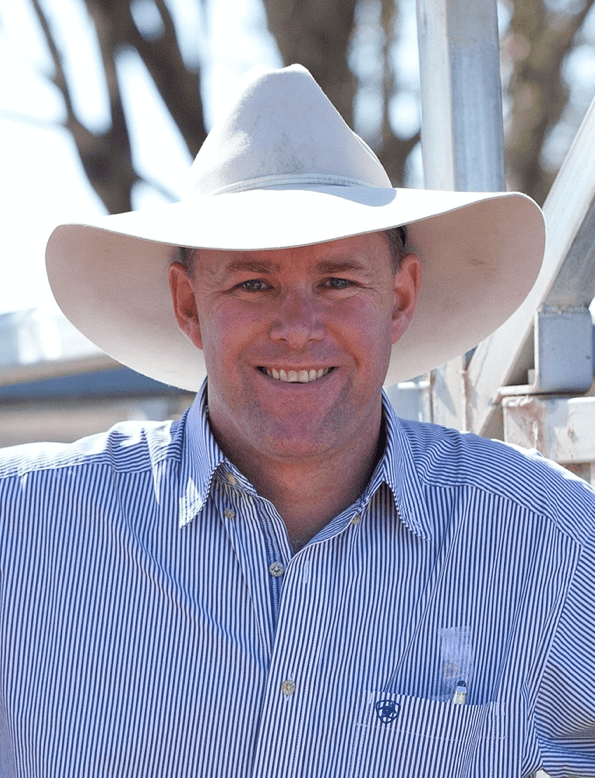 Alastair Rayner is the Principal of RaynerAg, an agricultural advisory service based in NSW.  RaynerAg is affiliated with BJA Stock & Station Agents.  He regularly lists and sell cattle for clients as well attending bull sales to support client purchases.  Alastair provides pre-sale selections and classifications for seedstock producers in NSW, Qld and Victoria.  He can be contacted here or through his website www.raynerag.com.au