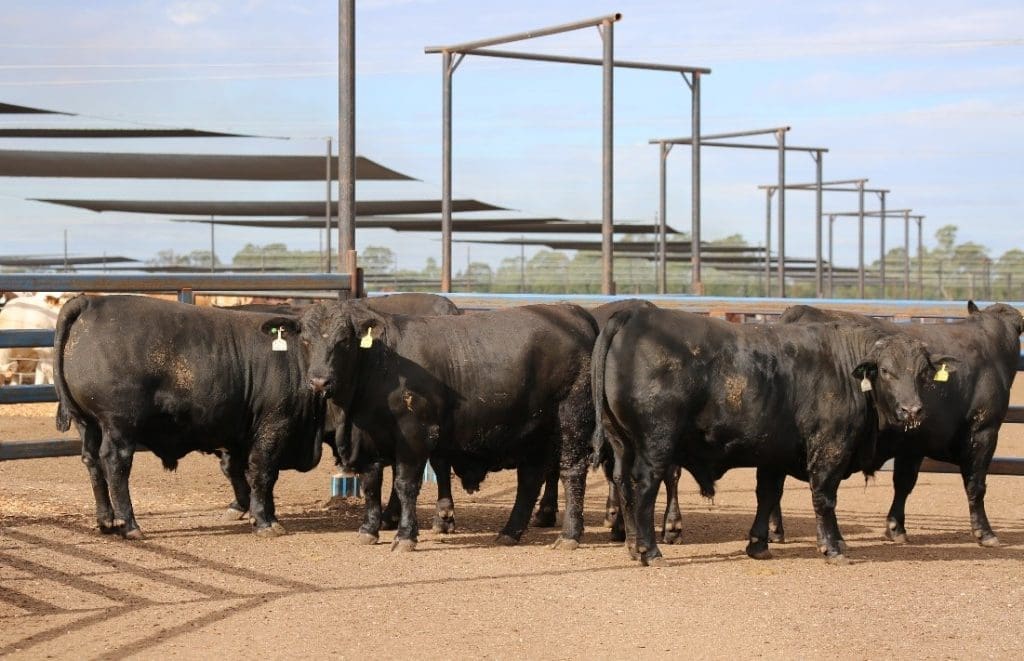 SHOULD commercial cattle competitions place more emphasis on weight or eating quality in their point scoring systems?
It is a question attracting some interest as two of Australia's major commercial cattle competitions gear up for 2018.
Australian producers are still paid mainly on the weight of their cattle, but the industry is increasingly encouraging producers to focus on improving eating quality.
This presents a challenge for producers, because weight gain and yield tend to be antagonistic in breeding to meat quality characteristics – push too hard on one and it can be at the expense of the other.
The push toward eating quality is founded on Australia's relatively small production base – Australian beef accounts for just four percent of global supply – but comparatively high costs of production and high reliance on export markets. For these reasons, competing on quality, integrity and food safety grounds is seen as the strategy most likely to capture the premium returns needed to profitably produce beef in future, and to avoid the bare-knuckle, price-driven fight of the global commodity beef market.
Nor can this push be described as new – it is now 20 years since the Meat Standards Australia program was launched, offering price incentives to encourage producers to focus on the factors that influence beef eating quality.
Product quality is listed as one of the Australian beef industry's top three priorities in its current five-year strategic plan (along with expanding market access and ensuring high animal welfare standards). The plan sets a specific target for Australia to lift the average index score across MSA graded carcases by 2 points by 2020 and by 5 points by 2030. (The average MSA Index throughout Australia in 2016–17 was 57.59, according to MLA. For grassfed cattle the average was 58.41 and for grainfed it was and 56.66).
Further highlighting the emphasis on eating quality, Meat & Livestock Australia announced a significant $28 million project late last year focused on finding objective measurement technology that can accurately measure eating quality traits in Australian beef carcases, which could help producers to be rewarded with higher prices for higher quality beef in future.
Price still largely dictated by weight
For now, though, this industry emphasis on eating quality is not reflected in the commercial price signals producers receive, not particularly strongly at least.
As Rabobank's Angus Gidley-Baird pointed out in a recent analysis of eating quality price mechanisms, the key factor dictating the return an Australian producer receives for their cattle is still weight.
Abattoir price-grid parameters such as age, weight and body conformation are only loosely attributed to eating quality, he pointed out. The MSA premium producers receive for MSA compliant cattle is often only a single market rate, and does not increase incrementally to reflect improvements in quality along the MSA index.
Finding the optimal balance between weight and eating quality is an obvious challenge.
Producers continually seek commercially relevant and reliable information to help guide their breeding and feeding decisions.
This is where commercial cattle competitions play a very useful and important role in the industry, allowing producers to benchmark their cattle against others and to receive commercially relevant feedback that can help to shape future production directions.
But what sort of cattle should competition organisers be seeking to reward in their competitions – Should scoring systems be weighted in favour of rewarding the best performing cattle according to the actual profit drivers of the day, or, the cattle that best reflect where the industry is trying to get to?
Two competitions, contrasting approaches
Two major commercial cattle competitions currently underway for 2018 have relatively contrasting approaches to the weight and yield versus eating quality question.
Beef Australia's national carcase competition, held every three years, runs for some 18 months and involves cattle being graded in meatworks all over the country.
Out of 100 total points, the competition allocates 40 points to MSA index performance, 40 points for lean meat yield (as determined by an algorithm devised by Professor Graham Gardiner) and 20 points for market specifications (5 points each for P8 fat depth, meat colour, subcutaneous fat distribution and fat distribution).
In contrast the RNA's Brisbane Show annual Paddock to Palate competition involves feeding all entries together in the same feedlot, Mort & Co's Grassdale Feedlot near Dalby, and processing them in the same abattoir, JBS' Dinmore plant near Brisbane.
Its scoring system is divided into three parts – 35 points for the feedlot weight gain component of the competition, 110 points for processing performance (20 points for Eye Muscle Area, 15 points each for meat colour, rib fat depth, fat distribution, 10 points each for carcase weight, p8 fat depth, fat colour, Estimated Lean Meat Yield and 5 points for marbling) – and 10 points for MSA eating quality index performance. The points for MSA eating quality were increased for this year's competition – prior to this year MSA eating quality points were allocated only to the three highest index-scoring pens in the competition.
Competitions should reflect industry shift to eating quality: Producer
Southern Queensland cattle producer Spencer Morgan, The Grove, Condamine, believes commercial cattle competitions provide a valuable way for producers to benchmark their cattle's progress, and offer an important educational tool for industry.
Mr Morgan and his family breed stud and commercial Shorthorn and composite Durham Red (Shorthorn, Red Brahman and Senepol) and Durham Black (Shorthorn, Angus) cattle. The Grove has been involved in the RNA Paddock to Palate competition since it began and has won the overall competition nine times.
Mr Morgan said the Paddock to Palate event has been an industry-leading competition with a tradition of encompassing new technology.
However, he believes its point scoring system today should more strongly reflect the industry focus on eating quality traits.
The Australian beef industry is fast moving towards a quality article, he said, and endeavouring to ensure consumers have an enjoyable, and repeatable, eating experience every time they purchase Australian beef.
As a country with a reasonably high cost of production, Australian farmers need to strive to produce the highest quality beef from the country they are farming, he said.
"We are up against it trying to compete profitably on the worldwide commodity market," he said.
"The industry is going down the path of meat quality here in Australia. We do serve a lot of niche markets. I don't think we can serve a straight commodity market because we will probably get beaten at that.
"This is a competition that was designed to search for the breeder who, when their cattle were 'fed together and dead together', were able to allow them to benchmark their genetics and where they needed to be to hit industry specifications.
"Presently I think the weightings are a little too geared to a straight commodity product, which I understand the 100-day feeding regime has largely been.
"However I do think, with branded beef products which can allow for price differentiation for beef produced in a similar regime to another, we should really be trying to discover the genetics that achieve a higher MSA index from the same time period on feed allowing for a higher selling price in the meat markets."
"As an invested participant in the beef industry I think we need to search for the genetics capable of achieving quality and quantity of beef regardless of the hide colour and multiply them to stay in touch with our protein competitors. Too much weighting of points allocated either way leaves us with an unbalanced result."
Mr Morgan said he personally believed the MSA grading system is the best vehicle to drive the required balance, as opposed to the traditional Aus-meat grading points scheme.
"The MSA index accounts for weight for age, meat quality using a number of measurements and combines them into an easily understood index.
"Combine the MSA index with the gain on feed in the feedlot together with as accurate measurement for Retail Beef Yield percentage as possible, and you would have the perfect scoring system to identify the genetics that can manage to combine all the profit drivers for our industry.
"Some of these are generally negatively correlated, which in turn makes them all the more important to be identified and rewarded."
An issue advocates of eating quality have with the current scoring system in the Paddock to Palate competition is that cattle an MSA index score well below the national average can win the competition.
Should cattle with low eating quality scores be held up as the best cattle in Australia, even if they perform well in the other commercial criteria, they ask?
Australia wide, the average MSA index score last year was 57.59. The average MSA index score for cattle in the premium Paddock to Palate competition sits between 56 and 57.
It's about finding the right balance: RNA
RNA beef cattle committee chair Gary Noller told Beef Central the Paddock to Palate competition committee was continually focusing on ensuring the commercial relevance of the competition and welcomed debate and feedback.
"We're talking and we consult widely every year, the competition has to be educational and industry relevant," he said.
"When we look at changing anything that is what we are trying to do, and we change it regularly. We're all about commercial relevance with this competition and that is where we try to stick."
Feeding and processing all cattle together in a controlled environment helped to remove variability and enable comparison of genetics, he said. The competition also prided itself on providing a high-level of feedback and performance data to producers, perhaps more than any other competition.
Mr Noller, a stud and commercial cattle breeder and livestock judge, said the competition was focused on trying to provide the right balance between weight gain and the ability of cattle to meet specifications at the processing end, derived from what the end-consumer wants.
"As livestock producers, it is all about balance. If you go out and single trait select, you will end up in trouble somewhere.
"Weight gain and yield correlate but they are antagonistic towards meat eating quality.
"So it is all about having a combination and sometimes compromise – having a growth rate at the highest point which is still allowing cattle to fatten. Optimum fat content and marbling is very important for meat eating quality.
"What we have done as a competition is to push those profit drivers which is weight gain and yield, and at the other end, the palate range which are the specs that come from the processors and meat quality score, driven by what the consumer wants."
He acknowledged that the average MSA index scores in the Paddock to Palate competition were not at the high end of the scale, which largely reflected the sheer number of tropical and HGP treated cattle in the event in particular.
Under the MSA index cattle instantly lose 5 point scores if they are treated with HGPs, up to 6.3 points depending on tropical breed content, and 0.7 points for every 10mm of hump height.
"So it really is difficult to drive that average up in our competition because of the number of tropical cattle and HGP treated cattle in the competition."
He said marbling, rib fat depth, age (ossification), hot standard carcass weight (HSCW) – elements of the MSA Meat Eating Quality Index (MEQI) – are also measured and given points under the carcass appraisal system used in the RNA's carcass competitions.

Mr Noller said the MSA Eating Quality Index remains an important and useful tool in guiding producers and indeed our exhibitors to strive to maintain an important balance between the current profit drivers of growth rate (weight gain) and carcass yield whilst retaining meat eating quality.
It is also worth noting that the Paddock to Palate competition is directly linked through to the consumer, in that beef from the 100-day competition is sold under JBS' Royal 100 brand at the Brisbane Show steakhouse during the show and at other retail outlets around Brisbane.
"Brands are all about that consistent quality article and repeatability, people should be able to go back in six months or a year and it is exactly the same," Mr Noller said. As the brand of the Paddock to Palate competition, the Royal 100 reflected the consistency the competition achieved through its measures to remove variability.
All beef competes at consumer level
Beef Central recently asked Beef Australia cattle competition committee chair David Hill whether his committee received any resistance to its decision to increase the weighting of MSA eating quality points in the lead up to the Beef 2012 competition.
He said there was some feedback from producers at the time questioning whether it was fair to make cattle from northern Australia compete against cattle from southern Australia on meat quality grounds.
"My view was that we are all in the same beef market, your product is going to have to compete with theirs in the same customer market place."
Clearer pricing signals needed to incentivise eating quality
In his November 2017 report, Rabobank's Angus Gidley-Baird said the Australian red meat industry needed clearer pricing signals to incentivise producers, and those along the supply chain, to improve quality.
He said the United States' formula-based system was an example of a pricing mechanism which reflected quality attributes and had supported a dramatic improvement in meat quality.
"The system in the US was instigated by producers (feedlotters) who felt they were not getting rewarded for the improved quality they were producing," he said. "The formula-based system uses a benchmark price (generally the weekly cash price) which is then adjusted depending on yield and carcase quality."
While US formula-based pricing shared aspects with Australia's current grid system, Mr Gidley-Baird said, the US system had five grades for quality based on marbling, compared with those captured in Australia's standard grid – weight, age, conformation and fat depth – which are only loosely aligned to quality.
He said new pricing mechanisms were needed to ensure eating-quality attributes can be identified, measured, and then monetized.
"This way, they can be adopted by all parties in the supply chain, and Australia can get value out of being a quality red meat producer."