Australia's red meat industry needs to develop clear price incentives to encourage producers to focus on quality rather than volume, if it is to withstand intense competitive pressures from other global producers and proteins, according to a recently-released industry report.
A report by Rabobank titled 'A change in focus for livestock marketing in Australia' says new pricing mechanisms are needed to close the gap between what is produced (driven by volume) and what consumers want (reliable high eating quality), in order to capture value growth in the red meat market.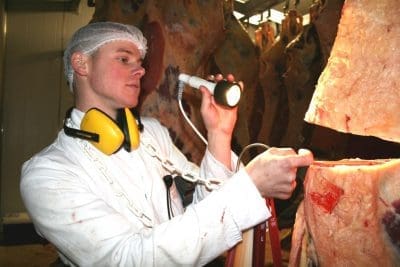 Rabobank animal proteins analyst Angus Gidley-Baird, the report's author, says while Australia's reputation as a provider of high-quality meat is strong, the industry needs to remunerate producers to reflect eating quality in order to shore up that position and to avoid competing in the commodity trade market.
"The red meat market is becoming more polarised," he says, "and unless pricing mechanisms are developed to identify, measure and then monetise eating quality, Australian producers risk 'losing their seat' at the high eating-quality table.
"For this shift to a quality-based system to occur, the marketing of livestock in Australia needs to be modified, with new technologies developed to measure the traits that deliver the quality that consumers demand."
Driving change from volume to quality
Mr Gidley-Baird said despite Australian livestock producers using a range of marketing options to sell their cattle and sheep, the key factor dictating the return from the animal is its weight.
"Currently 16 percent of cattle and 20 percent of sheep procured by abattoirs are purchased through the saleyards, with producers paid per beast or by weight," he said.
"The remainder are brought through direct consignment, either through feedlots or from producers."
While abattoirs use a 'grid' pricing mechanism – which has some parameters around age, weight and body conformation – it is only loosely attributed to eating quality, Mr Gidley-Baird said.
"Some abattoirs provide a premium for Meat Standards Australia-graded meat, which measures attributes such as carcase weight, rib fat and marble score, but the premium is often a single market rate for achieving MSA grading and doesn't reflect the incremental improvements in quality along the MSA index," he says.
"And, as a single measure, pricing based on the MSA index does not allow for the identification of individual traits that affect eating quality."
Mr Gidley-Baird said while it was currently difficult to assess the eating quality of livestock on the hoof, advancements in technology would help drive the change from a volume to more quality-based system.
Price-setting mechanism
The report says for the red meat industry to move to a more quality-based marketing approach, it needs to have clear pricing signals to incentivise producers, and those along the supply chain, to improve quality.
"This will see the development of a more complex price mechanism, but it will be necessary to reward certain practices that consumers are willing to pay for," Mr Gidley-Baird says.
He cites the US's formula-based system as an example of a pricing mechanism which reflects quality attributes and has supported a dramatic improvement in meat quality.
"The system in the US was instigated by producers (feedlotters) who felt they were not getting rewarded for the improved quality they were producing," he says. "The formula-based system uses a benchmark price (generally the weekly cash price) which is then adjusted depending on yield and carcase quality," he says.
While US formula-based pricing shares aspects with Australia's current grid system, Mr Gidley-Baird says, the US system has five grades for quality based on marbling, compared with those captured in Australia's standard grid – weight, age, conformation and fat depth – which are only loosely aligned to quality.
Considerations for livestock producers
The report warns though that the development of an eating-quality-based marketing system and associated pricing mechanism does not necessarily mean improved returns for all producers.
"Producers need to balance the costs associated with the pursuit of improved eating quality, with the returns that might be available," Mr Gidley-Baird says. "While it will allow the producer to make a more informed decision on what to produce, who to target and where to market, it won't be for everyone.
"However, for those looking to improve their product quality and capitalise on new marketing approaches – investment in genetics, seeking out supply chain partners and the adoption of new marketing options should all be considered."
Source: Rabobank