IN A year where beef cattle breed record prices have been falling like nine-pins, another national sale benchmark has fallen – this time for Hereford bulls.
Injemira's annual production sale on Tuesday at Book Book, NSW saw a new record of $110,000 set for 18-month-old Poll Hereford Injemira Anzac K220, bought by the Ravensdale Poll Hereford stud at Holbrook, NSW.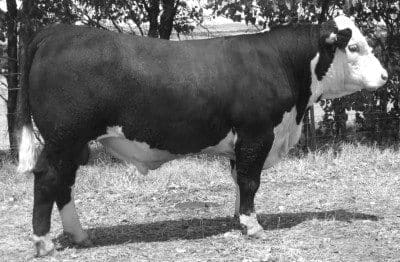 As Beef Central has noted in its comprehensive summary of beef breed record prices (click here to view), the result easily eclipsed the previous Hereford record pf $90,000 set by Day's Calibre (P) at the  Dubbo Hereford National Sale in 2013.
Ravensdale secured the young sire prospect (pictured), after bidding from several operators, including syndicates which formed to try to buy him. Anzac had outstanding BreedPlan figures, being +$150 for the Hereford grainfed index. He was +6 for eye muscle area (top 5pc of the breed), +18 for milk, positive for rib and rump fat and retail beef yield, and +1.7 for intra-muscular fat.
His sire, Allendale Anzac, had a number of sons in the catalogue which featured prominently in results. His dam's first calf sold last year made $23,000
In a reflection of the overall strength in the bull market at present – and the significant momentum being seen in polled cattle – the Injemira sale saw 82 Poll Hereford bulls average $9933 while nine Hereford bulls averaged $6899. It's possibly a national record for an on-property single vendor Hereford fixture.
Noteworthy was the fact that the catalogue came with a pestivirus (BVDV) free guarantee, having all been tested/vaccinated for disease prevention. More seedstock producers are now adopting pesti-free guarantees as part of their customer service to bull buyers.
Stakeholders at the sale paused for a moment to reflect on the contribution of Injemira's founder, Ian Watson, who passed away earlier this year.
Driven hard by buyer confidence in a year of record commercial cattle prices across eastern Australia, there's been a sequence of new breed records set over the past 12 months.
They include  a new Angus record of $150,000 set by Milla Murrah late last year; a new Santa Gertrudis record of $90,000 set by Yarrawonga Waco last September; a Black Simmental record broken twice in a week earlier this month, now set at $24,000 by Woonallee; and a Charbray record of $30,000 by Huntington last September.
Click here to view Beef Central's comprehensive summary of beef breed bull and female record prices.