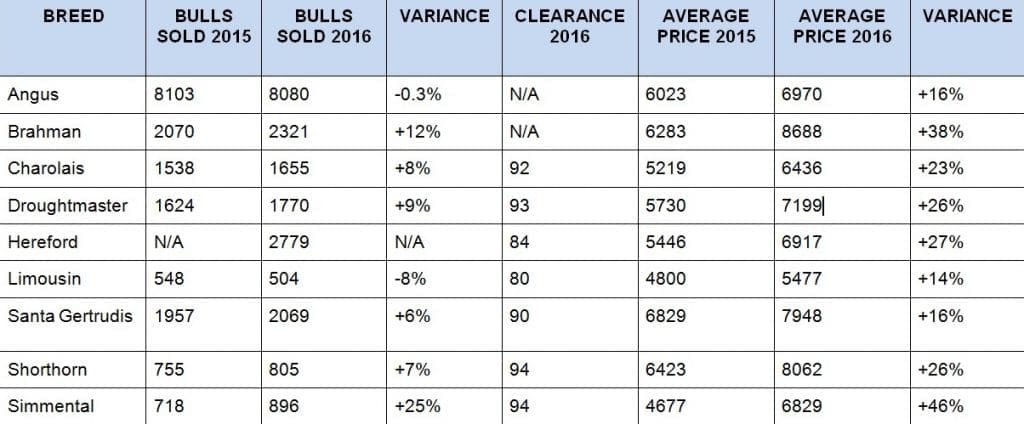 SET out below is a breed-by breed breakdown of results (average price, numbers sold and clearance rates) for the nine largest beef breeds, based on turnover of bulls sold across Australia in 2016. This summary supports this morning's main story, "2016 finishes as 'best-ever year' for bull sales".
Breeds are listed in alphabetical order. The table above (click here to access in a larger format) summarises results for the 2016 bull selling year, and comparisons with results in 2015.
Angus comprise 40pc of all bulls sold at auction
Bulls sold at auction: 8080
Clearance: N/A
Average: $6970
Top price: $85,000. Vendor: Millah Murrah, purchaser: Ascot Cattle Co & ABS
Records: Average price for bulls sold at a single vendor auction $16,348 for 109 bulls at Millah Murrah.
Angus was the largest volume breed at auction this year, selling 8080 bulls, close to 40pc of all the bulls sold through the auction ring. This is down slightly on the 8103 sold the previous year, but achieved with a 16pc jump in the average price from $6023 to $6970. Just 10 years ago, the 6784 Angus bulls sold at auction averaged just $3924.
Angus Australia chief executive Dr Peter Parnell said confidence in the beef industry was at an all-time high.
"Coinciding with the escalation of the value of commercial cattle, the record sale prices for high quality seedstock across all breeds is very positive for the beef industry," he said.
'In Angus we have consistently seen record sale clearances and average prices for recorded registered bulls. This is a positive reward for breeders who have invested in the long-term genetic improvement of their seedstock for performance traits valued in the beef value chain – such as growth, marbling and yield.
"Even though average bulls prices were higher in 2016, these bulls offered greater average performance potential due to the world-leading annual rates of genetic improvement being achieved by breeders of registered Angus bulls across Australia."
There was high correlation between average prices received by different Angus bull breeding businesses and the average genetic merit of these herds, as indicated by the EBVs and Index values, Dr Parnell said.
"Breeding cattle is a long-term business with many commercial producers taking advantage of the high prices to re-invest in upgrading the genetic potential of their herds by buying better bulls which will have a lasting impact on future performance profitability," he said.
Brahmans have record breaking year
Bulls sold at auction: 2321
Clearance: N/A
Average: $8688
Top Price: $150,000 for a registered bull at Rockhampton Brahman Week, and $96,000 for a herd bull at February's Big Country Brahman sale.
Records: Numerous (see dot points below)
Brahmans gave long serving ABBA general manager John Croaker a memorable retirement send-off with October's Rockhampton Brahman Week smashing a string of records at a sale where 826 bulls grossed almost $10 million and averaged $11,715.
Unregistered herd bull sales are more significant in the north than in the south. The overall Brahman bulls sold, 2321, included 1449 registered bulls that averaged $10,685 and 872 herd bulls that averaged $5071. With registered bulls worth twice as much as their unregistered brothers this year, perhaps the ABBA will see increased registrations in future.
John Croaker said paddock sales (numerous in the northern industry) were also strong this year, which underpinned the auction sale strength. He said that cattle prices, a better seasonal outlook and confidence in the future all contributed to the outcome.
He also noted the number of bulls by imported sires is decreasing, an indication of the standing of Australian genetics in the Brahman industry. At Brahman Week 2016, only 11pc of the grey bulls and 6pc of the red bulls were by imported sires, a marked difference to a few years ago. Most of the high priced bulls were by Australian bred sires.
Highlights, and there were many, for Brahman sales in 2016 included:
All categories were positive compared to last year, with many breaking records.
Registered bulls sold were up 2.5pc
Herd bulls sold were up 33pc
Registered bull average of $10,865 was up $3646 (51pc) a record.
Herd bull average of $5071 was up $932 (23pc) a record.
Total bull average of $8688 was up $2405 (38pc) a record.
Total bull gross of $20.164m was up $7241,550 (56pc) a record
Charolais results positive
Bulls sold at auction: 1655
Clearance: 92pc
Average price: $6436
Top price:$52,000. Palgrove Kruze (P) Vendors: David & Prue Bondfield, Palgrove Charolais. Purchaser: Ben Avery, Blackall Qld
The positive sale trends for the Charolais breed in 2015 continued in 2016. The average auction price this year increased 23pc, and was up 50pc over the 2014 average, with the number of bulls sold at auction increasing by 30pc since 2014.
All indicators for Charolais bull sales at auction, clearance, number of sires sold, average price and the top price all increased in 2016. There was strong demand for poll sires and this trend is continuing with many breeders offering tested homozygous poll sires.
Every state lifted their average showing the demand for the Charolais breed is national reflecting the profitability the breed can contribute to a diverse range of production systems.
Droughtmasters post record gross and average
Bulls sold at auction: 1770
Clearance: 93pc
Average price: $7199
Top price: $80,000 – Karragarra Marcus.  Vendors: Wayne & Ingrid York, Karragarra Stud, Emerald, Qld. Purchasers: Steven Swan & Allison Hotz, Swan Stud, Moura, Qld.
Records broken in 2016: Record Gross $12.74m (up by 37pc); record average ($7199) up 26pc on 2015
The record gross ($12.74m) and record average price ($7199) were highlights for the Droughtmaster breed in 2016.
Achieving a 26pc increase in average price over the 2015 average (which was the breed's previous record) was a strong performance given there were no exceptionally high individual prices.
Posting an average clearance rate of 93pc across the whole calendar year was notable, given the demand was not particularly strong early in the year, when conditions in buyer areas were still very dry. In the spring sales, a 100pc clearance was achieved at 40pc of the sales.
Hereford sales set new benchmarks
Bulls sold at auction:

2779

Clearance:

84pc

Average price:

$6917

Top price:

$110,000. Vendor: Marc Greening, Injemira, Book Book, NSW. Purchaser: Brian Burgess, Ravensdale, Holbrook, NSW

Records broken in 2016: New record top price Wodonga National $95,000; new record average Wodonga National $9961; new on-property record average $11,700 at Bowen, Barraba, NSW; new record average $11,853 Dubbo National.
There were 74 on-property and multi-vendor whiteface sales around the nation this year.
For the first time the breed has been able to provide a comprehensive account of all sales results, rather than a 'sample' as has applied in Beef Central's equivalent reports in earlier years. From 3194 bulls offered at auction in 2016, 2648 sold for a clearance of 82pc, gross of $18.54m and an average of just under $7000.
The autumn sales, including the Wodonga and Dubbo Nationals, resulted in 1284 bulls selling for a gross of $9.01m and average of $7008. In the spring run,1364 bulls sold under the hammer for a gross of $9.52m and average of $6983.
The top price of $110,000 was set at Injemira at Book Book, NSW, on February 23, where  Brian Burgess, Ravensdale, Holbrook, NSW, bought Injemira Anzac K220.
The second top, $95,000, was at the Wodonga National when Tom and Amy Honner, Minlacowie, Minlaton, SA, sold Minlacowie Jubilant J123 to Tom Nixon, Devon Court Herefords, Drillham, Qld.
The Dubbo National reaffirmed the breed's strength by upping the event's record sale average to $11,853.
Stephen and Jodi Peake, Bowen, Barraba, NSW, led the charge in the spring sales by setting a new breed on-property record of $11,700 on July 21. The next closest on-property sale average was $10,024 achieved by Andrew McKay, Merawah, Boggabilla, on July 19. Both Bowen and Merewah are poll studs, and the two top selling bulls of the year ($110,000 and $95,000) were polls.
Limousin average up 16pc
Bulls sold at auction: 504
Clearance: 80pc
Average price: $5477
Top price: $29,000. Vendor: Mandayen Limousins, Brinkley SA. Purchaser: Phil, Barbara & Todd Bricknell, King Creek Limousins, Tamworth, NSW
Records broken in 2016:  Record average price of $8225 achieved by Graneta Limousins, Bell, Qld for a complete clearance of 40 bulls.
Santa Gertrudis draws genetic investors
Bulls sold at auction: 2019
Clearance: 90pc
Average: $7948
Top price: $75,000. Vendor: Yarrawonga Waco, Wallumbilla, Qld. Purchaser Michael Thompson, Munda Reds, Gingin, WA.
Records broken: This year's average price is a breed record. Record herd bull price, $31,000, for Dangarfield Y227 purchased by Coondara, Chinchilla, Qld.
General manager of the SGBA, Ben Noller, said the general strength of the cattle market, significant rain events across the eastern states during winter/spring and underlying producer confidence had all had a positive influence on the breed's bull sale figures in 2016.
"Throughout the spring bull-selling season, we've witnessed strong investments in Santa Gertrudis bulls from confident large-scale private and corporate companies, who have significantly contributed to the strong clearance rate and record average," he said.
"It gives us great confidence to see these producers investing heavily and reinforces the breed's commercial relevance across diverse geographical locations. We are optimistic of the growth potential of the breed in both northern and southern markets with strong demand for breeding females after the recent seasonal changes," he said.
Adding to the positive outlook is the significant increase in paddock sales for Santa bulls that have been reported since seasonal breaks in mid-year. A key driver of these increases could be the trend for producers to sell-off older bulls at high meatworks 'trade-in' values, giving them a good financial starting point to introduce new genetics.
There was still value for money evident in Santa bulls throughout the year, with 37pc of auction sales making $5000 or less, and 50pc selling for $6000 or less.
Shorthorn momentum continues
Bulls sold at auction: 805
Clearance: 94pc
Average: $8062
Top price: Sold at The Grove Shorthorns, Condamine, QLD bull sale for $58,000 to Weebollabolla Shorthorns, Moree, NSW.
Records broken: Yamburgan now holds the new record breed sale average at $10,930 and the first Shorthorn sale to break the $1m sale turnover mark. Previous record was Futurity Shorthorns 2015 sale $9487.
Graham Winnell of Shorthorn Beef said bull sales continued their momentum into 2016, setting several new individual records. Shorthorn bull sale average prices since 2014 have increased by 55pc, whilst volume sold has also increased by 29pc.
"With Shorthorn feeder cattle achieving price parity with the Angus breed in the lucrative feeder market, as well as proven performance in other premium markets including the EU, domestic and grass fed markets, commercial demand has been exceptional for the Shorthorn breed as it continues to build market share on the back of widespread market access and premium prices," he said.
The JBS Australia Shorthorn branded beef program, Thousand Guineas, has also enjoyed great success this year, taking a Silver medal in its inaugural judging at the 2016 Sydney Fine Foods Awards.
"Market premiums and improved performance coupled with excellent seasons and renewed confidence has culminated in increased demand for quality Shorthorn bulls, and this has been reflected in bull sale results in 2016," Mr Winnell said.
Simmentals top percentage increases
Bulls sold at auction: 896
Clearance: 94pc
Average: $6829
Top price:$37000.Vendor: John & Nicole Hopkins, Wormbete, Illabo NSW. Purchaser: Scott and Claire York, Billa Park, Dulacca QLD
Records broken in 2016: Highest average Wombramurra, Nundle NSW $8614.
Simmentals topped the percentage increases for both bulls sold (up 25pc) and average price (up 46pc) this year.
Simmental Australia reported that both Simmentals and Simbrahs had been riding the wave of good prices and seasons with excellent clearance rates for quality bulls.
Gowrie Simbrahs at Charleville Qld topped their sale at $17000 with a 100pc clearance. According to Simmental Australia this result was quite common across the breed showing great confidence in the cattle industry.
Click here to access this morning's separate commentary on the 2016 bull sales year
Click here to access Beef Central's 2015 stud beef sales summary, and click here to access our 2014 sales summary.
Beef Central's popular weekly 'Genetics Central' seedstock industry coverage will return for autumn bull sales commencing late January 2017. For autumn stud advertising inquiries, contact Rod Hibberd email rod@beefcentral.com or phone 0437 870127.