THE 2014 bull selling season wound-up on Friday with the Charters Towers (North Queensland) Santa Gertrudis sale.
Like a lot of fixtures this year, it was tough-enough, with just 29 bulls clearing from a catalogue of 68 offered, averaging just $3488.
As discussed on Beef Central on Friday, it's been a year that many stud and herd bull breeders might prefer to forget: punctuated by lower demand for herd bull replacements, a big reduction in breeder numbers across Eastern Australian fuelled by drought, and lower capacity among customers to pay for bulls because of a slaughter cattle market plagued by drought-forced oversupply.
Presented here are two tables for average price and numbers of bulls sold for 2014, relative to the year before. Note that the results for the nine largest breeds are for auction sales only, as it is impossible to account for paddock sales of bulls in any meaningful way.
Firstly, the overall trends…
Number sold at auction
Data collected as part of Beef Central's annual end-of-season summary shows that numbers of bulls sold at auction were back almost 10 percent on the previous 2013 year. That comes as no surprise, as many stud masters reduced the size of their sale catalogues this year, in expectation of a reduced overall demand for bulls. That sentiment was clearly captured in this Beef Central article published in August, profiling the opinions of leading bull producers at Brisbane Show on the selling season that lay ahead.
Numbers sold this year across all nine breeds were down almost 3000 head when compared with the 2012 year figures (19,400), which was regarded as probably a record for total number of bulls sold at auction across Australia.
While Angus had easily the largest numbers among all breeds sold at auction this year, the turnover of 6971 bulls (down 4.8pc) should be put into some context. The breed sold almost 7600 bulls at auction back in 2006, but numbers gradually declined for some years after that. Worth noting, however, is the fact that the average price for Angus bulls back in 2007 was just $3924, suggesting there may have been an element of over-supply in play back then.
Average price: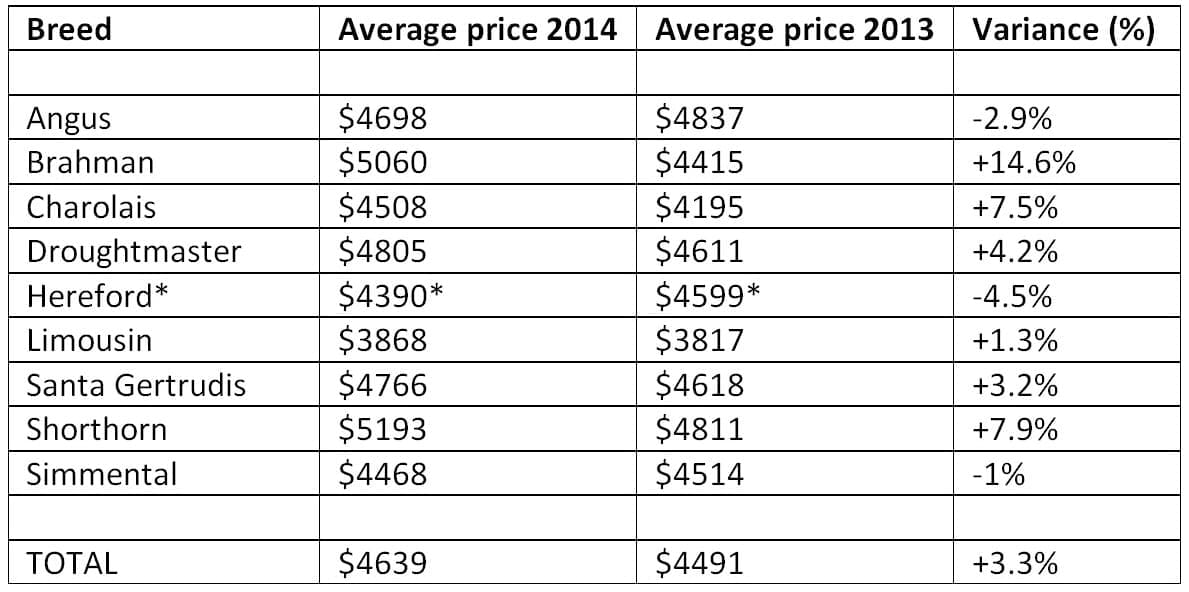 Notes: Several breeds (Charolais, Hereford, Shorthorn) were unable to provide comprehensive data on their numbers sold or averages for 2014. Beef Central compiled its own data on known sales for Shorthorn and Charolais, with the assistance of the breed societies. Shorthorn breed results came from records from Shorthorn Beef, Performance Herds Australia, and Australian Shorthorns.
In the case of Herefords*, the 2014 figures* are based on 41 of 63 known sales conducted in 2014. A total of 22 sales, listing a total of 1109 stud animals (bulls and females) did not provide results to Herefords Australia, despite the society's best efforts to capture them. As a result, no % variance was recorded for the Hereford breed for 2013/2014 numbers sold. Last year, the Hereford result* was based on a sample of 57 sales for which records were provided, from +80 sales conducted throughout the year. It could reasonably be argued that those Hereford breeders who chose not to supply results perhaps had fewer numbers, and lower averages, than those that did. 
As the table published above shows, it may be surprising to learn that most breeds recorded a rise in average price for bulls sold in 2014.
But that also needs to be taken in context. As discussed above, many catalogues were trimmed in size this year, as stud breeders tried to align numbers offered with buyer demand. That inevitably impacted on average prices paid, it seems, as lesser quality bulls were the first to be trimmed, and natural forces of supply and demand cut in.
Successive drought years may have masked impact
Another consideration is that the average price statistics for 2014, when compared with the previous year, are coming off a very low base.
Many breeds had already recorded very disappointing price averages in 2013, due to the impacts of a declining herd, poor season, and a live export sector still impacted by Indonesian market closure.
The fact that much of Eastern Australia has now had back-to-back very dry years has in fact masked much of the impact on this year's bull sale results.
Here's a couple of examples:
In 2012, Angus bulls sold to a record high average of $6069, before dropping 20pc in value the following year, but only a further 2.9pc decline this year
Charolais bulls in 2012 averaged $5210, representing a 14pc decline in the two years since – despite a 7pc recovery in price this year over 2013.
Droughtmasters in 2012 averaged $5067, slumping by 9pc the following year, before recovering by 4.2pc this year.
While no breed will be entirely satisfied with the results achieved in 2014, for what it's worth, the Shorthorn breed produced the best average price for bulls sold at auction across Australia ($5193), although that came in the face of an 11pc decline in the number of Shorthorn bulls offered.
The only other breed to crack a $5000 average this year was Brahmans ($5060), and significantly, that came despite an 11pc rise in numbers sold.
The most obvious explanation for this result was the impact of the resurgence in fortunes in the northern live export industry this year. With boat steers ex Darwin making 250c/kg liveweight for lengthy periods this year – easily the strongest market for light cattle in Australia – and almost a million head of cattle leaving Australia's shores live this calendar year, the northern cattle industry has enjoyed a remarkable market comeback.
The impact is clearly reflected in results for Bos Indicus-infused breeds most closely aligned with the northern (and hence, live export) industry in Queensland, the Northern Territory and northern regions of WA.
The Brahman breed easily produced the best average price result for all breeds this year, relative to 2013, climbing almost 15pc in average price to $5060. Droughtmaster (+4.2pc and Santa Gertrudis +3.2pc also followed the trend.
Take away seasonal conditions, and the next biggest influence over bull buyer confidence when bidding is the state of the cattle market and future prospects, it seems.
Clearance rates:
While many stud masters across all breeds took the prudent action of reducing the size of their bull offerings this year, knowing full-well that overall demand for bulls would be down, it did not stop most breeds recording moderate sale clearance rates this year.
For those breeds that provided auction sale clearance data, the trend was overwhelmingly down.
Droughtmasters, for example reported an 85pc clearance, despite 17pc reduction in the overall number of bulls sold; Santas 88pc; Herefords 80pc; and Limousins 74pc – but again, those results were generally on the back of fewer bulls being offered to the market.
Some individual bull sales this year recorded clearances as low as 50 percent. Friday's season-closing Charters Towers sale was an example.
But again, clearance rates have been down for the past two years, not just 2014. Charolais saw bull clearance rates drop from 93pc in 2012 to 75pc in 2013, while Droughtmasters saw rates fall from 88pc in 2012 to 76pc in 2013, before recovering a little this year.
Several breeds, including Santa Gertrudis, Droughtmaster and Brahman, noted larger paddock sales of bulls this year, as vendors sought to avoid the costs associated with feeding, cataloguing and marketing bulls through the auction system.
Notes on the survey:
Beef Central's annual survey is based on the nine largest breeds employed across the Australian beef industry – Brahman, Droughtmaster, Santa Gertrudis, Angus, Charolais, Limousin, Hereford, Shorthorn and Simmental. Collectively, they represent an estimated 90 percent of all bulls sold at auction across the nation.
Numbers sold at auction should not be used as any form of 'popularity contest' between breeds, however, as direct breed to breed comparisons lack value for several reasons. In the dominant tropically-adapted Brahman and Droughtmaster breeds, for example, an overwhelming majority of herd bulls are not sourced via the auction system, but out of the paddock, where no publicly-accessible records are kept.
Credible estimates have suggested that up to two-thirds of all Brahman bulls employed in northern Australian herds are either bought from seedstock breeders via paddock sales, or home-bred by commercial cattlemen retaining their own herd bull producing nucleus stud herds.
Most of the nation's largest pastoral companies, for example, today breed all their own herd bull replacements.