FEEDLOT industry expansion in Australia over the past decade has come not so much from new greenfield yards being established, but additional capacity being added to existing feedlot businesses, plus mergers and acquisitions.
That is one of the clear trends evident in Beef Central's Top 25 Lotfeeders profile, which concludes today with the addition of JBS Australia as entry number one.
While some Top 25 entries are basically unchanged in size over the past decade, others have exhibited explosive growth – doubling and tripling in size since the last industry Top 25 survey was conducted in 2003.
A good illustration of this 'Big get bigger' trend is feedlot capacity necessary to qualify for the list. Back in 2003, the feedlots filling positions 24 and 25 on the list had just 4000 head working capacity, and the bottom seven were all less than 10,000 head in size.
In our current Top 25 finishing today, the smallest entry in position 25 has a capacity of 10,000 Standard Cattle Units – two and a half times the size of what was required for an entry a decade ago.
Put another way, the combined one-time capacity of the Top 25 lotfeeders back in 2003 was 555,000 head, compared with 695,000 head this time – a 25 percent increase in one-time carrying capacity.
That's happened with the addition of only four new 'greenfield' feedlots built from the ground up over the past 12 years. The most prominent of those is Mort & Co's Grassdale feedlot near Dalby, profiled on Wednesday.
Using MLA/ALFA quarterly survey figures as a guide to industry-wide capacity, our latest Top 25 lotfeeders (representing a total of 37 separate feedlot sites) accounts for about 59 percent of the nation's overall feeding capacity.
That proportion is little-changed from what it was in 2003, and not far removed from a figure of 55pc discussed by Beef Central's US market analyst Steve Kay, in his own recent US Top 30 Lotfeeders summary.
While the Australian Top 25 group's operating capacity has risen significantly, it's worth pointing out that average feedlot occupancy over the past year or two has been close to all-time highs, due to the pressures of drought, a low A$ and international demand. There was evidence of much lower overall occupancy levels in the previous 2003 Top 25 report.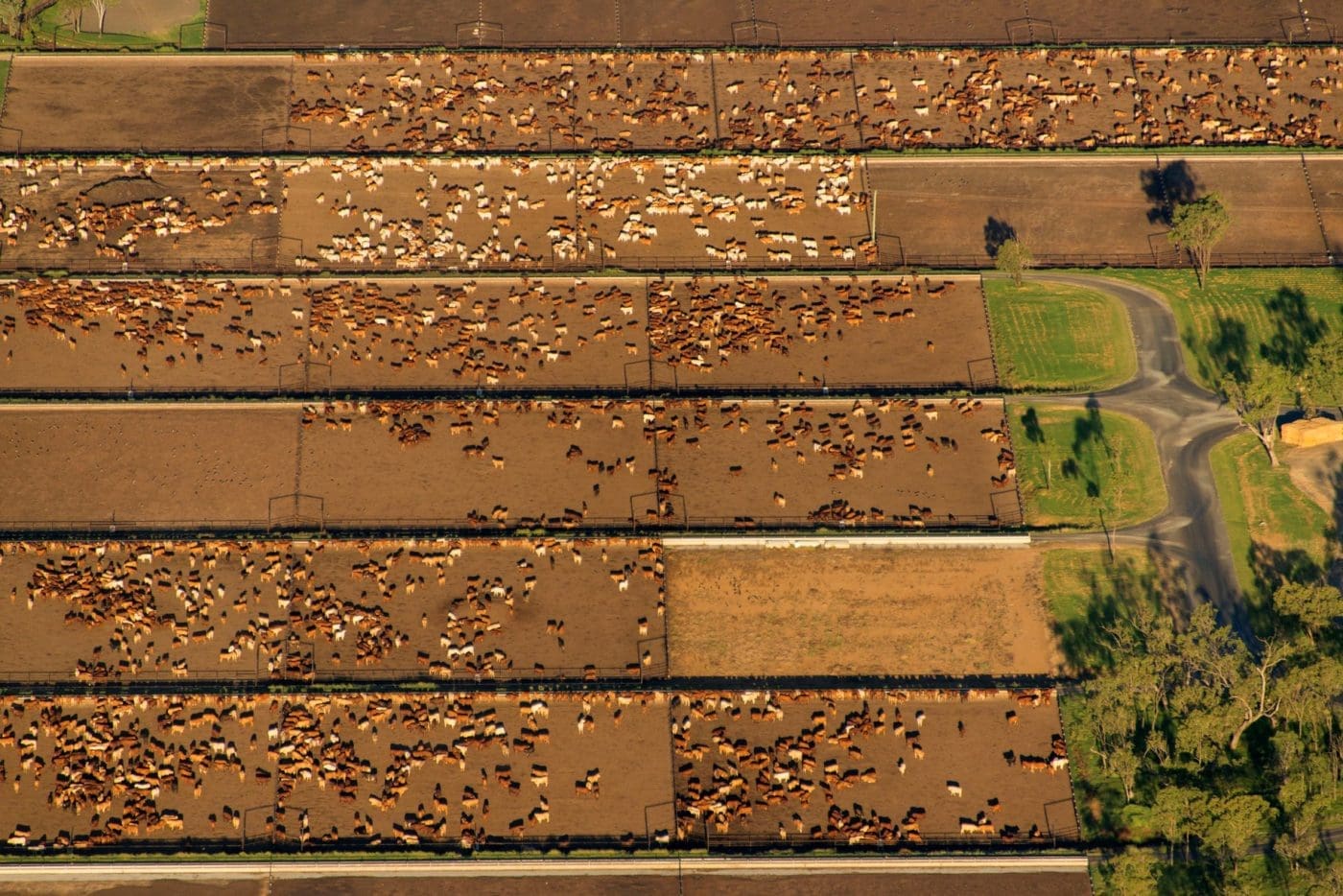 Efficiency big driver
Feedlot businesses today tend to operate at close to their physical capacity, wherever possible, for efficiency reasons.
Additionally, a much larger portion of lotfeeding today tends to be 'program' business, rather than non-committed, 'spot-market' feeding. That applies equally to domestic contract business for supermarket programs, or permanent business with international or domestic customers under beef brand programs.
The 'Big get bigger' trend is also supported by the fact that there are fewer NFAS accredited feedlots operating in Australia today than there was a decade or so ago.
The Australia Lot Feeders Association confirmed that there had been a decline in NFAS-accredited feedlots in Australia from perhaps 650 sites in 2006, to around 400 today.
Most of that appears to have occurred in small 'opportunity' scale yards. The decline in the number of small yards does not appear to be due to predation by bigger businesses, however, but simply that larger yards may be more efficient.
"It is difficult to categorically state that smaller feedlots have reduced in number because of competition from larger yards, or because of the extremely difficult trading conditions from 2007-2012. But it is probably a combination of the two," ALFA told beef Central.
Another influence over the trends discussed above is that on a per-beast-fed basis, the investment cost of expanding an existing feedlot is considerably less than in establishing a brand new enterprise.
That's because of the potential to utilise existing milling, feed mixing, commodity storage, ration distribution, cattle handling and other infrastructure across a larger number of fed cattle, simply by adding more pens, bunk space and stock watering points.
Recent discussions with Top 25 entrants show that there are often limitations to expansion of existing feedlot sites, however.
These include licensing restrictions due to environmental and operational considerations; access to adequate or suitable stock water; labour issues; and the greater risk of under-utilisation of pen space when feeding becomes less attractive, which can impact on enterprise profitability. In several cases documented in this feature in recent weeks, operators have waited until they have a secure customer commitment before undertaking an expansion.
Natural 'trigger point' in yard efficiency
Co-principal of Queensland's successful Smithfield feedlot, Jason Shearer-Smith, believes the trend will continue towards fewer, but larger Australian feedlots.
"Typical occupancy rates are now consistently higher, although only two years ago many feedlots were still half-full, and feedlots were screaming that they weren't making any money," he said.
Occupancies could again decline, if the current seasonal conditions prevailed, Mr Shearer-Smith said.
A former ALFA councillor, he believes there is a 'natural trigger point' for efficiency in feedlots around 10,000 head, meaning it may be no coincidence that there is a cluster of yards around that size at the lower end of our Top 25 list.
"Below that number, a feedlot can still be run along the lines of an opportunity farmer-feeder operation. Once you're over that, you've got to keep going, because the efficiencies keep improving when a feedlot gets bigger," Mr Shearer-Smith said.
"Go to 20,000, 30,000 or 40,000 head, and the efficiencies keep accumulating – it's not as if the opportunity for greater efficiency levels declines once you get past 10,000 head," he said.
"The more tonnes of feed that's put out, generally the more efficient the feedlot operation is."
However expansion did bring other challenges. Obviously feeder cattle procurement becomes more problematic, the bigger a feedlot gets.
"It also presents greater potential for respiratory health problems, by aggregating more cattle from more herds, across a wider area," Mr Shearer-Smith said.
"But if you can get your cattle procurement, handling and herd health under control, just purely looking at feeding efficiency, bigger means it gets better and better."
Australian Lot Feeders Association president Don Mackay agreed with the view that there was a 'sweet spot' somewhere around 10,000 head that made lotfeeding more efficient, allowing fixed costs to be spread further.
"It's much harder to justify the installation of steamflaking grain processing systems, for example, much below 10,000 head," Mr Mackay said.
He also noted how many of the entries from the 2003 Top 25 list were 'still there.'
"Mergers and acquisitions have taken some names off your earlier list, but that's largely been as a result of integrated processing business mergers, rather than specifically a desire to merge feedlots," he said.
The obvious examples of that on our current list are Teys and Cargill, JBS and Rockdale. Excluding company mergers like these, a total of 19 names appearing on the 2003 vintage Top 25 continue to feature on the current Top 25.
"The fact that the names on the list have remained fairly consistent perhaps illustrates that those guys that are in it are committed for the long-haul," said Laird Morgan, principal of Lilyvale feedlot near Condamine.
Other trends worth noting in comparisons with the previous 2003 Top 25:
More operators owning and managing more than one yard. There were eight entries this time with two or more yards – double what it was in 2003. That's seen the overall number of yards represented in the report rise from 31 to 37.
There are some isolated signs of feedlot consolidation occurring, but that's primarily due to processing companies that also run feedlots merging, rather that deliberate merging of feedlot businesses. Exceptions include entries like Gundamain/Ladysmith and Whaka/Kurrawong.
Largely driven by the diversification of Australia's grainfed beef markets and high feeding costs, there have been some significant changes in the length of time cattle remain in Australian feedlots since the last survey. There been a distinct move out of the 'mid-fed' (typically 150-220 days on feed) category. That's been replaced by more short-feeding (70-120 days), and perhaps more longfeeding (350-450 days) with the momentum being seen in Wagyu programs over the past decade. In total, 12 of the 37 feedlots covered in the report feed Wagyu – in some cases, nothing but. While they are high-value animals, Wagyu have a negative influence on a feedlot's annual cattle turnover, by tying-up pen space for a year or more. That trend is clearly evident in our Top 25 statistical table. Some estimates suggest that Wagyu today represent a figure approaching 10pc of one-time occupancy 'numbers on feed' of Australian feedlots.
While there was certainly evidence of utilisation of pen shade among entries in the 2003 survey, that has grown dramatically in the 2014 survey just completed. Almost every feedlot on the list this year has shade provision installed, in geographic locations which make it worthwhile.
ALFA president Don Mackay said the nature of Australian lotfeeding has changed quite dramatically over the past decade, since the previous report.
"The vast majority of lotfeeders these days conduct their business on the basis of having secure supply, or secure demand – and in some cases, both," he said.
"If you have neither, it can be a very risky business," he said.
 Next week: Are there further signs of feedlot expansion ahead?
Click here to return to Top 25 Lotfeeders table.
Click here to return to Top 25 Lotfeeders introductory article.