Halal restraining box designed for rugged, simple operation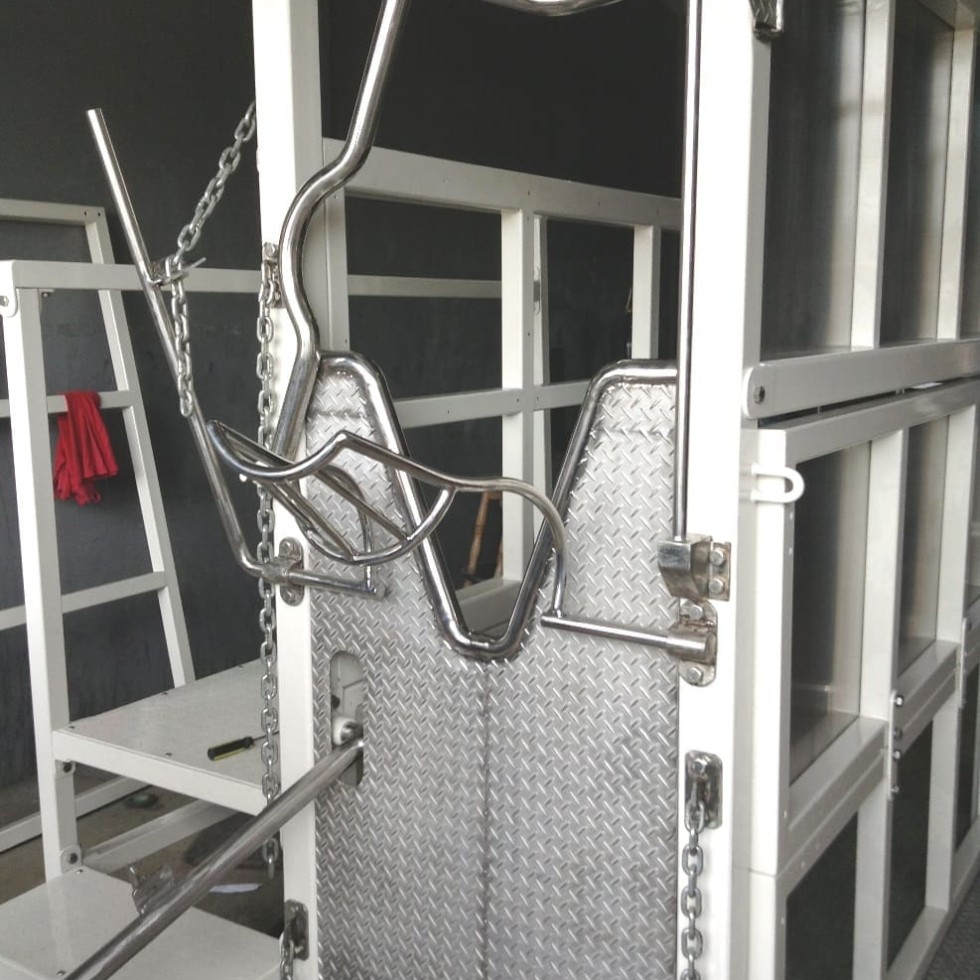 A new Halal restraining box featuring simple, easy-to-maintain and low-cost construction has been released for use in Muslim markets around the world.
The box was designed and developed by Philippines-based Australian, Glenn Storer, manager of Wellard's Halal abattoir linked to the Mother Earth feedlot. The units are manufactured to high standards in the Philippines and marketed through Australia, Southeast Asia and other Muslim regions by processing equipment supplier Kentmaster.
Previous Halal approved boxes like the Mark 4 were mainly hydraulic in operation. This not only added dramatically to their purchase price (some costing more than $50,000), but greatly increased servicing and maintenance issues in developing countries.
In contrast, the Rajin 2 restraining box is completely manual in operation, and conforms with Halal requirements, featuring additional length on the chin-lift and a breast-plate restrainer. The box meets ESCAS requirements.
The ruggedly-built unit costs just A$16,700. Maintenance is very minor, requiring only food-grade greasing of hinges and latches. It is also easy to keep hygienically-clean with regular wash-down. The first unit was sold only in November last year, and it has since gone into slaughter facilities in Indonesia, Brunei and the Philippines.
A boom at the front of the box allows the operator to conveniently hang both the balancer and the stunner within reach. For those sites that already have an operating box, the front component of the Rajin box can be bought separately and retro-fitted.
Units are shipped directly from the Philippines to the client to minimise freight costs. They are transported as a flat-pack for easily assembly with the help of an assembly video and markings on each component. Units are normally ready for shipment 10 days after receipt of an order.
Training videos are currently being produced for the correct operation of the box for Halal purposes.
Click here for more information: www.kentmaster.com
Marel Platino Flattener suits meat and poultry
Further processing equipment manufacturer Marel has released a new flattening system that overcomes many of the challenges faced by earlier equipment used for this purpose for meat and poultry.
Marel's Platino Flattener was showcased around Australia for the first time recently. The equipment improves water-holding capacity and claims to give meat products with better quality bite, texture and taste.
Meat products being treated pass through the top and bottom belt of the flattener, putting less pressure on the meat by massaging it over a shorter period of time than other flattening equipment.
The flattener's massaging technology helps break down collagen, changes the fibre and opens up the membrane of the meat, allowing extended access to functional myosin proteins. This makes the product more pliable, resulting in increased and faster brine or marinade absorption during tumbling.
There is no ripping of the meat fibres during the process and less product bounce-back after flattening. According to Marel, the product will form and hold together better after protein coagulation during cooking. The flattener produces fewer fines, reduces transfer point losses and delivers more pieces within specifications, the company claims. The Platino can be integrated with other Marel equipment including I-Cut portion-cutters, OptiCut, StripCutter and SmartSplitter.
Contact: www.marelfoodsystems.com   Contact: Natale Greco 0409 997 031 Email: nat.greco@marel.com
24 hour turnaround in feed testing service
A new feed test analysis service promises to give farmers and graziers the nation's first 24-hour turnaround in assessing the quality and safety of their feedstuffs.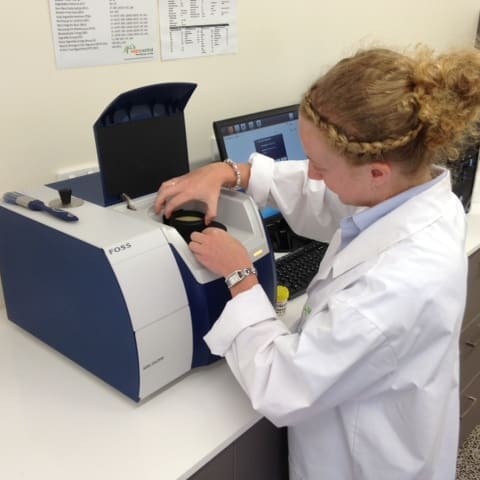 Feed broker Feed Central has installed new FOSS NIR DS2500 near-infra-red analysis equipment at its Toowoomba laboratory and Shepparton office in Victoria, in what it describes as "a new era for feed analysis in Australia."
Feed Central managing director Tim Ford said the quick turnaround time would allow producers to use the information while it was still relevant. Traditional fodder and feed grain analysis labs can take from three days to four weeks to return results to farmers, he said.
"Twenty-four hour turnaround allows farmers to implement any changes as a result of the feed analysis results, before any production implications have occurred," he said.
"Customers will get the most out of home-grown and bought-in grain and fodder by knowing exactly what they are feeding to their cattle and to get the best performance possible from those animals."
Feed rations were becoming increasingly sophisticated for beef, dairy, pig and poultry producers, Mr Ford said. Knowing whether hay or silage is 10 Metabolisable Energy (ME) or 9 ME could make a massive difference to intensive animal production, allowing the producer to change other ingredients to maximise performance.
The newly installed FOSS NIR machines produce more than 30 key parameters for each sample. Analysis is currently available on hay, grain and silage with calibrations only weeks away for TMR (Total Mixed Rations), and pellets. All information is emailed to customers on a Feed Central Quality Statement for their records.
"Whether testing for moisture, energy and protein, or more demanding parameters such as amino acids, ash or fibres, the FOSS NIR DS2500 equipment delivers precision results in under a minute, with analyses fully calibrated," Mr Ford said.
Equipment delivers 'pulled' meats, quickly, efficiently
So-called 'hand-pulled' meats are one of the big food service trends around the world at the moment, and a new piece of technology is making it easier to deliver such products, using a variety of meat proteins.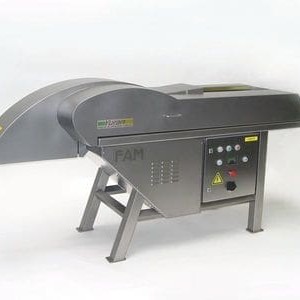 Meat & Livestock Australia has collaborated in an R&D project with equipment manufacturer, Summit Machinery to develop a machine to produce 'hand-pulled' beef and lamb, based on a modified FAM Yuran dicer.
According to Summit, the machine has proven its capability is slicing, dicing and strip cutting various products. Trials run by MLA will investigate its ability to produce various pulled beef and lamb products.
To understand the shapes and textures that can be commercially achieved with the Yuran dicer, MLA is conducting trials using cooked beef brisket, lamb shoulder and extruded meat, as well as raw 'hot boned' cuts (meat that has been boned-out prior to the onset of rigor mortis).
Once the trials determine the viability of the end product and process, MLA intends to conduct a series of workshops for interested parties to undertake their own evaluation and trial the machinery.
The Yuran dicer is currently used by one of the largest pork processors in the US for pulled-look meat. A Melbourne chicken processor has also installed the unit to produce pulled chicken meat products. The company has reported great success with the machine.
http://www.foodprocessing.com.au/case_studies/64495–39-Hand-pulled-39-meat-research-project
Online: www.summitms.com.au   Phone: 03 9761 6252
Strong uptake for BladeStop bandsaw safety technology
There's been strong uptake of the new BladeStop bandsaw safety technology since it was officially launched in late-January, before an audience of representatives from about 20 large processing companies.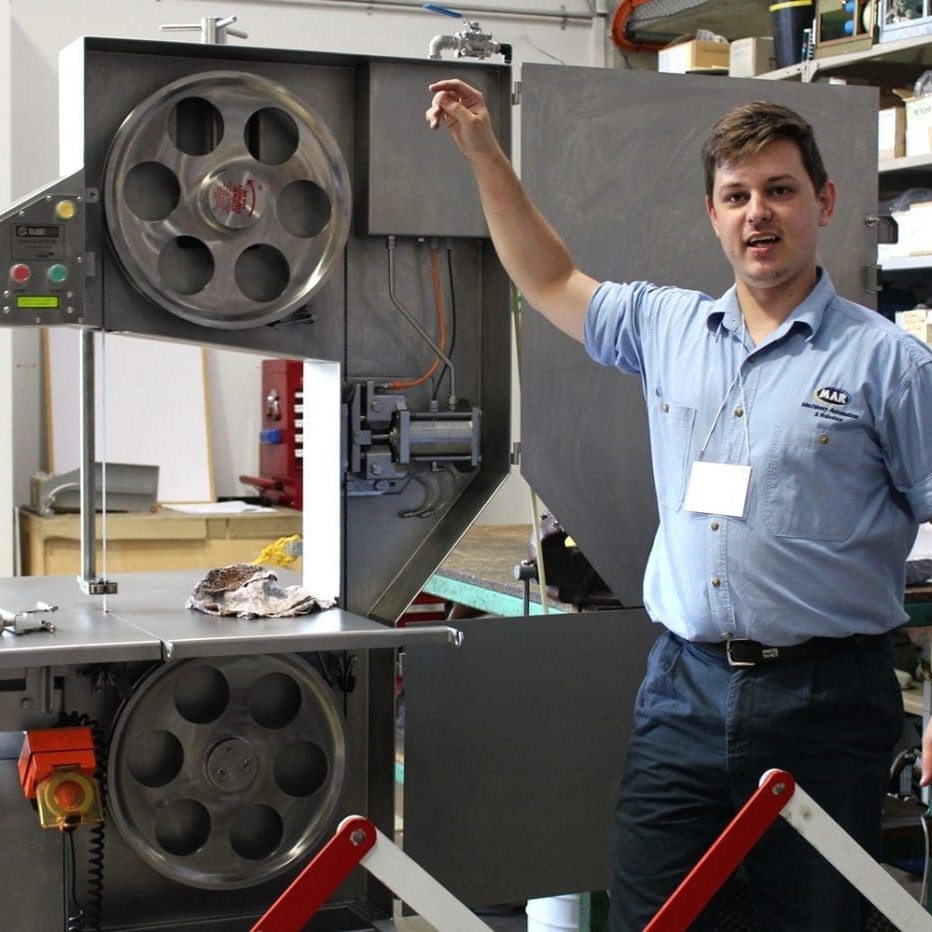 Safety-wise, bandsaws have long been regarded as one of the highest-risk pieces of equipment on the fabrication floor or in the wholesale or retail butchery environment. But the new BladeStop technology goes a long way towards moderating that danger.  Beef Central covered the research and development process behind BladeStop in this earlier article.
Bandsaws are an essential tool in the meat processing industry, however they also pose a high risk to health and safety. Typically, up to 20 bandsaw cuts are 
required in breaking down a carcase into component retail parts, including bone-in items like T-bones and OP ribs. But bandsaw use can, and does result in severe accidents in the workplace. A high incidence rate coupled with significant injury costs, has driven the industry to seek effective alternative solutions.
Under an MLA Donor Company project over the past five years, ML Australia and equipment and technology company, Machinery Automation & Robotics, have developed the BladeStop technology. Its uses a bandsaw brake mechanism, uniquely designed to reduce risks of serious injury by mechanically stopping the blade when the unit senses that an operator has come in contact with it. The blade stops moving within 15 milliseconds of detecting contact with an operator, which can be the difference between a minor 'nick' and a major, debilitating injury like an amputated finger.
MAR reports that sales have already been made into beef and sheepmeat processing plants in Western Australia, Queensland, NSW, Victoria and South Australia. They are going into as variety of applications, but the bulk of them have been installed in boning rooms and cutting rooms. Others have gone into further-processing and value-adding applications. One of the early adopters has been Australian Country Choice in Brisbane.
The technology will be showcased next at Melbourne's FoodPro trade show event, the meat industry's biggest annual equipment and technology event, from June 22-25.
Meat anti-microbial for Organic programs
Organic meat processors could soon have access to a new weapon in the war on bacteria growth on meat. A recent study published in the Journal of Food Science shows that antimicrobials extracted from pecan nut shells protect meat against listeria growth.
Roasted and unroasted organic pecan shells were subjected to solvent-free extraction to produce antimicrobials, which were tested against listeria to determine the minimum inhibitory concentrations required for antimicrobial action. The antimicrobial's effectiveness was further tested using a poultry skin model system; the growth inhibition of the listeria cells adhered onto the skin model were identified.
The researchers found that the extracts inhibited Listeria strains at MICs as low as 0.38pc. The antimicrobial effectiveness tests on a poultry skin model exhibited nearly a 2 log reduction of the inoculated mix of Listeria strains when extracts of pecan shell powder were used. The extracts also produced greater than a 4 log reduction of the spoilage bacteria on the chicken skin.
"The pecan shell extracts may prove to be very effective alternative antimicrobials against food pathogens and supplement the demand for effective natural antimicrobials for use in Organic meat processing," the authors wrote.