THE beef industry has its first female peak council head, following the Australian Lot Feeders Association's annual general meeting yesterday where NSW lotfeeder Tess Herbert was elected president.
She succeeds Don Mackay, who will continue to serve on the ALFA board as immediate past president.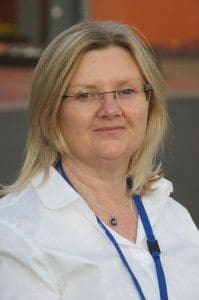 Tess and husband Andrew own and operate two NSW yards – 6000 head capacity Gundamain, near Eugowra and 6500 head Ladysmith, near Wagga. She joined ALFA as a director in 2009 and became vice president in 2013. A more comprehensive summary of the Herberts' feedlot operations can be found in Beef Central's Top 25 Lotfeeders report.
Joining the ALFA board was her first foray into industry representation, but since then, she has sat on a number of industry boards at national and regional level.
Ms Herbert said her motivation to join the ALFA council came from her interest in industry systems – the National Feedlot Accreditation Scheme is a good example – and how the industry might 'do it better.'
"I'd been in discussion with other lotfeeders about QA systems and the regulatory process, and they said, 'You obviously have an interest in this, why don't you nominate for the ALFA council?'."
Asked about the significance of the 'gender milestone' in her election as president – ALFA's first female leader since the organisation started in 1970 – Ms Herbert said it had never been an issue on the ALFA council.
"They're a fantastic group to work with, and as of today, we now have two new female councillors in our ranks. But they are there very much on a merit basis, not for any other reasons," she said.
"I like to think that this sector is very good at identifying those people with particular merit, and cultivating them through the system."
Ms Herbert said females had arguably had greater penetration within the feedlot sector than any other link in the beef supply chain – "from pen riders to feedlot managers."
"Lots of women are attracted to working in this industry, and are very good at what they do," she said.
Why is that?
"I think it's because of attention to detail, a desire to measure and record everything, the ability to multi-task, and working well with animals. It's those little one-percenters that add up."
Ms Herbert's election is also significant, in terms of returning the presidency to a 'southern' Australian feedlot operator, and equally importantly, representing a smaller family-scale enterprise.
Sandy Maconochie is arguably the last ALFA president who ticked both of those boxes.
It was important that perspectives from all geographic and enterprise-scale levels were well represented within ALFA, Ms Herbert said.
"It's a reflection of the ALFA council itself," she said.
"ALFA is certainly not about catering only for the interests of larger corporate-scale entities. The council itself has representatives from every state where lotfeeding is practised. Around the table are small family-scale lotfeeders running 1000 head or less, right through to multi-nationals and big pastoral companies. It's a truly representative peak industry council."
It's meant ALFA has had the ability to be a thought leader with the ability to recognise and respond to challenges and opportunities when they arise. MSA and self-regulated NFAS are just two examples of that, as is levy regulatory reform, mentioned below.
"As an organisation, ALFA is a little like a good feedlot business – it's nimble, flexible and willing to adapt to change," Ms Herbert said, "and we're able to consult with grassroots grainfed levy payers and capture their views in order to do that."
"I think it's a healthy sign of a fully-functioning peak industry council."
"It can at times be a difficult ask, with different voices and perspectives in the room, but the feedlot industry in general is a cohesive and communicative group. We find out what our members are thinking, and act on it."
Ms Herbert congratulated Don Mackay for his outstanding service, leadership and advice during his term as president.
"He is the ultimate chairman," she said.
In his parting comments, retiring ALFA president Don Mackay said "when I commenced as president three years ago, I was eager to ensure that the strong legacy of previous ALFA presidents was enhanced and that the industry continued to be transparent, communicative and improving over time.
"I would like to think that I have played a small but important role in delivering against these goals and am confident that ALFA will remain highly respected by both internal and external stakeholders going forward."
Other election results:
Other councillors elected or re-elected to an expanded ALFA board at yesterday's AGM during the BeefWorks conference in Toowoomba included Jim Cudmore, who stood for re-election, following the completion of his three-year term as immediate past president; Barb Madden from Smithfield feedlot near Proston, Queensland; Cheryl Stivano from Bellevue feedlot near Roma; and Dr Tony Batterham, from Quirindi Vet Services, NSW.
ALFA's articles of association include provision for stakeholders who do not own or lease a feedlot to become an ALFA councillor, if nominated by a feedlot member.
Re-elected as ALFA councillors for another three-year term were Grant Garey, Teys Australia; James Palfreeman, JBS Australia; and Trevor Hinck from Western Australia. Vice presidents are Grant Garey, Tony Fitzgerald (Elders Killara) and Jim Cudmore.
Coming up in later reports: ALFA's bold plan to de-regulate the grainfed transaction levy allocation process.