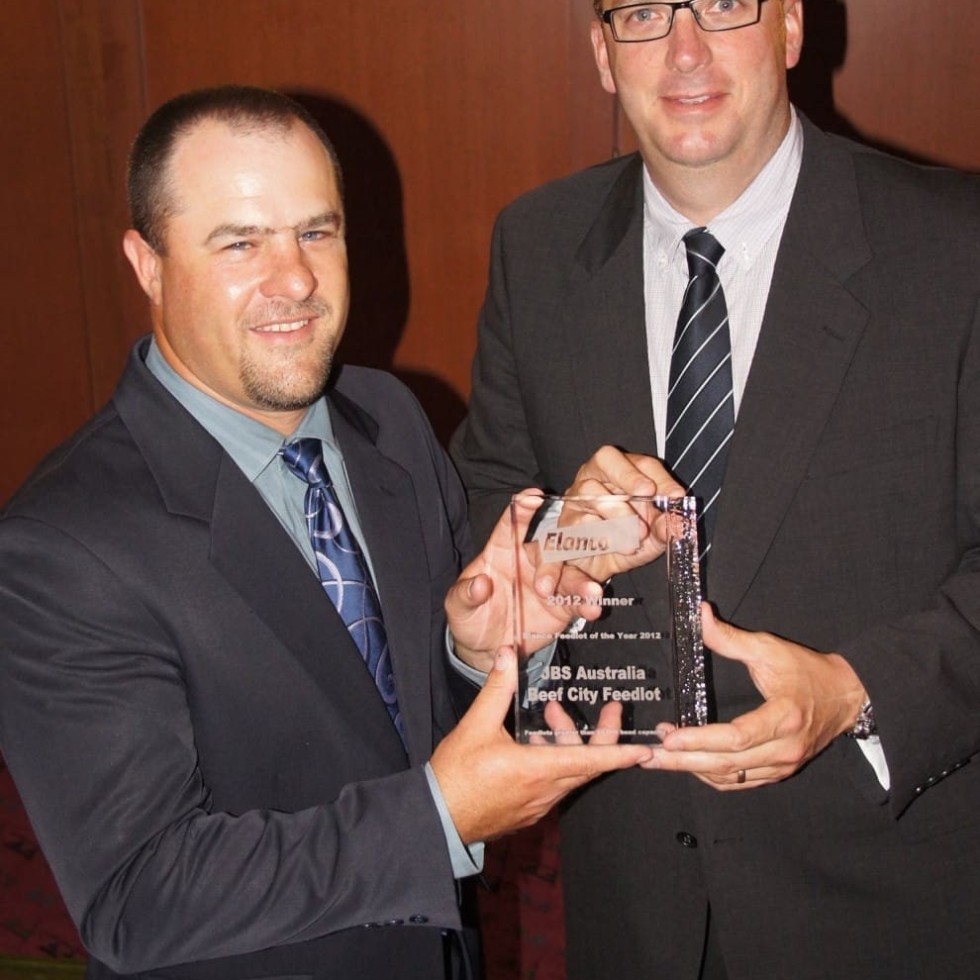 Beef City feedlot was established by Elders back in 1974 as one of Australia's first true 'large-scale, US-style' feedlots, and going by recent results, the original designers did not get too much wrong.
JBS Australia's Beef City was announced during last week's BeefEx conference as the 2012 Feedlot of Year in the larger of the two categories for lots above 10,000 head capacity.
Located 30km west of Toowoomba in a growing rural/peri-urban community, Beef City faces a number of community challenges such as odour and dust management that newer feedlots further west are less exposed to. It has to be said, though, that 38 years ago when the feedlot was built, the surrounding population was much smaller in size.
The site's win in the competition's quality assurance sub-category, as well as the overall award, stands as testament to the checks and measures the feedlot team led by manager Sean Sturgess operate under, in order to manage issues like odour and dust control given the feedlot's location.
The Feedlot of the Year competition, now in its 22nd year, involves a rigorous and independent judging process administered through AusMeat, with points allocated across four sub-categories including quality assurance and product integrity, animal welfare, environment and corporate responsibility.
The Beef City site features total grain storage of about 25,000 tonnes in cement silos and utilises a bank of four steam flaking mills to efficiently process grain, together with a modern fleet of paddle mixer feed-delivery vehicles to distribute to surrounding pens.
The feedlot is one of only two in Australia (JBS Riverina is the other) that operates in conjunction with an adjacent abattoir, meaning cattle exiting the feeding pens are simply walked to the Beef City grainfed plant's holding pens.
All 260,000 head processed each year at the abattoir, representing cattle both from Beef City and other company feedlots, are cleaned and prepared by the Beef City feedlot team. An extensive dag-removal high pressure water washing facility was established eight years ago to minimise bacterial load on grainfed animals in readiness for slaughter.
The feedlot ration is built around locally-produced wheat, barley and sorghum grains, combined with quality roughages. The 800ha feedlot site includes a farming operation that produces corn, winter cereals and forage sorghum for either daily supply to the feedlot or as silage or hay.
The feedlot is currently licensed for 26,500 Standard Cattle Units, and is developed to that capacity, employing around 48 staff when fully utilised.
Beef City currently feeds almost entirely for export markets, running programs mostly from 100 to 150 days, with an occasional pen out to 220 days for specialised client orders. All are British-based flatback cattle.
JBS Australia took over the Beef City business following the purchase of processing and feedlot assets from Swift Australia (formerly Australia Meat Holdings) in July 2007.
In turn AMH was created out of the 1991 amalgamation of processing/lotfeeding entities including Elders Meat division, FJ Walker, Metro Meat and Tancreds. This merger bought four feedlots under AMH control across eastern Australia – Beef City (built and opened by Elders in April, 1974); Beaudesert (built by Tancreds but closed 1995 due to urban encroachment); Mungindi and Caroona.
Prime City was built by AMH and opened in 1995, but has since closed. Riverina Beef, formerly Rockdale, was purchased from Itoham in 2010.
Beef City manager Sean Sturgess said the QA/product integrity and overall Feedlot of the Year awards received at BeefEx 2012 were the result of a strong QA systems/culture, a professional structured management team and a team-based employee environment.
"The focus is on attention to detail and 100 percent ownership of all areas that everyone at the feedlot is responsible for," he said.
"This is a great reward for the Beef City feedlot team for a job well done."
Sub-category winners in this year's over 10,000 head capacity Feedlot of the Year award included Nippon Meat Packers Australia's Whyalla feedlot near Texas (Animal Welfare and Environment categories); Teys Australia's Jindalee feedlot (corporate responsibility); and Beef City (Quality Assurance and Product Integrity).
JBS Australia chose not to contribute further information for this article.