GREATER operator safety and efficiency were the key features in a new piece of animal handling equipment which claimed the Integrated Animal Production Innovation Award judged during the feedlot industry's BeefEx 2018 conference in Brisbane today.
Animal handling equipment developer and manufacturer Thompson Longhorn entered its hydraulic leg restraint system, an optional extra integrated into the company's already popular hydraulic tipping crush.
"While the tipping crush itself is already well established, what is new is that users can now, via hand-held radio remote-control, quickly, efficiently and safely capture each leg of a restrained animal for treatments," Thompson Longhorn's Byron Wolff said.
Each animal's leg, or legs, are conventionally manually captured and restrained with chain or rope, presenting both animal welfare and workplace safety challenges.
By being able to automatically and remotely close the system's leg clasp, operator safety is greatly improved, and time spent restraining and treating each animal greatly reduced.
Two carefully designed resin-covered claws are used to encircle and cradle the animal's leg bone, designed in such a way that only moderate pressure is applied to the animal's leg. The clam-style claw design retracts flush with the frame when not in use, to avoid obstruction.
All four legs can be restrained individually, if required, as seen in this photograph.
Typically hoof treatments in a feedyard include hoof trimming, footrot treatment and treating hoof damage, and is especially seen in wet and boggy conditions in longer-fed cattle.
The first example of the equipment has been installed in the Teys Charlton feedlot in Victoria, following extensive development and testing in association with Mort & Co at Grassdale feedlot on Queensland's Darling Downs. Based on that work, a series of refinements have been made to the hydraulic restraint equipment over the past six months.
"There is no doubt there will be considerable time-savings using the leg restraint system," Mr Wolff said.
"A chain and a rope restraint often has slack in it, and the animal struggles to free itself. With this system, the restraint gently but firmly holds the legs, and the animal quickly stops struggling, and calms down."
Whereas some imported equipment is used specifically to trim feet, the Thompson Longhorn unit can be used as an everyday standard induction or hospital crush for standing animals, but quickly converted to a tipping crush for hoof work when required.
Manager of the Hells Gate feedlot near Balraynald in Central NSW, Wayne Johnston told Beef Central that up to five percent of cattle on feed at his yard, predominantly longfed Wagyu, could at times be treated for hoof conditions, either trimming or footrot. On average the process cost $28 a head to perform, using more manual restraint methods.
"There's no doubt that this device represents a big step forward in treating feedlot cattle with hoof problems like abscesses or footrot, or requiring trimming," Mr Johnston said.
Chief judge Dr John Doyle said this year's six innovation award entries all showed considerable potential and fitted the competition brief well.
Runner-up for the BeefEx innovation award this year was the Sensetag, a new animal monitoring tag technology entered by Quantified Ag's Australian distributor, Provenance 4.
The SenseTag is a biometric and behaviour-tracking tag designed for feedlot and backgrounder cattle. The platform allows users to track animal health data from one receiver through the entire yard, both receiving and sending signals to each animal's tag, with a radius of up to 3km.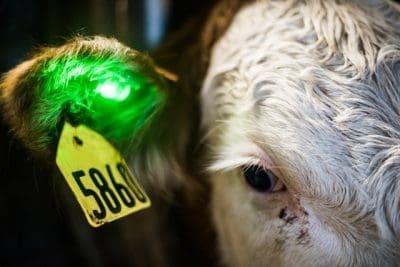 Biometric and behavioural data is collected and analysed hourly by algorithms to detect sick animals at the earliest signs of respiratory disease. Once sick animals have been identified by the algorithms, a manager or pen rider can activate an LED high-visibility light on the sick animal's eartag (pictured) to quickly and easily find the detected animal for early treatment.
Beef Central wrote about the technology in this recent Agtech section article.