AUSTRALIA may never rebuild its lean manufacturing beef exports to the US to historic levels around 350,000 tonnes, as more diversified and segmented product is diverted into Asia and other markets, delegates attending this morning's BeefEx 2018 feedlot industry conference in Brisbane were told.
US ag economist David Williams, director of global protein with US-based agribusiness intelligence company Informa Economics, said the current decline in Australian frozen manufacturing beef exports to the US could be a long-term, if not permanent change in trade flows.
"There's no doubt that US demand for that imported further processing frozen manufacturing beef has lost its lustre," he said.
"But Australia has great opportunities elsewhere. Maybe it's shifting more product from frozen into the chilled category, either to the US or other markets. There is also growing demand for (more specialised) product, whether it be antibiotic-free, HGP-free, or grassfed.
"But the traditional, low-price commodity type grinding beef? I don't know whether Australia will ever get back to those very high levels it saw earlier," Mr Williams said.
Some large US end-users like McDonald's were moving to fresh (implying domestic only) ground beef for their Quarter Pounder burgers, and some other menu items might go the same way.
"The industry in the US is putting things in line to supply those large quick service businesses. So they are using less and less imported (frozen) meat. Some people are saying that even those who have not gone to 100pc fresh grinding beef, are dropping use of frozen imports, to somewhere closer to 20 percent."
"We are watching closely, but we think US imports of manufacturing beef will be flat this year, but we are going to have to watch closely in 2019 and 2020 as these large food service businesses continue to change their models."
Mr Williams said a bidding war had emerged recently when Brazilian company, Marfrig decided to sell its Keystone business, a major burger pattie supplier to McDonald's. US giants Tyson and Cargill had bid very aggressively for Keystone, he said, because they were one of the biggest suppliers of fresh ground beef in the world.
"Tyson and Cargill wanted to be a part of that, and make sure they had that integrated system."
More segmentation
Mr Williams suggested Australian beef's export opportunity was in higher quality, more segmented products.
"The US consumer, and the global consumer generally, is getting more sophisticated by the moment," he said.
Visiting China recently, he listened to the nation's food safety director, who spoke about a growing number of more sophisticated Chinese consumers wanting to eat raw beef, 'like they do in Europe.'
"How can they get that through the Chinese supply chain? Australian beef is regarded as very safe,  you have built your brand on that type of food safety performance, so I think Australia needs to continue to change and adapt, and not simply 'hope' that the US grinding beef market re-establishes at higher levels."
"There are great opportunities out there in the global market yet to be realised. With the growth in global demand for beef, there is so much opportunity out there to better segment product, it is unbelievable."
Growing global demand
Mr Williams painted an optimistic picture about the strength of global beef demand for all exporters, including Australia.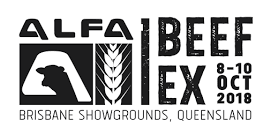 His company had been tracking global beef demand all year, and determined that it was currently 1.5 standard deviations higher than this time last year.
"Why is that happening? Because developing economies around the world are in growth-mode. As people make more money and middle classes grow, across Asia, central and south America and Europe, they are eating more beef," he said.
"The pork and poultry industries really do not want to hear that, but that's what drives them: beef is still king. As economies around the world continue to grow, beef will win-out on that."
The US beef industry, as an exporter, was also enjoying the impact from the tremendous amount of global beef demand this year, Mr Williams said.
US cow/calf inventories continued to grow. Inventories were up another 1pc this year, on top of 2.5pc growth the year before. Fed beef production in the US is expected to be the largest since 2002 – due not only to the larger numbers of cattle on feed, but also heavier carcase weights.
US cow beef production is expected to be the largest since 2011, when the US herd liquidation was still occurring, and is expected to increase further next year.
Domestic beef demand in the US remained strong, Mr Williams said, while US beef exports continued at record pace.
"We're seeing so much demand for US beef out of Korea, that we cannot supply them enough, of the desired cuts. Korea is just growing at such a fast pace," he said. "As the middle class grows in Mexico, they, too, are demanding more US beef."
Mr Williams said an 'arms race' was going on in the US at the moment, among all meat proteins. Pork production was expanding at 3pc, chicken at 3-4pc, and beef at 1-1.5pc.
"The US is producing more pounds of protein year-on-year, and could be record large. The previous high point in 2004, was underpinned by the biggest driver of protein globally at that time – the Atkins diet – when millions of people got onto a high protein diet," he said.
"If we continue to see this kind of growth, and this type of demand from the global beef industry, and it continues to get absorbed by global demand, it may not slow down. Maybe weather or a global economic meltdown could slow things, but until that happens, I think we will continue to see expansion in demand in the US, as well as globally."
The largest US beef export potential remained in Asia, Mr Williams said, with Japan, Korea and Hong Kong, along with Mexico and Canada, continued to be gigantic drivers for US beef.
"They want it, they need it, they're demanding it, and we still see a big support within the US beef cut-out, because of these export markets."
During his recent visit to China, Mr Williams heard the Chinese minister for agriculture explain that there was not enough land or resources for China to produce enough red meat to fill growing demand.
"That's going to have to be supplied by the rest of the world. The US is one candidate, Australia is another, and Brazil is a third.
Tough lotfeeding environment
Mr Williams used a slide to illustrate how tough lotfeeding had been in the US, in the longer term – a trend he also acknowledged in the Australian grainfed industry.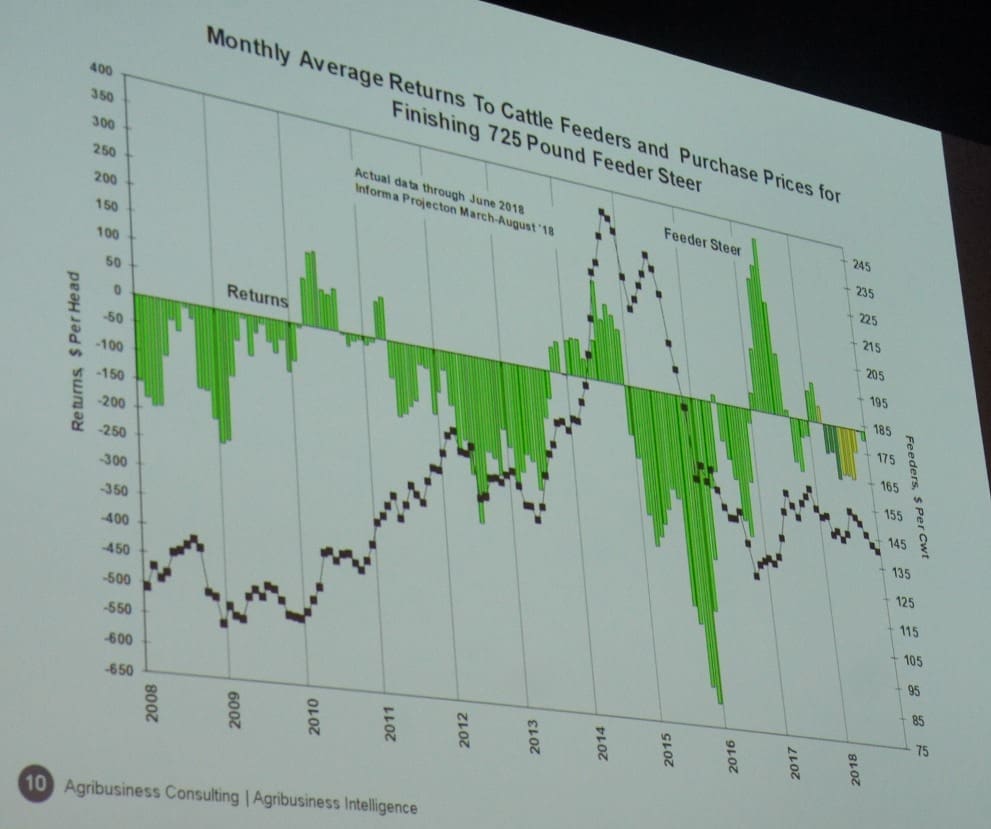 "It's always tough. Lotfeeders have to use risk management tools and opportunities in feed inputs. But looking at the US cattle feeder today, he is under water, and will be for the rest of this year. And 2019 does not look any better. But cheap grain in the US is giving the cattle feeder a chance to have cheaper inputs, with record yields in corn, and pretty low prices on by-products, which is giving US lotfeeders hope to continue to expand and put more weight on cattle."