AUSTRALIA's ability to produce high quality, grassfed beef is one of the unique aspects of the industry that will be celebrated at Beef Australia 2015.
AgForce and Cattle Council of Australia are inviting producers, butchers and brand owners to participate in the inaugural Grassfed Beef Awards, to be presented as part of the "Greener Pastures: Celebrating the Australian Grass Fed Story" event at Beef 2015 in May.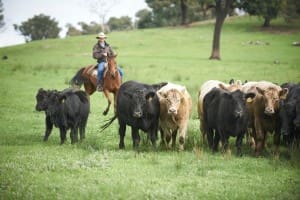 Australia's high quality grassfed beef and the development of the Pasturefed Cattle Assurance System will be celebrated with a series of three new awards to be presented during the event.
AgForce Cattle board director Justin Boshammer said the awards reflected the growing awareness from consumers of the connection between grassfed practices and eating quality.
"The global demand for Australian beef has never been stronger and the demand for grassfed beef is no exception," he said.
"Along with providing an opportunity to promote the qualities of grassfed beef to the Australian market, Beef Australia will provide a great platform to share the story with our international customers."
In 2013, Cattle Council of Australia launched the Pasturefed Cattle Assurance System (PCAS), a concept which began as a resolution at an AgForce regional meeting in Rockhampton and has since become an assurance standard which has helped to solidify Australian grassfed beef as the best in the world. Click here to view one of Beef Central's PCAS launch stories.
Almost two years on, at one of the world's biggest beef cattle events, AgForce and CCA will fittingly celebrate the growth of this premium, high-demand product in the heart of cattle country.
The awards will be judged in two categories and will be presented at the 'Greener Pastures' event, which will serve an exclusive certified PCAS menu during Beef Australia.
The awards will feature an address by renounced American foodservices commentator Alexei Rudolf "Watching grass(fed) grow in the US and beyond" as well as commentary from local grassfed beef advocates Howard Smith and Ian McCamley.
Best Eating Experience – Grassfed branded beef competition
Entries will be prepared using MSA Protocol and sampled by a group of consumers to ascertain which grassfed brand provides the best eating experience.
Applications close Friday 3 April 2015.
Recognition of Service to Grassfed Beef Promotion
Producers, butchers and brand owners working in the grassfed space are invited to nominate for the Grassfed Beef Awards, to be presented at the 'Greener Pastures' Function
Applicants will be judged on their marketing and promotional activities to determine the most innovative and powerful method of communicating the story of Australian grassfed beef. The three judging categories for this award are producer, brand and butcher.
Applications close Friday 10 April 2015.
For more information and to enter the awards click here.
To reserve your ticket to the 'Greener Pastures' event visit www.agforceqld.org.au