APPLICATIONS have opened for businesses seeking to take part in Rockhampton's Beef Australia 2015 trade fair and for the industry supply chain to expose their products and services to the world.
In 2012 more than 500 trade fair exhibitors showcased their goods at this one-stop-shop for all things cattle related, with everything from genetics to cattle hamdling equipment and business advice, to food, fashion and gifts – there will be something for everyone on offer.
Beef Australia 2015 chief executive Denis Cox said a revised site plan had opened up new indoor and outdoor areas to accommodate additional businesses in the trade fair.
"Beef Australia 2015 is a one of a kind business opportunity – in 2012 more than 80,000 people came through the gates of the Rockhampton Showgrounds over the five days of the event, with visitors coming from all over Australia and more than 30 international destinations," Mr Cox said.
"Beef Australia 2015 is a unique opportunity to grow a business's customer base. A core objective of the expo is to facilitate new trade and export opportunities by exposing the local supply chain to the international industry leaders."
"I encourage rural businesses from around Australia not to miss this opportunity."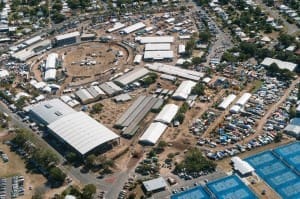 Applications for the trade fair sites will close at midnight on Sunday, August 31, and preference will be given to beef-industry related businesses.
Beef Australia 2015 is the Australian beef industry's national exposition, celebrating all facets of the supply chain and showcasing the importance of the industry to the local and national economies.
"The expo itself generates a huge investment in the beef-related economy – in 2012 an estimated $31.3 million was spent in Queensland as a result of the event and data gathered since 1997 shows that some $178m of export revenue has been generated for the national economy," Mr Cox said.
The Trade Fair Prospectus, site map and an online application form are available on the Beef Australia 2015 website, click here to access.
The Trade Fair Prospectus details the various indoor and outdoor locations and their suitability for different business types.
Applicants will be notified of the result of their application after the closing date, with unsuccessful applicants to be refunded their application fee and placed on a waiting list in the event of a cancellation or a declined offer.