UNIVERSITY students and young red meat industry professionals have been given an in-depth look at the breeding program of one of the country's largest cattle companies – as it looks to reduce herd emissions and keep servicing its carbon neutral brand program.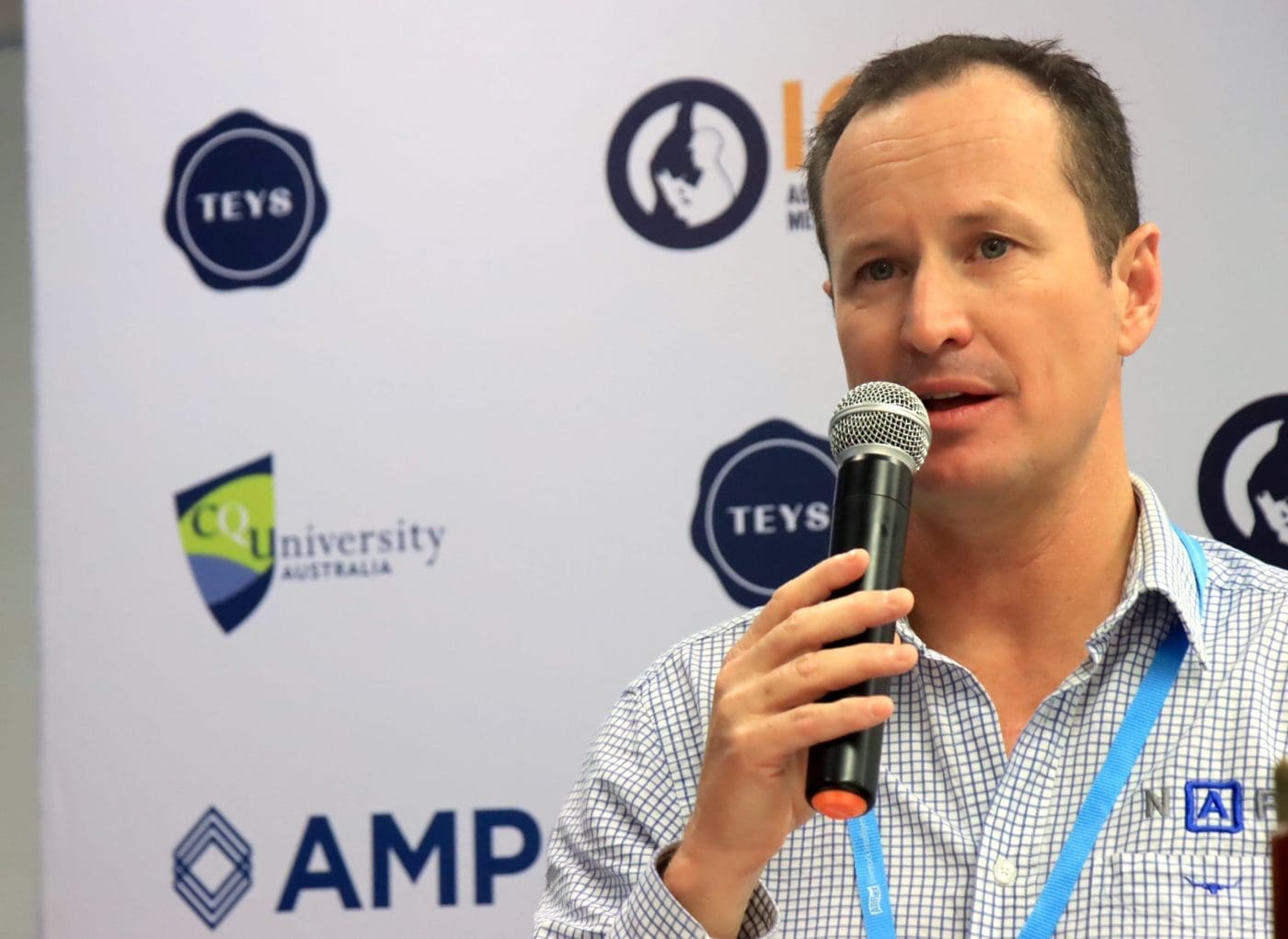 Dr Daryl Savage from the North Australia Pastoral Company presented at last week's Intercollegiate Meat Judging conference in Rockhampton, running the audience through the company's plans to reduce emissions and increase biodiversity.
NAPCo was one of the first cattle companies to launch a carbon neutral beef brand, when it released its Five Founders brand in 2019. It purchased credits on the international and domestic markets at the time.
Dr Savage ran the conference through the company's next wave of emissions reduction initiatives. He said the company's "weights-to-feedlot", or WTF, program was one main building blocks.
"We can track the performance of every animal through the supply chain, from weaning through to the carcase, by simply collecting their weights," he said.
"By simply collecting their weights, we have built this database that tells us how much profit we make from every weaner every year. You can understand the obvious commercial reasons to do that, but it also contains the fundamental information needed to capitalise on opportunities related to carbon."
According to the Emissions Reduction Fund register, NAPCo signed up to a herd reduction program in March last year – where it will aim to increase herd efficiency and earn carbon credits through reduced methane emissions.
The herd reduction carbon farming methodology is popular among the large cattle companies, with many of them seeing it as a low-risk way of entering the carbon market. Its main barrier is the requirement for large numbers of cattle.
Environmental outcomes motivated by economics
NAPCo has invested significant amounts of money into its stud and commercial breeding programs over the past 30 years.
The company has six stud herds across two in-house breeds – the Alexandria composite and the Kynuna composite, which are named after the cattle stations they were started on.
Dr Savage said the three main pillars underpinning the breeds were fertility, growth and meat quality.
"Our stud herds are based in the environment in which we expect them to operate – the Gulf of North Queensland and the Barkly of the Northern Territory," he said.
"This creates a lot of challenges, but the environmental adaptation is too important."
Phenotypes for both breeds have been tracked for the past 30 years and the company has a suite of Estimated Breeding Values underpinning the stud program. Dr Savage said an independent study of NAPCo's breeding program had found a 43pc reduction methane emissions intensity since it started.
"All of our focus on increasing weaning rates, increasing growth rates and increasing meat quality has resulted in a fantastic environmental outcome," he said.
"It wasn't motivated by environmental outcomes, it was motivated by commercial outcomes and what was good for the business."
Eyes on more carbon and biodiversity projects
Along with its WTF program, NAPCo has been measuring its carbon footprint for at least the past three years. Dr Savage said it was investigating the viability of carbon sequestration programs through vegetation and soil.
"We are looking at soil carbon, a lot of vegetation methods and we have the herd emissions project happening," he said.
"We have a process around making those investments, looking at how much carbon it will sequester and whether it will have any impact on how we manage the land."
Bovaer trials, converted two stations to solar and vehicles are the only user of fossil fuels – saving 150,000 litres of diesel per year.
NAPCo has been looking into opportunities to track and increase biodiversity, which is a growing environmental market. Dr Savage said its stations had at least 15 threatened species.
"We see biodiversity as a sustainable competitive advantage for the northern cattle industry," Dr Savage said.
"Looking at two threatened species we have been tracking for years, the Bilby and the Kowari, we have found their populations are thriving on our properties."
Carbon market more about opportunities
Asked whether some businesses might be left behind if they do not take a similar approach to NAPCo – Dr Savage said he saw the environmental markets as more of an opportunity.
"I don't think anyone will get swallowed up in this process, it is more of an opportunity for the industry," he said.
"The fortunate position our industry is in, is that what is good for the environment, is good for our underlying businesses."
Beef Central will have more stories from the ICMJ conference.