This the second of a series of profiles AgCarbon Central will be writing about producers of all sizes doing interesting work with carbon and other environmental markets. Today's profile is on James Henderson from Colodan in Queensland's North Burnett region, who has started two projects his family's three properties and has become a lobbyist and consultant in the field.
FOLLOWING the millennium drought, the Henderson family started making some significant changes to navigate the increasingly volatile climate – upgrading waters, spelling paddocks more often and ultimately carbon farming.
"We were looking at what we could do with timber and other things and worked out vegetation-based carbon projects fit in very well with our plans," Mr Henderson said.
"Carbon farming is done well when you can match carbon methodologies to businesses rather than changing your business for the sake a carbon project."
Since moving into the carbon industry in 2017, Mr Henderson has been spreading his carbon knowledge and experience to other producers and has been advocating for producers to get their fair share for going "above and beyond" to reduce the country's emissions.
While the Hendersons have now been managing for carbon for more than five years, making the cattle business more productive and resilient to weather cycles was the original goal.
"We put in more fences and more water, getting away from a windmill and a tank on the side of a creek. We spent the 10 years prior to starting our carbon projects putting in big solar systems and running poly pipe to get better grazing patterns," he said.
"It is not cell grazing we are doing, but we have boxed up mobs and are increasing the rest periods for paddocks. We are still doing that and trying to improve it over time."
Starting the carbon project
The Hendersons have two projects signed up to Australia's Emissions Reduction Fund, through GreenCollar.
One is an "avoided clearing" project, that involves taking areas of 'category x' land that has been routinely cleared and has reached the international definition of a forest (two metres high, 20pc canopy cover) and committing to not clearing it again.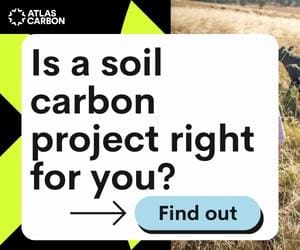 "We could prove that land was at risk of re-clearing and that it had been cleared every 15 to 20 years," he said.
"It wasn't a big uplift in productivity to clear it again and it was more commercially viable to put it into a carbon project."
The second is a human induced regeneration project, which involves using management to bring areas of regrowth back to a forest – a change of practice is needed.
"We started rotating cattle more because that promotes more regrowth when you can spell paddocks for longer," he said.
"There is a lot of scope with the HIR methodology to manage that regrowth – you are allowed to thin it, burn it and manage to the end goal which is getting it to that international definition of a forest."
The HIR methodology expired at the end of September, meaning you can no longer start a project using the methodology. HIR is set to be rolled into a new Integrated Farm Methodology, which is currently passing through approvals.
Beef Central has asked the Department of Climate Change, Energy and Water when it is expecting IFM to come online. A spokesperson said.
"The Department is currently engaged in a consultation process for the development of the proposed Integrated Farm and Land Management (IFLM) Method under the Australian Carbon Credit Units scheme. Input is being sought from a range of stakeholders and technical experts to ensure that the method is fit for purpose and meets required integrity standards.
"The IFLM method is proposed to combine the activities of several existing soil and vegetation sequestration methods into a single method. Combining these different activities and introducing new abatement estimation approaches is expected to provide new opportunities for project proponents.
"A series of technical workshops are being undertaken through November, that will assist in finalising a draft method for assessment against the legislated Offsets Integrity Standards by the independent Emissions Reduction Assurance Committee."
Moving into biodiversity
Since starting the carbon project, the Hendersons have moved into another scheme called accounting for nature – which looks at the ecological condition of land.
Mr Henderson said GreenCollar has turned some of the environmental condition scores (ECONDS) into "NaturePlus" credits, which can be sold.
"You have your carbon, your above ground biomass and if you can demonstrate through all these different management activities that your environmental condition has improved than that gets rolled into these NaturePlus credits," he said.
"They generally sell them separately to ACCUs (Australian Carbon Credit Units). You could use them to add value to ACCUs, but I think in our case it will be better to sell them separately."
Getting the most out of carbon
Since starting the project Mr Henderson has started a consultancy company called Isidore Ag and eco services to help other producers navigate the complicated world of carbon and has been advocating, through AgForce and other channels, for producers to be fairly paid for doing the work needed to draw down carbon emissions.
He said while carbon farming has a reputation for locking up productive land and walking away, the reality is different.
"Getting the most out of carbon farming is the opposite to locking up land, you need to put real thought and effort into managing your project," he said.
"Sometimes you hear people say 'this is just best practice anyway'. But I think when carbon farming is done well it is above and beyond best practice. It is an extra layer of management that you would not always do for a livestock system."
Asked whether it was worth paying producers for the work required for carbon farming, Mr Henderson said one of the main values in carbon farming was the commitment to practices for the long-term.
"Without the monetary incentive, you might do it for a year or two and stop it when interest rates are high and livestock prices are low," he said.
"These environmental markets give producers the cash flow to keep operating on the plane of genuinely improving land management."