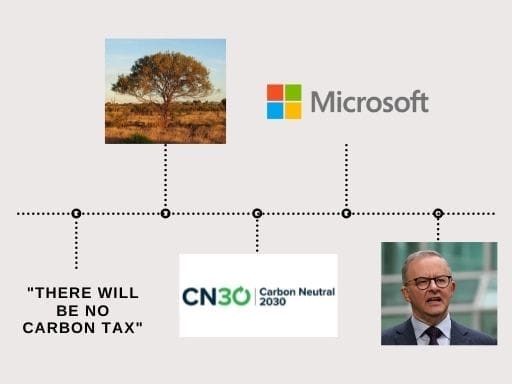 CARBON farming has made a big entrance to the agricultural industry in the past decade, with more than $2 billion tied up in projects across the country.
While it has been controversial, the carbon industry has developed a lot since its creation ten years ago, with ongoing reforms and dozens of new methods created to capture carbon. The industry's peak body, the Carbon Market Institute, estimates $2.09 billion is tied up in more than 1100 projects across the country.
With emissions targets being set by agriculture and other industries, demand for carbon capture is likely to stay around for a while. While there is plenty to discuss about the future of carbon, Beef Central has compiled a timeline of the events that have shaped the industry.
2012 – Gillard government introduces the carbon tax
"There will be no carbon tax under a government I lead" was perhaps one of the most controversial statements of Julia Gillard's term as Prime Minister.
Various forms of carbon pricing had been discussed by Ms Gillard and Kevin Rudd for years – with the Labor government struggling to pass it through parliament. While a carbon "tax" was ruled out, Ms Gillard had always shown her intentions to implement a pricing mechanism for carbon.
In the end, it was a carbon tax that prevailed and the government made just under 300 of Australia's biggest polluters pay $23 for every tonne of carbon they produced.
A program called the Carbon Farming Initiative was also set up in the Rudd/Gillard years, which was a voluntary emissions trading program.
2013 – Abbott government dumps carbon tax
A change of government in 2013 meant a change of climate policy, with the Tony Abbott-led Coalition Government dumping the carbon tax and introducing the Emissions Reduction Fund (ERF).
The government also set up the "safeguard mechanism", which sets a baseline for big emitters and requires them to offset if they not meet their target.
The $2.55 billion fund was set up with three key components;
A voluntary scheme where capturing carbon using an approve methodology could earn Australian Carbon Credit Units (ACCUs). ACCUs represent one tonne of CO2 equivalent.
A process for the government to purchase credits.
The 'safeguard mechanism' where companies exceeding a threshold of emissions were forced to offset with ACCUs.
2014 – large buy ups in the mulga lands start
With the government framework in place, carbon developers started buying and contracting large tracts of land in the mulga lands Western Qld and NSW.
Projects were started across the country, but there was a major concentration in the mulga with developers using two main methodologies. 'Avoided deforestation' where landholders could choose not use a clearing permit to regenerate a forest and 'human-induced regeneration' where a change of management regenerated a forest – in this case it meant de-stocking.
The onset of carbon farming in the area was controversial, with many of the locals complaining about absentee landholders, properties being left in poor repair and people leaving the region. Others saw it as a reliable income during some uncertain years.
That debate is still raging on today, with Nationals leader David Littleproud last election trying to give himself power to veto certain carbon projects as the agriculture minister – the idea was to determine if it was in the best interest of the community.
2015 – Paris Agreement reached
The COP21 summit in Paris saw 196 countries agree to work together to drastically limit human induced climate change. The goal was to limit global warming to well below 2, preferably to 1.5 degrees Celsius, compared to pre-industrial levels.
The Paris agreement endorsed carbon trading as an integral part of reducing warming and accounting mechanism was set up to ensure credits were not counted twice in carbon inventories.
2015 – Agriculture-based methodologies start
While the areas of Western Qld and NSW had been operating for a number of years using vegetation-based carbon farming methods – agricultural systems started to become a part of carbon capture in 2015.
The Clean Energy Regulator released a soil carbon method, where a baseline measurement was taken, management changes occurred and a second measurement was taken to determine if carbon credits could be awarded.
Soil carbon is a big part of the current carbon farming push, but the relatively under-studied field has the science community divided. Some have doubts whether soil can hold carbon for the long-term and most say more data is needed for an answer to that question.
Either way, landholders have been warned to be careful when trading soil carbon credits because the carbon needs to stay in the ground to fulfil contracts. A concern held by both the agriculture industry and the carbon market (see Beef Central's previous analysis here).
A herd reduction methodology has also been created where producers can reduce herd emissions and claim credits for the efficiencies.
2017 – Red meat industry launches carbon neutral initiative
The Australian Red Meat Industry joined the party in 2017, launching a target to become carbon neutral by 2030 (CN30).
Meat & Livestock Australia continues to push CN30 through a variety of means through carbon capture and reducing emissions through herd efficiencies and methane-supressing feed additives derived from seaweed.
MLA has determined 2005 as a baseline year for its target and has identified several pathways to reach to goal.
2018 – carbon neutral beef brands emerge
Meat brands have since started to embrace neutrality, with Victorian-based Flinders + Co laying claim to the first carbon neutral brand.
Several brands have followed, including Arcadian Organic, NAPCo and Coles on the domestic market. Most of the brands have been buying credits to help achieve neutrality.
Premium prices have evaded the carbon neutral brands but there has been plenty of discussion about their future. With the industry and companies setting targets, some are wondering if products that do not have a carbon neutral tag will be discounted.
2019 – Three major cattle companies receive herd reduction credits
After four years of companies being able to claim ACCUs for making their herds more efficient, three major players in the northern pastoral industry have received credits for reducing methane emissions.
According to the ERF register, Paraway Pastoral Company, Australian Agricultural Company and Consolidated Pastoral Company have all received credits using the herd reduction method.
Paraway was the first and had attempted to lead a project which aggregated smaller landholders together as one project, with the aim of reducing audit costs and allowing smaller producers to claim credits. But it was unable to receive the funding it was aiming for.
Scale has been highlighted as a big issue for the herd reduction method, with costs to measure emissions needing a large number of credits for it to become viable.
A new integrated farm method is being developed for next year, which will allow several projects to run in one area – for example producers could have soil carbon, vegetation and herd reduction projects all running as one. The developers of this method are hoping to make herd reduction more viable.
2021 – ACCUs triple in value
Last year was a big year for the carbon market, with ACCUs tripling in value, Microsoft spending big on Australian soil carbon credits and the COP26 summit in Glasgow spurring more ambitious climate targets from governments and multinational companies.
Microsoft created plenty of headlines when it purchased soil carbon credits, using a US-based crediting scheme, from Australian landholders. The integrity of the credits attracted plenty of scrutiny, but it did show the potential investment in carbon.
Later in the year the Scott Morrison-led Coalition Government agreed to make a "net zero emissions by 2050" target ahead of the COP26 Summit in Glasgow. The summit agreed to make a global framework for trading credits and make more ambitious emissions reduction targets.
During the Australian carbon market boomed, with value of ACCUs tripling in six months. Most of that was attributed to companies competing for credits to comply with safeguard mechanism requirements and a shortage of credits with most of the projects tied up in government contracts.
2022 – Albanese Government announced ERF review, increases climate ambition
The shortage of supply was short lived, with former energy minister Angus Taylor announcing changes to the ERF earlier this year. He allowed companies to make an exit payment from government contracts and sell credits on the open market – which plummeted ACCU prices overnight.
Further pressure was put on the carbon market when Professor Andrew MacIntosh, who is the former chair of the government-appointed watchdog that oversees the Emissions Reduction Fund's methods, claimed the majority of Australian credits were acquired using dodgy methods.
The complaints became an election issue, with the newly-elected Labor Government announcing a review of the methods highlighted by Professor MacIntosh.
Former chief-scientist Professor Ian Chubb headed up the review.
2023 – Chubb-review handed down with more reforms to come
After much anticipation, the Chubb-review was handed down in January and ultimately gave the carbon farming methods of concern, a clean bill of health.
It recommended the Clean Energy Regulator split up its roles, with the idea of the department approving methodologies, awarding ACCUs and buying them on behalf of the government making the CER look like "judge, jury and executioner". It also recommended the "avoided deforestation" methodology be disbanded and no more projects signed up to it.
The Federal Government supported the review in-principal and plans to pass it through parliament.
However, Prof MacIntosh has raised concerns about the bill and says the old "avoided deforestation" projects, which are mainly in the mulga-lands, are likely to flood the carbon market with "dodgy credits". So, the carbon market's critics, appear to be remaining as critics.
The Federal Government is now trying to reform the "safeguard mechanism" from 2013. It plans to make the baselines decline each year in-order to meet its target of a 43pc reduction in emissions by 2030.
The updated "safeguard mechanism" is currently being debated and the government is still hoping to get it through parliament. (More on that here)
A new methodology allowing producers to run multiple projects in one spot, called the integrated farm methodology is expected to be ready later this year.