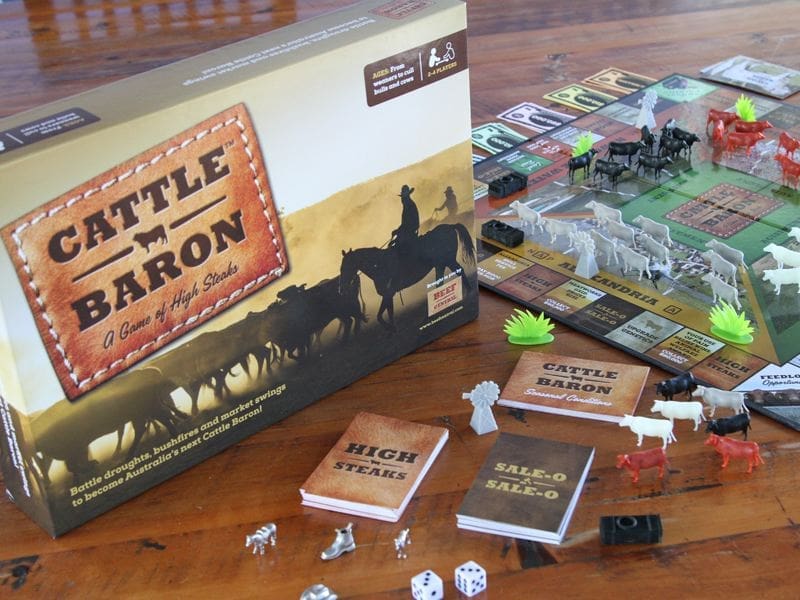 AUSTRALIA'S cattle industry board game was launched in the nation's beef capital, Rockhampton (Qld) during the opening stages of Beef 2018 in May.
The response was overwhelming, with the first print-run selling out within the first five days of the event. A second print run has now arrived, in time for Christmas.
'Cattle Baron' puts you in charge of your own Australian cattle station. Develop your pastures, watering points and fences, invest in top bulls and expand your herd.
The winner is the first player to finish with a fully-developed, fully-stocked cattle property with highest standard of genetics.
But beware – just like the real cattle industry, potential setbacks like droughts, bushfires or cattle market swings could be waiting around every corner!
Along the way, learn how Australian cattle producers work in an environment of unpredictable seasons and volatile markets to sustainably improve their land and their cattle to produce premium quality, clean-and-green Australian beef for customers around the world.
'Cattle Baron – A game of high steaks' has been designed to provide a fun and engaging way for people both within and outside the industry to learn more about the challenges Australian cattle producers face in their day-to-day working lives.
Research by the National Farmers Federation ahead of Australia's first National Agriculture Day last November indicated that 83 percent of Australians describe their connection with farming as either distant or non-existent.
Most city people are now far removed from agriculture and many don't understand its importance to their lives, or the broader economy. Food production is in effect "out of sight, out of mind".
"There is a clear need for Australian agriculture to come up with new ways of helping to bridge the gap in understanding that exists, and we hope Cattle Baron can play a small role in helping to achieve that," said the game's co-developer, James Nason.
"In an age dominated by digital screens, we also hope the game provides a way for cattle-producing families and others interested in the industry to spend time together in an entertaining, family friendly-way."
Here's a link to a short Youtube video clip about Cattle Baron:
'Cattle Baron – A game of high steaks' has been developed by Jon Condon and James Nason, the independent rural journalists behind the online daily cattle industry news website Beef Central (www.beefcentral.com). It has been designed and produced by Derek Tan of Brisbane-based creative agency Generator www.generator.com.au
Jon Condon and James Nason worked as practising beef industry journalists for 30 and 16 years respectively before starting their own independent rural media company in 2011 to provide a dedicated national daily news service for Australia's beef industry.
The very first copy of Cattle Baron was auctioned for charity at the 2018 Australian Wagyu Association conference in Mackay just before Beef 2018. It made $10,000 for the Royal Flying Doctor Service, when bought by Central Queensland cattle producers Richard and Dyan Hughes, Wentworth Station, Clermont. The second copy from the inaugural print run made $1100 for charity when auctioned for Legacy as part of a Beef 2018 dinner hosted by processors, HW Greenham.