THIRTY years of breeding evolution and history is captured in the table below, listing stud beef interbreed champion bulls and females exhibited at the Beef Australia triennial industry expos in Rockhampton.
The list (click on image to enlarge) includes winners and the breeds they represented, for all Rockhampton Beef Expos since the inaugural event in 1988.
Among them are bulls and females which went on to become absolute breed cornerstones in genetic progress, while others quickly sank into oblivion.
'Bigger is better' era
The list also clearly captures the changing tastes, fads and trends in cattle breeding over time.
In the late 1980s, frame score was a key objective in Santa Gertrudis breeding across Australia.
The 1988 Rocky interbreed champion female, Robenlea Nightingale, pictured here (more details below) was a huge, 9+ frame score cow, with a show-ring condition liveweight around 930-940kg.
While Santas today are much more moderate in frame score and mature liveweight, Nightingale was very much at the leading edge of Santa breeding objectives in Australia at the time.  'Show cattle' typically carry more weight than everyday animals, but Santa cows entered in show competitions today typically weigh around 750-800kg – and are probably two frame scores smaller than Nightingale.
Tradition meets evolution
"A breed steeped in tradition in Northern Australia and another making its first show-ring appearance in the region shared the paramount awards in the 1600 head stud beef exhibition," this reporter wrote, when covering the Rocky interbreed competition 27 years ago, in 1991.
"Supporters of the Brahman and Gelbvieh breeds filled the viewing galleries with rebel yells when their respective entries won the prestigious titles of Australian Beef Cattle Champion male, and female. The result illustrated that there is a place for both tradition and evolution in the Australian beef cattle industry – and perhaps also that no single breed can individually provide the genetic answers for all environments and conditions in isolation."
As was the trend in that era, leading-edge Brahman genetics were still being dominated by US imported sires, after the lifting of the genetics import bans in the 1980s following the establishment of the Cocos Island quarantine station. The 1991 interbreed champion bull, Apis Creek Godfrey was sired by an imported American Indu Brazil bull, Don Eligio 1137.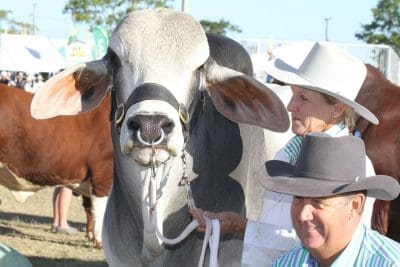 Apis Creek and its derivatives went on to claim three interbreed bull titles for the Brahman breed over the next 27 years, including Andrew and Roxanne Olive's Raglan stud three years ago with Raglan Mr Victory 1735 (pictured left).
Even more dominant in the female side of the event's interbreed competition has been David and Prue Bondfield's Palgrove Charolais stud from Dalveen. Palgrove females won four straight Rockhampton interbreed titles from 1994 to 2003, and had their genetic fingerprints on a fifth.
Charolais entries have won more interbreed titles than any other in Rockhampton, claiming eight of the possible 20 broadribbons on offer since 1988. But no less than ten breeds have share the interbreed limelight over the years, representing British, European and Bos Indicus breed types, and three composite breeds.
Some of the bulls on the list above were retained by their breeders for stud duties within their own herds, while others were sold the same year as they were exhibited.
A good example was the 2012 interbreed champion bull, the 1227kg Droughtmaster exhibit, Glenlands Prince, sold later that year for a breed record price of $180,000 to Fortrus Stud at Gympie. As a two-year-old, he was scanned for an eye muscle area of 138sq cm, among the largest ever recorded in the breed at the time. He remains the fourth highest-priced bull of any breed ever sold in Australia (see Beef Central's full list of beef breed record prices in Australia, click here).
Awards conjured vivid recollections
For those fortunate enough to breed and exhibit a Rockhampton interbreed winner, the occasion has left an indelible impression in their memory.
Well-known Santa Gertrudis breeder, Robert Sinnamon, general manager at Yulgilbar stud in northern NSW, told Beef Central he still has 'very clear' memories of his family's win in 1988 with interbreed cow, Robenlea Nightingale, mentioned above.
"The Beef Australia championships every three years are the Mt Everest of stud breeding across Australia – no question"
Rob was a young man at the time, leading the cow in judging, with his now-wife, Lorraine, on the calf.
The Sinnamon family's Robenlea Santa Stud near Harlin, on the headwaters of the Brisbane River, was a prolific royal show winner during the 1980s, but Rob rates the female interbreed title earned at Beef 88 as the pinnacle of the stud's success.
"The Beef Australia championships every three years are the Mt Everest of stud breeding across Australia – no question," he said.
"It was one of the greatest thrills of my life. In those days, Santa Gertrudis stud beef judging classes were huge, and it wasn't uncommon to see 20 or 30 entries in each age bracket."
Robenlea Nightingale was grand champion in Sydney and Brisbane the same year, and went on to become one of the Santa breed's cornerstone females, widely used in embryo transfer work.
The Sinnamons were offered $100,000 for Nightingale the day she won in Rockhampton. While they were tempted, they elected to keep her and market her genetics themselves.
"We never regretted it. From one flush, we sold ten of her embryos for $100,000," Rob said. "She returned well over half a million dollars in her lifetime, through progeny and genetic material sales."
Some of her genetics carry on through the Yulgilbar herd now managed for the Myer family by the Sinnamons, with Yulgilbar being a key client of the Sinnamon family's Robenlea stud in earlier days.
"To this day, Nightingale is still probably my benchmark female, against which I measure all others," Rob said. "Despite her enormous frame and weight, she was superbly correct, structurally, while retaining femininity. She was a one-in-a-million type cow," he said.
Highlight for Shorthorns
Another exhibitor with vivid recollections of picking up an interbreed title in Rockhampton is Shorthorn breeder, Spencer Morgan from The Grove Stud, near Condamine.
The Morgans paraded The Grove Kasprowicz (named after the lion-hearted Queensland cricketer) for the interbreed bull title in 2003, winning the grand championship in Brisbane and Sydney shows the same year.
Kasprowicz was sold to a syndicate for $44,000 later that year, but the Morgans retailed a semen share, and continued to use him in their stud herd. The bull died suddenly nine months after sale from a brain condition.
The bull's biggest impact at The Grove has been through the female line, with one of his daughters, and several sisters being major contributors to the Shorthorn breed.
"It was right up there with our most memorable show ring wins over the past 30 years," Spencer Morgan said.