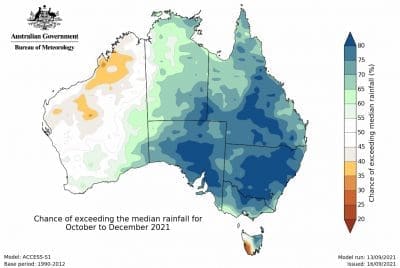 THE Bureau of Meteorology has this week issued a La Niña watch, declaring a 50 percent chance of the weather pattern known for bringing spring and summer rain to the east and north of Australia.
La Niña is the cool phase of the El Niño Southern Oscillation (ENSO). It is associated with cooler than average sea surface temperatures (SST) in the central and eastern Pacific Ocean.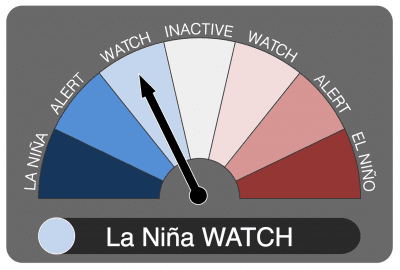 In its latest ENSO outlook, the Bureau said recent cooling in the pacific had increased the chance of La Niña forming in 2021 – double the normal likelihood.
The outlook said its models suggested the cooling trend will continue over the coming months, with three of the seven models meeting La Niña criteria and two briefly touching La Niña thresholds.
Regardless of the La Niña formation, the bureau is forecasting above median rainfall for the Northern Territory, South Australia and the eastern states – Western Australia and some parts of Tasmania are looking at below median.
The Bureau said the likelihood of a wet spring in the eastern two-thirds of Australia was higher in October – and lower in November.